The U.S.-China Olympic rivalry? Not what you think! with George Vecsey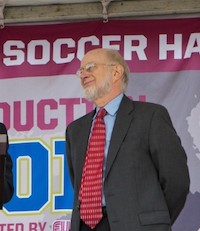 George Vecsey has been a journalist for over fifty years. From 1982 to 2011, he wrote the sports column for The New York Times, and he has written over a dozen books, including five best-sellers. He specialized in international sports and covered seven Summer Olympics, from Los Angeles in 1984 to Beijing in 2008. Vecsey graduated from Hofstra College in 1960 with a degree in English. During his work for Newsday from 1960 to 1968 and later at the Times, Vecsey has covered sports, Appalachian news, religion, and other topics. Vecsey is married to his co-editor of the Hofstra yearbook, Marianne Graham, an artist and teacher. They live in Port Washington, Long Island, New York, and have three children and five grandchildren. On September 12th, 2016, he spoke with Bryn Miller CMC '19.
In the Cold War period, the tone of Olympic competition between America and its greatest global competitor, the Soviet Union, reflected the tense geopolitical environment. Today, Olympic matchups between the United States and China, the current rising global power, do not have a similar tone. George Vecsey, who covered the Olympics for the New York Times during the Cold War era, explains why.

Before China became a major competitor for the top position on the medal table, what characterized U.S-China relations at the Olympics?
In the Olympics as well as in the broader picture, China was the emerging giant throughout the past decades. In sports terms, they were to be feared more in future terms. Additionally, only specific Chinese teams were competitive opponents. From the American point of view, the Soviet Union was the main opponent for geopolitical and sporting reasons. China had great individual athletes and certain great teams, but was not America's main preoccupation.
Are there any sports in which the U.S.-China matchup has been constantly competitive over the past 20 or 30 years? Are there any sports the Chinese have traditionally dominated?
Table tennis, definitely. Ping pong is interesting, especially because of the history of ping pong diplomacy between the U.S. and China in the early 1970s. In other sports, great Chinese athletes came up when they came up, often in track and field, basketball, diving, and volleyball. China is so big that they always send many athletes, some of whom will be medal contenders.
You noted that the 1984 volleyball match between the American and Chinese women was your favorite event to cover. Why?
The match, which was played in Long Beach, California, was a big deal. Once you got in this arena, the atmosphere made you think that this might have been for the championship of the world for every sport due to the atmosphere. In that 1984 U.S.-China volley-ball match, I never detected any animosity between the two teams – just that they both wanted to win. Because there was a history of friendship between the American and Chinese athletes, it was competition as good as it gets both in the vibrations and the playing of the match.
There is a great story related to the match. Lang Ping – known in America as Jenny Lang – was the great star of the Chinese team then, and she went to school in America after she retired from the Chinese national team. She later also coached the U.S. team, and knew and had trained with all the U.S. players.
Talking to the Americans before that match in 1984, they never expressed anything along the lines of, "We've got to beat the evil empire." In fact, athletes almost never say that. I don't think they think that way. Particularly these days, when most athletes in the Olympics are professionals, their loyalties are doubled and tripled in different directions. Fans get much more involved in the USA chanting than the athletes do, as far as I can see.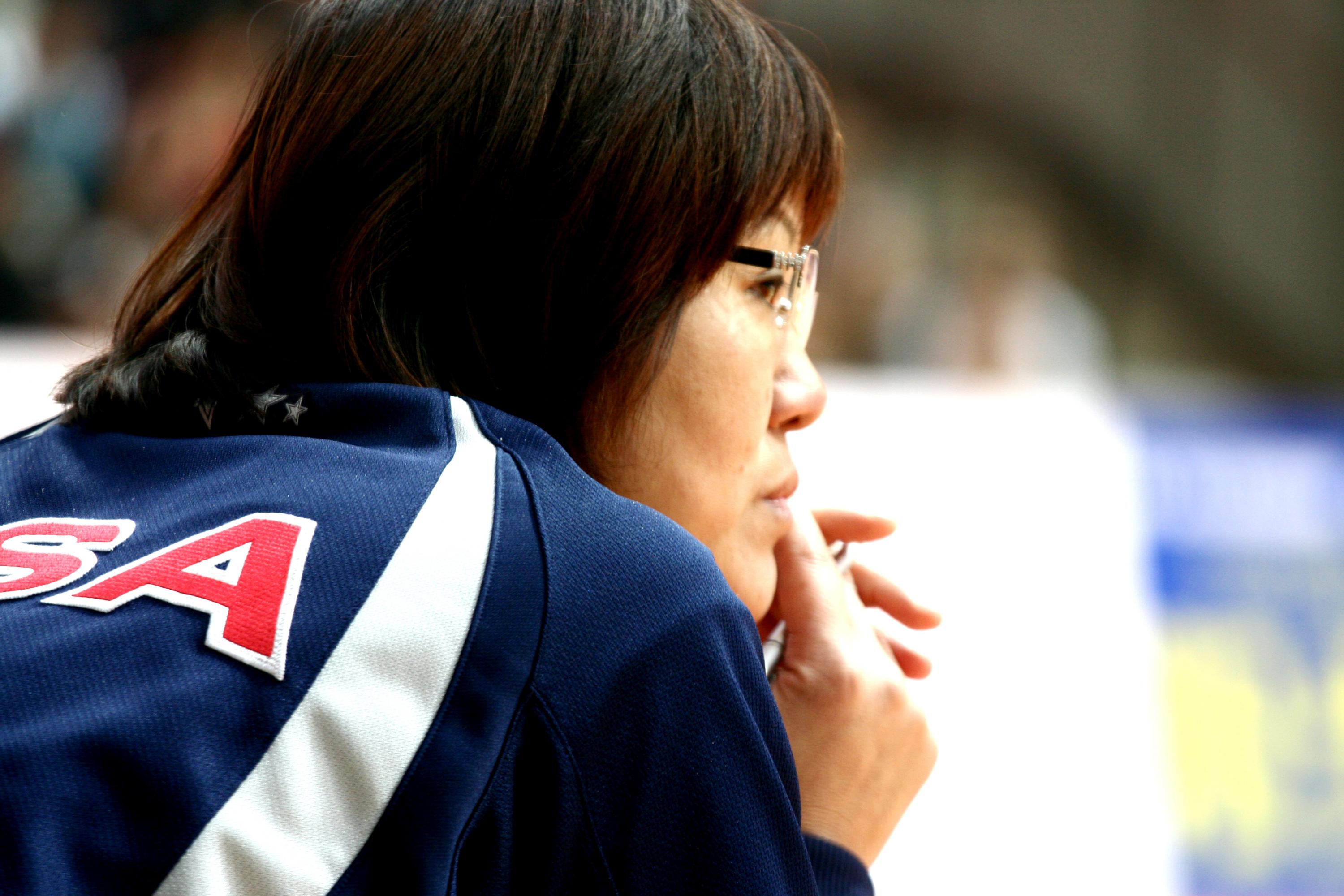 Pictured above: Jenny Lang. "US Women's Volleyball Team coach Lang Ping at Nanjing, Jiangsu, China on April 2, 2008. US Women's Volleyball Training Team vs. Jiangsu Province Professional Club Team (a.k.a. Southeast University, Nanjing) at Nanjing University of Finance & Economics." by Brandon Gillin — Source: Lang Ping: Team USA volleyball coach. Licensed under Wikimedia Commons via CC BY-SA 2.0 — https://commons.wikimedia.org/wiki/File:Lang_Ping.jpg.

Some say that the U.S- China rivalry really took shape almost 30 years after that match, when China won more gold medals than the U.S. at the 2008 games and was placed first on the medal table. How has that rivalry developed over the past eight years?
As a columnist, I never focused on the medal count. There were always more important issues. To me, the medal count is a story about the emerging potential of China. In 2008, there was much on the line for China. China had come so far in my lifetime – from a broken ally during WWII to a communist regime and then a mysterious menace, and then it opened its gates again in 1970. The history was fascinating, and of course Chinese people who were able to access information were aware that this was their time. The pride that people had in the new developments that accompanied the nation was far more important to the people than the medal count.
Also, the medal count as a whole is one thing, but the pressure it puts on individual athlete is another. If a U.S. athlete fails in the Olympics, it's personal and it also can cost millions of dollars. Fall on the beam in gymnastics, and you're off on the Wheaties box. It's money and fame.
The pressure on Chinese athletes is huge, and it's legitimate, but as a reporter I felt that the athletes had a different level of expectation in – and I don't think this is patronizing to say – a nation that was and is still developing. These expectations stem from the size and hopes of China, not direct financial incentives.
In terms of pressure for athletes, you talked about financial pressure for American athletes and national pride for Chinese athletes. Upon which set of athletes do you think the pressures are greater?
That's hard to answer. In a western, money-based, individual-focused society where you can see yourself how much is on the line, pressure is about image and how much money can be made from deals that accompany good performance. In a country like China, the government takes most of this money. The financial part is way more important than any sense of rivalry or playing for the country. There are sometimes exceptions. For example, the men's basketball "Dream Team" in 1992 purely loved playing for the U.S and didn't focus on the money, since they were already rich NBA players. They could afford to do that.
For other athletes, when they hit the finish line and get gold, they can see it in terms of the six or seven figures that'll bring them. Pure patriotism is fun when you can afford it.
Can you think of any examples since 2008 when competition between the U.S. and China took a less sportsmanlike, more nationalistic tone?
Honestly, nothing comes up. There is bad feeling and strong sports rivalries between individual teams, but I can't think of any between the Chinese and Americans.
In 2012, some reporters noted that the U.S.-China rivalry was more "statistical" than "emotional." Would you agree with that?
Absolutely. Gold medal counts are artificial, unless there's something to be proved.
Some say that China is America's next great global threat for power. Can you comment upon America's Olympic relationship with its former global competitor, the Soviet Union? Was that rivalry more "emotional" or "statistical"?
Yes, absolutely, it was more emotional. We did grow up thinking that the Soviet Union was the enemy. Living on the edge of Queens, I thought the Russians were going to come bomb us any given night. Far worse things happen in the world now as a product of U.S.-Middle-East relations, and U.S.-China and U.S.-Vietnam relations, for example, can be tense. But it's not the same as the fear and tension in the Cold War. This fear did translate into sports then. A classic example would be the 1980 "Miracle on Ice," when American amateurs played the state USSR team in the semifinal Olympic match. Interestingly, many of the Russians later ended up in playing in the NHL. It was amazing the way barriers broke down in the 1980s. These players had been part of the "evil empire," and they turned out to just be hardened old pros like our old hardened pros.
What's the difference between Russia and China's conceptions of nationalism?
The USSR was imploding, and they had so many different people of different nationalities on the team that impeded nationalistic unity. China has come a long way on nationalism, on the other hand, and it's very important to them to send athletes out to represent the homeland. I don't know, in the long run, how that pans out into sports between the U.S. and China. Is anyone really telling the Chinese athletes, "Go out and win for the homeland?" I suspect they were told that a generation ago, but I don't know if that still happens.
When you talk about China, you've focused on friendly relations; you also touched upon how, even with the Soviets, some conflicts that were initially fraught led to friendship, like when Soviet players came to America to play in the NHL. What's the role of sports in promoting good relations between China and U.S, both at and outside the Olympics?
I think some of it has to do with the geopolitical situation in the world. There's tension between America and China; you can pick that up in our own political campaign. Some will say, "China's eating our lunch." However, I don't know that athletes would think that with relation to sports. As world level athletes, I don't think geopolitics are the first thing on their mind. Olympic sports have become so commercial that the athletes from all sides are more like hothouse plants. They're thriving in a different environment from a normal human being.
Although the Chinese were part of the same ideological bloc as the Soviets, there was never the same fear and animosity between the Chinese and the Americans as there was between the Soviets and the Americans. When the Soviets didn't go to Los Angeles in 1984, the Chinese did go – they just weren't a part of that tension.
The medal count is a product—or is heightened by – economic, geopolitical, and military conflicts between two blocs like the USSR and the U.S., and I don't think that tense competition has translated to U.S.-China relations. if China got better at football, soccer, and basketball, or really harnessed the sheer numbers and ability and drive and teaching that they have innately in that country, maybe the U.S. would smart over losing to a nation of a billion people. I can't speak to that, but up until now tension over the Olympics hasn't been an issue. There are more issues between the two nations about trade and land grabs than there are about sports. The real world is out there. I just don't see a lot of that kind of emotion about medal count these days. Maybe we've just all gotten more sophisticated about it over time.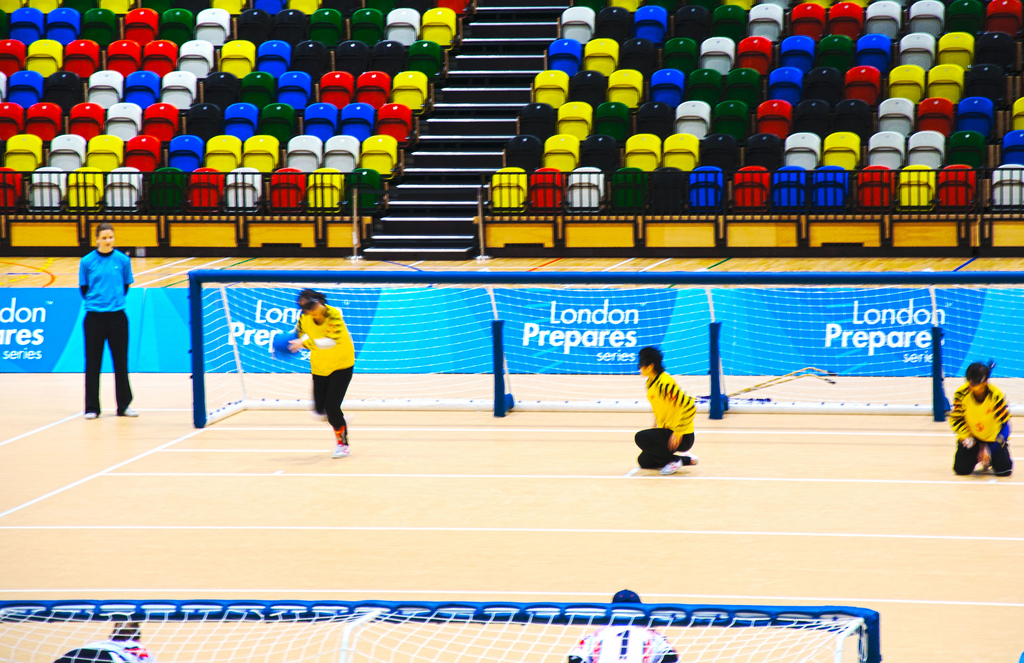 Pictured above: A China-U.S. Goalball match. "Goalball (China vs US)- London prepares series" by Nevalenx — Source: Flickr: Inside Olympic park. Licensed under Wikimedia Commons via CC BY-SA 2.0 — https://commons.wikimedia.org/wiki/File:Inside_Olympic_park.jpg.