Spring-Summer 2016
After We Die: Theology, Philosophy, and the Question of Life after Death by Stephen Davis (Baylor University Press) Two questions that humanity continues to wrestle with are: What happens in the afterlife? Is there an afterlife? Stephen Davis, who is Russell K. Pitzer Professor of Philosophy, subjects a key philosophical belief—that Christians survive death and will have a bodily resurrection in the next world—to searching analysis in his new book. By juxtaposing two systems of salvation reincarnation/karma and resurrection/grace he explores the Christian claim that humans will be raised from the dead, as well as the radical Christian assertions of Jesus' resurrection, ascension, and long-anticipated return. Prof. Davis finally addresses Christian thinking about heaven, hell and purgatory.
Against the Grain: Colonel Henry M. Lazelle and the U.S. Army by Jim Carson '67 (University of North Texas Press) Not only is Henry Martyn Lazelle a colorful 19th century figure—plenty of ups and downs as a cadet in the U.S. Military Academy, a scout for Kit Carson, wounded by the Apaches—he also happens to be Carson's '67 great-grandfather. Not only does Carson paint a fascinating picture of his ancestor, he also gives us rich insights into the history of the Army from the 1850s through the 1890s in this ninth volume of the UNT Press' "Military Biography and Memoir" series. American Constitutional Law (two volumes)
American Constitutional Law (two volumes) by Ralph Rossum and G. Alan Tarr (Westview Press, tenth edition) The United States' defining identity rests on the Constitution and its interpretation. CMC's Salvatori Professor of American Constitutionalism, Ralph Rossum and his coauthor trace the Constitution from its drafting and ratification through its subsequent interpretations by the Supreme Court, lower courts, Congress, state judiciaries, and more. In the process, the authors give readers a clear picture of the Constitution as a living document unlike any other in the world.
Beckett's Art of Mismaking by Leland de la Durantaye (Harvard University Press) Why is the work of Irish writer Samuel Beckett so strange, so unexpected? Literature Professor Leland de la Durantaye argues that the creator of seminal works Waiting for Godot, Krapp's Last Tape, and more challenged the conventions and expectations of art with his difficult narratives. Traditional artists have aspired to "fine making" in their art, but de la Durantaye says "then came along an Irishman named Samuel Beckett who ended the whole thing, closed the proceedings, put art to rest, at last, for it was very tired."
Breaking Out of Beerport by Al Scheid '57 Although he penned this book for his children— to provide a record of who he is, where he comes from, what ideas shaped him—Al Scheid tells a story of aspiring to more than a dead-end life in a tough coal-mining town that should appeal to just about everyone. He opens wide the camera lens on his memories of his childhood and early adult years, giving us "not just another vanity 'me' book," the introduction explains, but a "colorfully written account of the first twenty-seven years of the author's life" that is also "a lesson in history, a primer in psychology, and a study of culture."
A Brief History of the Cold War by Lee Edwards and Elizabeth Edwards Spalding (Regnery History) Containment or Détente? Brinkmanship or Mutually Assured Destruction? Such terms should be familiar to anyone living during the Cold War, but what about the generations growing up in the years since its peaceful conclusion? Lee Edwards and Elizabeth Spalding, who is a CMC associate professor of government and directs the College's Washington D.C. program, perform a vital act of preservation in this book, which vividly highlights the events, people, and ideas that shaped a half-century of struggle between the U.S. and U.S.S.R.
China's Crony Capitalism: The Dynamics of Regime Decay by Minxin Pei (Harvard University Press) Minxin Pei P'11, who directs the College's Keck Center and is Tom and Margot Pritzker '72 Professor of Government, looks at power dynamics within China's political system and how collusion among the country's power elites has created an environment that will make any progressive movement towards democratic rule very difficult (if not impossible).
Christian Philosophy of Religion: Essays in Honor of Stephen T. Davis edited by C.P. Ruloff (Notre Dame Press) The career of CMC's Davis also serves as the focus of Ruloff 's Christian Philosophy of Religion. The volume's editor has collected essays in celebration of Davis' work— known in academia as a "festschrift"—by esteemed philosophers in the field, including John Hick, Charles Taliaferro, Richard Swinburne, Eleonore Stump, Anselm Min, and several others. "Very few philosophers have had the impact of Stephen Davis on the world of Christian philosophy," says Thomas Señor of the University of Arkansas.
A Companion to Ostrogothic Italy edited by Jonathan Arnold, M. Shane Bjornlie and Kristina Sessa (Brill) Who were the Ostrogoths? Associate History Professor Shane Bjornlie and his coeditors have produced a fascinating collection of essays surveying what happened to the Roman Empire in the West after it fell into the hands (briefly) of the Ostrogoths. "Barbarian" is a heavy word to describe them, considering that they maintained much of the Roman system, especially its Senate, buildings, and administration. In his The Life and Legacy of Constantine: Traditions Through the Ages (Routledge), Bjornlie also examines another pivotal moment in the Roman Empire's history, the ascension of Constantine as first Christian emperor. An award-winner for an earlier book on this period, Bjornlie not only looks at Constantine's role in Roman society but also at what the rulers of subsequent eras thought of him and how this influenced and shaped their rule.
Conceiving the Indian Buddhist Patriarchs of China by Stuart Young '96 (University of Hawaii Press) What happened when Buddhism arrived from India in China around the 1st century CE? It faced many challenges, historians say, especially because Confucianism and Taoism were already established in the country. An assistant professor of East Asian religions at Bucknell University, Stuart Young '96 traces how Chinese medieval culture reconciled and absorbed this "outsider" religion with its stories of three saints exalted in Indian Buddhism. Young's authoritative overview, the publisher explains, "explores broader questions concerning Chinese conceptions of ancient Indian Buddhism and concerns about being Buddhist in latter-day China."
Culturally Adapting Psychotherapy for Asian Heritage Populations: An Evidence- Based Approach by Wei-Chin Hwang (Elsevier). How do psychotherapy methods work on specific populations, especially Asian populations? A professor of psychology with a practice specializing in mood disorders, Wei-Chin Hwang examines how treatments for depression and other disorders can be "culturally adapted" for patients and how this results in better, optimal results.
Democratic Religion from Locke to Obama: Faith and the Civic Life of Democracy by Giorgi Areshidze (University Press of Kansas) Why do politicians today refer to America as both a Christian nation and a country that embraces tolerance and religious neutrality? Aren't these positions contradictory? No, not according to Assistant Government Professor Giorgi Areshidze, who examines John Locke's political philosophy and how Locke anticipated dramatic changes in the relationship between religion and a pluralistic society. Areshidze's book will make you think carefully about what it means when we say "one nation under God."
Development Strategies and Inter-Group Violence and The Evolution of Development Thinking by William Ascher (Palgrave MacMillan) When he's not balancing his course load with directing the Roberts Environmental Center, Professor Bill Ascher directs his energies to the topic of development abroad, especially in some of the hardest-hit, most turbulent regions of the world. In Development Strategies (with co-author Natalia Mirovitskaya) and in Evolution, he traces the connections between development and conflict, and how development sometimes mitigate—but not always—violence in a particular region. His conclusions, based on cases from around the world, show that development initiatives and our understanding (or lack of understanding) can produce the disastrous opposite effect. Frequently, he points out, development efforts may instead "intensify particular mechanisms … by changing general societal conditions, affecting relations among groups, or by shaping interpretations of societal conditions and groups' positions …" Both books are necessary reminders to any person engaged in development work that having "impact" is not enough—it has to be the right impact or the costs could be just too high.
The Failures of Ethics: Confronting the Holocaust, Genocide, & Other Mass Atrocities by John K. Roth (Oxford University Press) Emeritus Professor John Roth examines ethics in a context of the Holocaust, genocide and other mass atrocities. Though the book stresses human accountability and responsibility for the failures of ethics, it does so in a way that focuses on corrective responses to those epic failures. Northwestern University's Peter Hayes calls Roth's book "part intellectual autobiography, part philosophical treatise, and part call to action in dark times…."
53 Is The New 38: Tales of Indignity and Middle Age by Michael Turpin '83, illustrated by Miles Turpin (CreateSpace) The latest installment of Michael Turpin's memoirs finds him grounded, at the age of 10, and yet still managing to somehow escape his punishment, attend CMC, get married, and move on to parenthood. He gives us a portrait of family life in the 1960s and 1960s long before the flight of today's "helicopter parents" and all those Fathers and Smothers who want to manage every moment of their children's lives. Nothing may stop us from growing older, but Turpin shows us that the best way to meet the march of time is with a good dose of satire and wit.
The Four Faces of the Republican Party: The Fight for the 2016 Nomination by Henry Olsen '83 and Dante Scala (Palgrave) As the authors contend—and as the rise of Donald Trump illustrates—the battles in the Republican party primaries can't be charactereized as a conservative versus- moderate division. That old notion, they argue, is outdated and simplistic. Instead, their intriguing analysis of Republican party politics gives us not "two faces" but four and shows us each faction's strengths and weaknesses influence the rise of the front runner in preparation for the general election. This is a timely read—and a necessity—for all those politicos out there.
Gender and the Rhetoric of Modernity in Spanish America, 1850-1910 by Lee Skinner (University Press of Florida) Women have been usually—traditionally—cast in the roles of domestic goddesses and guardians of the hearth and home. But as Associate Professor of Spanish Lee Skinner demonstrates in her new book, which explores how modernization affected gender in Colonial Spanish American society, women held private roles with many public aspects, too. The same was true of the men—the spheres of public and private and gender roles were not as rigidly separate as one might find in other societies. Skinner draws on a broad range of narratives for this fascinating study of identity and social norms during a transformative historical period.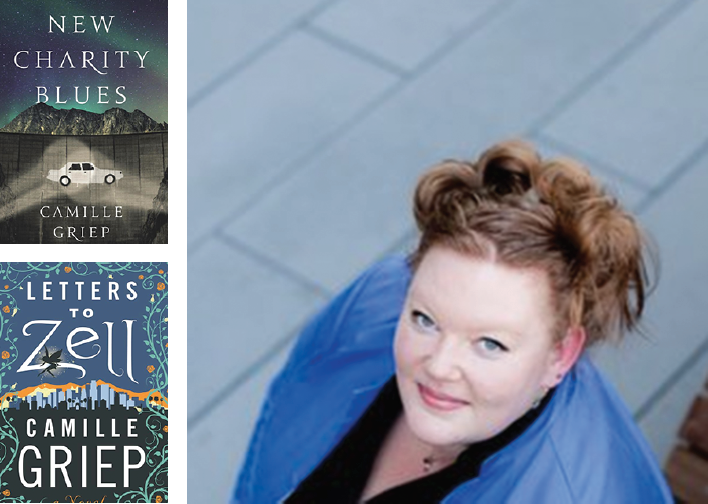 If you decide to spend some time cruising around Camille Griep's '99 blog at http://camillegriep. wpengine.com, you may realize at least three things about her, which happened to me. Aside from her fabulous success with her novels Letters to Zell (47North) and New Charity Blues (47North), she also happens to be:
1) a warm, gracious host to all visitors of her blog
2) the ideal example of what a community of writers should be—supportive, collegial, welcoming
3) deeply fascinated with the way great authors have taken classic fables and myths and reinvented them— something she explores in a piece about C.S. Lewis' Till We Have Faces in an article for www.tor.com
Now, where #3 is concerned, Griep has done the same thing in her own stories, and she traces the power of fairy tales and myths in her life back to childhood in her www.tor.com article. As she explains there:
"The spine read Fairy Tales, but inside, the stories weren't like anything I'd been read before bedtime. The endings to Christian Andersen's signature stories, ranged from the merely unjust to the downright macabre. How could I avoid dreaming adaptations and futures for swan princes and mermaids? My addiction to reshaping narratives has comprised a large part of my writing for many years."
Letters to Zell, which was selected as one of the "Best Books of 2015" by the editors at Amazon.com, revisits the lives of Cinderella, Snow White, Sleeping Beauty, and Rapunzel, while Griep's new novel, just published, New Charity Blues, reimagines the Trojan War in an apocalyptic setting. Even though "myth" is a term usually applied to very old stories, Griep's novels remind us that the passions and conflicts that myths evoke never go out of style. – NO'90
Globalizing India: How Global Rules and Markets are Shaping India's Rise to Power by Aseema Sinha (Cambridge University Press) For much of its history, India has been regarded as a "reclusive porcupine"—prickly, stubborn, resistant, and suspicious to global alliances and interactions. But this country of 1.252 billion is also in the midst of a brilliant ascent that is examined in this book by Aseema Sinha, who is Wagener Family Associate Professor of Comparative Politics and George R. Roberts Fellow. Sinha considers the reasons behind India's "changing interactions with the outside world" and many other facets of its global integration as well—including trade and statecraft, India's pharmaceutical and textile sectors, and much more. What emerges is a compelling portrait that draws on a wide range of voices to tell this nation's story.
Mastering the Mechanics of Civil Jury Trials: A Strategic Guide Outlining the Anatomy of a Trial—Bridging the Mentor Gap by Tyler G. Draa '78 (Balcony 7) Young trial lawyers need help with everything from the basics—how do I address the bench? Where do I stand?—to an understanding of how presenting cases for plaintiffs differs from presenting cases for defendants. Why? Because, explains Tyler Draa, fewer cases are going to trial, and this drop in trials is depriving young lawyers of a vital part of their apprenticeship. The same is true of older "mentor" lawyers, who are retiring and pulling out of practice. Draa's fascinating book addresses this gap with wit and precision—and, in the end, might just appeal to the non-jurist lay reader, too.
Persons and Personal Identity by Amy Kind (Polity Press), Knowledge Through Imagination edited by Amy Kind and Peter Kung, and The Routledge Handbook of Philosophy of Imagination edited by Amy Kind. As persons, we are importantly different from all other creatures in the universe. But what exactly is this difference? What kinds of entities are we, and what makes each of us the same person today that we were yesterday? Could we survive having all of our memories erased and replaced with false ones? Professor of Philosophy Amy Kind considers these absorbing questions in her engaging book Persons and Personal Identity as well as serving as editor and co-editor of two important new additions to the growing body of literature on philosophy and imagination.
The Maltese Falcon to Body of Lies: Spies, Noirs, and Trust by Robert Von Hallberg (University of New Mexico Press) By their nature, noir stories lurk in the shadows, but as Literature Professor Robert Von Hallberg illustrates in this authoritative study of old and new movies (ranging from The Big Sleep to Syriana), there are bright moments in the darkness, too. An atmosphere of impending doom might hang over the films in this genre, but Von Hallberg also finds an "ethical value" in these tales that is a powerful corrective. "Characters repeatedly implore one another, 'Trust me!'," he writes in the introduction. "This trust is rarely realized in its fullest form, but it is often a horizon of hope; these films are not desperate works of art."
Nonpartisan Primary Election Reform: Mitigating Mischief by R. Michael Alvarez and J. Andrew Sinclair (Cambridge University Press) The possibility for "mischief " in the electoral process abounds, especially at the level of the primary system. With his co-author, Andrew Sinclair '08, now a visiting professor at CMC, looks at the 2012 results in California of using a "top-two" primary in response to sharply gerrymandered districts and other legislative mischief intended to give one party an edge. As Alvarez and Sinclair demonstrate, the top-two primary doesn't have separate primaries for each political party, but a single primary in which voters decide on the most appealing candidate regardless of party affiliation. This engaging book presents readers with an in-depth survey into an idea whose time has come.
Not a Self-Help Book: The Misadventures of Marty Wu by Yi Shun Lai (Shade Mountain Press) In Yi Shun Lai's '96 debut novel, a young woman seeks self-understanding as she struggles to get out from the shadows of a Taiwanese tiger mom. For more on Lai's book, see "Why I Write" in this issue.
Passing on the Right: Conservative Professors in the Progressive University by Jon Shields and Joshua Dunn Sr. (Oxford University Press) Associate Professor of Government Jon Shields, along with Joshua Dunn Sr. (a political science professor at the University of Colorado) introduce readers to the "conservative minority" of faculty members in higher education. While the authors and the conservative faculty members they interviewed acknowledge that "progressives rule education," they also say that "the academy is far more tolerant than right-wing critics of the progressive university seem to imagine." Shields and his coauthor coauthor provide readers with a provocative exploration of a less considered aspect of academic life on college campuses across the country.
Perfect Simulation by Mark Huber (CRC Press) Mark Huber, who is the Fletcher Jones Associate Professor of Mathematics and Statistics and George R. Roberts Fellow, takes readers into the world of sampling and "coupling from the past," a concept usually known as CFTP. "If you have dabbled with perfect sampling before," writes mathematician Christian Robert in an advance review, "reading this book will be like meeting old friends and hearing about their latest deeds: Mark Huber's book should bring you a new perspective on the topic."
The Politics of Autism: Navigating the Contested Spectrum by John J. Pitney Jr. (Rowman and Littlefield) In the first book devoted exclusively to the contentious politics of autism, Government Professor Jack Pitney traces the evolution of autism into a heated political issue marked by disputes over its very definition and the emergence of a confusing mishmash of policies at the federal, state, and local levels. Often these policies only frustrate the people they are supposed to help, he says. Further, in exploring these complex issues, Pitney looks at how public policy is made and enacted and how effective policies for America's autism community can be forged. (For an excerpt, see the Fall 2015 issue of CMC Magazine.)
Quandles: An Introduction to the Algebra of Knots by Mohamed Elhamdadi and Sam Nelson (American Mathematical Society) Associate Professor of Mathematics Sam Nelson and his co-author introduce readers to the modern science of "Knot Theory," a field of study with the potential to significantly affect mathematical physics and biochemistry (especially when it comes to envisioning the twists and folds of molecules). According to the authors, a "quandle" is essentially a knot that has been "translated into algebra." Known for his many collaborations with students on published journal articles, Nelson and his co-author provide readers with wide-ranging explanations and razor-clear explanations that, in the end, won't tie up the layreader's brain in knots.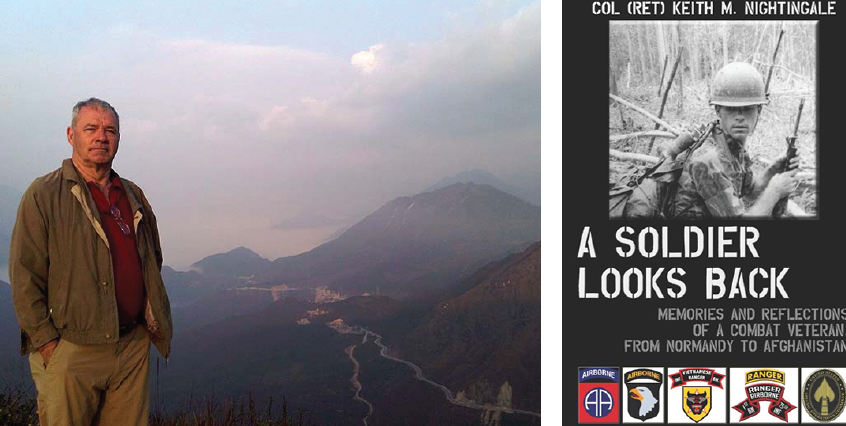 "All my life, all I ever wanted to be was a soldier. It is in my blood and family DNA," writes Keith Nightingale '65 in A Soldier Looks Back: Memories and Reflections of a Combat Veteran, from Normandy to Afghanistan.
After graduation, Nightingale left CMC, where he says he majored in football and "did academics on the side," and went straight into the Army (he spent his undergraduate years in CMC's ROTC program). By 1967, after graduating from Airborne, Jumpmaster, and Ranger Schools, he was sent to Vietnam. He describes his combat experience there in Living and Breathing: Just Another Day in Vietnam.
CMC Magazine recently asked Nightingale, who retired as an Army colonel in 1993, to talk about his books and interest in writing.
Question: Your book "A Soldier Looks Back" is a collection of essays you wrote over 15 years. Were you planning on writing an entire book when you started those essays?
Nightingale: The first book I wrote in bits and pieces beginning in the mid-1970s—somewhat as a hobby and somewhat as a catharsis. I knew the story was highly unusual and compelling and wanted to put it in print sometime in the future. It sat in a footlocker for 20+ years. The second book was a collection of specific military experiences in specific units that I thought made a point. I also included Normandy as I consider that the most significant operation our civilization has ever undertaken. It is my obsession, and I go there every year. The introduction, regarding my family lineage, is a thread that explains myself and provides my children with some insights as to where they came from.
Q: Are you a student of war literature? In this category, what books are important to you?
Nightingale: I have been an avid reader of history, military and otherwise, ever since I learned to read. My base book was Life's Picture History of World War II, which I saw at age 10. I read primarily military history but also travel and archeological stuff. I greatly enjoyed Robert Ardrey's Territorial Imperative, which was our senior year thesis subject at CMC.
Q: What contribution do you hope your books will make to our understanding of modern war and combat?
Nightingale: Today, 1% of the population does all the hard work for the 99%. I try to explain the essence of that to the 99%. Assuming any may care…
Questionnaire by Evan Kindley (Bloomsbury) A visiting professor of Literature at CMC and founding editor of the Los Angeles Review of Books, Kindley reflects on the history and purpose of the questionnaire. Where do they come from? Why do we find them everywhere, from doctor's offices to grocery stores to the worldwide web? Kindley's terrific book is the latest installment in the series Object Lessons, a publishing partnership between Bloomsbury and The Atlantic that delves into the hidden lives and meanings in ordinary objects (the remote control, the password, the cigarette lighter) that most of us take for granted … but shouldn't.
Reason in the World: Hegel's Metaphysics and Its Philosophical Appeal by James Kreines Associate Professor of Philosophy James Kreines' examination of one of the foundational figures of German philosophy, Georg Wilhelm Friedrich Hegel, is called "controversial" by his publisher for "rejecting common commitments in existing approaches" and offering "a new interpretation of Hegel's theoretical philosophy." Professor Kreines' book defends a new interpretation of Hegel's theoretical philosophy, according to which Hegel's project in his central Science of Logic has a single organizing focus – to wit: taking metaphysics as fundamental to philosophy, rather than any epistemological problem about knowledge or intentionality. Hegel pursues more specifically the metaphysics of reason, concerned with grounds, reasons, or conditions in terms of which things can be explained-and ultimately with the possibility of complete reasons.
Travel Journals by Alexander Joy Cartwright, Jr. Edited by Jay Martin. Alexander Cartwright lived an exhilarating 19th century American life—as pioneering explorer and, according to some, as the "father of baseball" (a topic that Martin explores in his book Live All You Can). A prolific writer and editor, Martin (who is CMC's Edward S. Gould Professor of Humanities) has edited the journals that Cartwright kept on his travels across the American plains and during his voyage to the "Sandwich Islands" (Hawaii) in the middle of the 19th century. It was a pivotal time for world transportation—especially as steamships challenged sailing vessels—that has been carefully preserved and annotated by Martin in the present volume.
AND DON'T FORGET
Audrey Bilger, Professor of Literature and former Faculty Director, Center for Writing & Public Discourse contributed the chapter "Is it Okay to Laugh: Alison Bechdel and the Triumph of Gallows Humor" for the book Approaches to Teaching Alison Bechdel's Fun Home which is scheduled for publication by the Modern Library Association as part of their "Approaches to Teaching World Literature" series.
Gary Hamburg, Otto M. Behr Professor of European History is preparing for the forthcoming publication of his book, Russia's Path Toward Enlightenment: Faith, Politics, and Reason 1500-1801, will be published by Yale University Press next year.
Wendy Lower, John K. Roth Professor of History and George R. Roberts Fellow and director of the Mgrublian Center for Human Rights, is spending the summer in Berlin collecting material for her next book, The Ravine, which she will deliver to her publisher in early 2018. Lower is the author of the National Book Award finalist Hitler's Furies: German Women in the Nazi Killing Fields.
Shootist at rest: Among the names listed in this issue's In Memoriam section, Miles Swarthout has been another influential member of CMC's writer community. Both with his own work and in support of the work of his father Glendon (perhaps known best for his Western, The Shootist), Swarthout has enriched our understanding of the Old West and the Western frontier as it's been imagined in fiction. His final book, The Last Shootist, is an award-winning novel that picks up where his father's story ends.
Favorable reviews: Professor Gastón Espinosa's book Latino Pentecostals in America: Faith and Politics in Action (Harvard University Press) has been favorably reviewed by Dr. David Martin of the London School of Economics and the preeminent scholar on the sociology of Latin American Religions, who called it a "magnificently researched book." Espinosa's Duke University Press book William J. Seymour and the Origins of Global Pentecostalism: A Biography and Documentary History also has picked up favorable reviews in a number of scholarly journals.