From the President's Table
Winter 2018
Dear Friends,
In 1957, the year President Emeritus Jack Stark '57 GP'11 graduated from CMC, Mabel Benson explained the founding vision of the College and the rapid changes implemented in its first decade. The underlying framework for "the original idea" of the College was for an education "rationally balanced to meet the political, economic, social, and cultural needs" of young students to prepare "for tomorrow's world of affairs." 1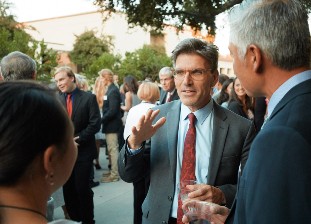 How should we do that today? Or as Trustee John M. Isaacson framed the question in his address to the CMC Board of Trustees in October, how can our liberal arts mission provide students with "the capacity to invent the future?"
In a world of rapid technological change, this means our students must have the opportunity to understand the growing importance of computer and data science as an integral part of a rationally balanced, liberal arts education. Trustee George Roberts '66 P'93 generously committed a lead gift of $25 million in a one-to-three match in order to develop an endowment of $100 million for the full integration of computer and data science. Trustee Akshata Murty '02 and her husband, Rishi Sunak, took immediate, full advantage of the Roberts match by donating $3 million to establish the new Murty Sunak Quantitative and Computing Lab, a campuswide training center located in Kravis Center Lower Court.
The capacity to invent the future and to lead in it also requires depth and breadth of understanding a complex world from a variety of engaged viewpoints and disciplines. As John Isaacson also said, "you cannot lead what you do not understand." Our Marian Miner Cook Athenaeum plays a vital role in deepening that understanding. In early October, we dedicated and named the Eggert Dining Room in honor of Steven L. Eggert '82 P'15. During the dedication, we also introduced an initiative called the Open Academy that is designed to reinforce the College's core commitments to freedom of expression, viewpoint diversity, and effective dialogue. Beyond the College's Green rating for free speech from the Foundation for Individual Rights in Education and No. 1 liberal arts ranking by the Heterodox Academy for open inquiry and viewpoint diversity, you will hear more in the near future about the many ways we are reinforcing these commitments.
Finally, our scholar-leader-athletes learn how to thrive in a demanding world through close teamwork and individual perseverance at the highest levels of competition. Three Athena team national championships propelled our entire athletic program to a No. 3 national ranking in NCAA Division III in 2017-18.
For all of this, we are grateful to each of you for your contributions to our singular mission. Please take time to read through the Honor Roll and the outstanding array of Class Notes to see all you have built together.
Wishing you and yours all the very best,
Hiram
---
1 Mabel Benson, An Idea Becomes a College, page 14.