CMC Master Plan – A Work in Progress
Since its founding in 1946, Claremont McKenna College (CMC) has provided a home for some of the world's most accomplished students and distinguished scholars.
Although CMC's campus has evolved over time, new and updated facilities are required to address CMC's academic and co-curricular needs in the 21st Century. The Master Plan provides the College and the surrounding communities with a flexible vision for the future of CMC's campus while assuring the preservation of treasured academic and civic assets.
It all began in October 2008, when the College's Board of Trustees authorized the Buildings and Grounds Committee to complete a Master Plan process to guide the ongoing evolution of the campus. To be prudent, the Board of Trustees determined that the Master Plan should consider potential growth allowed under the Constitution for The Claremont Colleges, which currently limits CMC's enrollment in Claremont to 1,400 students.
The purpose of the Master Plan is to create a flexible document to guide the college in making future building and site improvement decisions. The Plan must be able to adapt to a variety of factors while addressing implications of strategic, economic and physical planning considerations. It must consider long range consequences that will either preserve or foreclose options in the future. And just as campus needs, issues and influences are ever changing, CMC's Master Plan will continue to be a work in progress.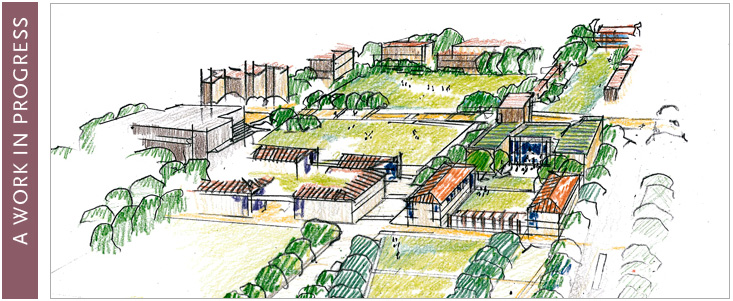 ---
PDF DOWNLOADS
CMC Master Plan in Full (152 MB)
CMC Master Plan - Part 1 (55 MB)
CMC Master Plan - Part 2 (47 MB)
CMC Master Plan - Part 3 (26 MB)