The presence of the French, Korean and Spanish language residents among students is considered to be just as important as instruction in classes. They each serve as a resource person as well as a cultural representative and coordinator on campus, organizing everything from language tables to other diverse media activities such as music and films. In addition to leading cultural activities, each resident teaches conversation classes that accompany the basic language courses.
The residents host language tables in the Collins Dining Hall. Look for the country flags.
Arabic – Tuesday and Wednesday, noon-1 p.m.
French – Wednesday, noon-1 p.m. (Scripps), Thursday, noon-1 p.m. (Collins at Cheva Room)
Korean – Thursday, noon-1 p.m.
Portuguese – Tuesday, noon-1 p.m.
Spanish – Monday and Thursday, noon-1 p.m.
---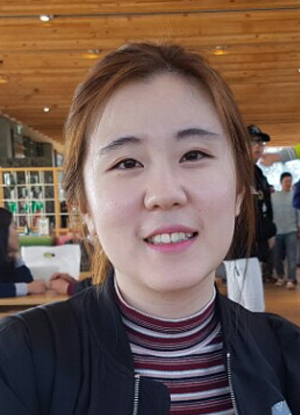 안녕하세요! Hello everyone
My name is Eunseo Lee. I am a Korean language resident for 2017-2018 semester at CMC. I am so delighted to be a language resident and see you guys here. In Korea, I have studied teaching Korean as a foreign language at Yonsei University graduate school. I also have some experiences to teach Korean language to international students on intermediate level. So please feel free to study Korean together with me and have lunch at Korean table:) I love classical music, playing instruments, and travelling various cities and share each others' stories and feelings. It would be nice opportunities if we share our various cultures, life stories and interests. See you on campus!
Hometown: Seoul, South Korea.
Education: B.A., M.A., Yonsei University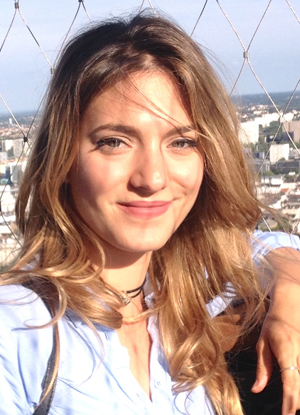 My name is Eloïse, I am a French graduate student. I grew up in the city of Paris and lived there for 16 years. My father worked in many different places for his career so I had to travel a lot in France and abroad. Up to this day I remain fond of travel experiences. Last year I decided to study abroad in England at the Univeristy of Leeds with the European Erasmus program for one year and this was one of the best experiences of my life. I have been studying English and American literature and civilization for 4 years at the University of Nantes where I moved in for my studies. This year I was pursuing a master's degree in Nantes and decided to specialise in American Literature. I am finishing my thesis in American literature and one of the author I am working on is John Steinbeck who has written a lot about California. When I was given the chance to work as a Language Resident in the United States I was thrilled to know that it would be at Claremont Mckenna in California. I have been helped by many Language Residents from different countries while I was studying in Nantes and I cannot wait to meet students and help them to get familiar with the French culture.
Hometown: Paris, France.
Education: B.A., M.A., University of Nantes