Another winter break has come and gone at CMC during which CMC students who are part of the college's Silicon Valley Networking Trip have notched another invaluable trip to the Bay Area for networking opportunities with heavy-hitters – and CMC alumni -- in the tech industry.
CMC's Silicon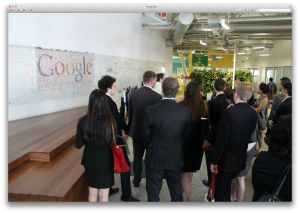 Valley Networking Trip is a one-week networking immersion trip held annually the week prior to the spring semester and sponsored by the Information Technology Advisory Board (ITAB). The trip, conceptualized by ITAB founder Bart Evans '70, has introduced more than 100 CMC students to careers in one of the most innovative regions of the world, and has inspired an understanding of how their liberal arts education will serve them well in future endeavors.
Companies visited this year include Google, Microsoft, Ebay, Paypal, Intuit, Kohlberg Kravis Roberts, Atlassian, Bloom Energy, Box, Equinix, Fuzebox, and Twilio.
"The Silicon Valley Networking Trip provides CMC students with an opportunity to understand how they can apply their CMC education to productive careers solving real-world challenges in technology firms," says Stephen Siegel '87, Director of the Silicon Valley Program at CMC. "They are afforded opportunities to connect with alumni at all stages of their careers, and to better understand what an early-career position might look like in technology companies."
According to Siegel, CMC students are well-prepared for the corporate visits during the networking trip and, in fact, have even been mistaken for MBA students from the sophistication of the questions they ask.
"This year, I noted how easily CMC students adapted to potentially unfamiliar situations," Siegel says. "On Wednesday night, Susan and Bill Mirbach P'16 invited the delegation to their home for an informal dinner with friends and colleagues from Silicon Valley. Leading up to the dinner, a couple of students were apprehensive about how they would fit in. As the evening progressed, it was clear that everyone was having a great time, and nobody wanted to leave. That's in part due to the Mirbach's hospitality, and in part to the students' eagerness to engage with leaders of the technology community."
Here are some student testimonials about the Silicon Valley Networking Trip.
Megan Kelley '14
"This trip is a great opportunity not only for students with technical backgrounds, but also for students with no formal technical education. The technology community is a place filled with internship and job opportunities.
"The trip taught me a lot about the technology/ start up industry that I would not have learned otherwise. We were greeted with open arms by a CMC alumnus at every company that we visited. Speaking with the CMC alum community was what I valued the most because they all have been in my position before. The advice I was given on this trip about life after college was extremely helpful."
Bennett Jones '14
"The trip has been one of the best experiences of my time at CMC. I made connections that I would never have been able to make without CMC's Silicon Valley network, both with recent alums as well as top executives at several companies. Even though it was a week of non-stop work, the inside exposure we got to the tech and start up world of the Bay Area (and the fun we had along the way) made it more than worth it.
"After the trip, I have a much clearer picture of what I want to pursue after graduation and am much more confident that there is a place in the tech industry for people of all majors and backgrounds.
"CMC is lucky to have such a unique program. I would highly recommend this trip to anyone who is undecided about what they want to do post-graduation or over the summer; it will open your eyes to a vast array of opportunities in one of the greatest cities."
Alexandra Cooke '14
"As a graduating senior, who is overwhelmed by the job search, I was thankful for a week-long trip that immersed me in the tech industry and gave me insight to the fast paced, innovative and laid back culture that makes Silicon Valley unique.
"Twenty CMC students--sophomores, juniors, and seniors--toured 11 different companies in the Valley. From large companies like Google to smaller companies like Fuzebox (CEO David Obrand '91), we experienced a diverse range of products, cultures and job functions within the tech world. As a Philosophy and Government major, I thought I had no business being on the trip, but I quickly learned that the tech industry values people with all skill sets, not just computer science, as I had previously thought.
"The best part of the trip was interacting with the CMC alumni and parents and listening to the invaluable advice they had for networking and landing a job in the tech world. Seeing where our alums have ended up, the success they have enjoyed, and the genuine interest they showed in helping current CMC students, further affirms the quality of the CMC community."
To see photos taken during the Silicon Valley Networking Trip, click on the following link: https://www.facebook.com/ClaremSiliontMcKennaITAB/photos_stream