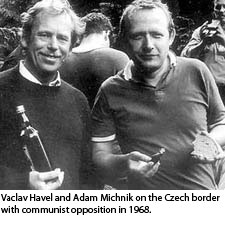 Historian, writer, and lecturer Adam Michnik, author of Letters From Prison and Other Essays and founder and editor-in-chief of Gazeta Wyborcza, the largest daily newspaper in Poland, will visit the Marian Miner Cook Athenaeum on Monday, Feb. 22, as a guest of the Gould Center for Humanistic Studies at CMC. His address, "The State of Democracy in Europe," begins at 6:45 p.m., with free seating on a first-come basis.
As one of Europe's leading public intellectuals, Michnik is uniquely positioned to address the role of intellectuals in democracies and dictatorships. He was a co-founder of KOR (Committee for the Defense of Workers), the organization of dissident intellectuals in Poland that paved the way for the Solidarity trade union in the late 1970s. He spent a total of six years in prison from 1965 to 1986 for his vocal opposition to the communist regime. He also was a participant in the Round Table Talks that eventuated in the end of Communist rule in Poland. In 1989, he was elected to Poland's first noncommunist parliament.
Michnik has authored scores of essays, articles and books, including Letters from Freedom (1998), and The Church and the Left (1993). He writes frequently for his paper, Gazeta Wyborcza, as well as for such publications as Der Spiegel, Le Monde, New York Review of Books, and the Washington Post. Recognized by nations, universities, and foundations for his lifelong struggle for democracy, he has received many prestigious awards, most recently: Press Freedom Hero, International Press Institute (2000); the Erasmus Prize from the Royal Palace, Amsterdam (2001); Joaquin Garrigues Walker Award from Salvador de Madariaga Foundation, Spain (2001); Chevalier de la Legion d'Honneur, France (2003); Dan David Prize, Tel Aviv University (2006); Honorary Senator, University of Ljubljana (2006).
In 2005 Michnik spoke at a number of events and met with classes on campus at Claremont McKenna as a Podlich Distinguished Fellow. These included his featured remarks on the late Nobel Prize-winning poet Czeslaw Miloszhonored during the Milosz International Festival: The Exile in California, a four-day event held on the CMC campus in 1998and the recent passing of Pope John Paul II. He also was a keynote speaker for the Athenaeum conference The Changing Face of Europe: European Institutions in the 21st Century, organized by the Keck Center for International and Strategic Studies.
While in residence at CMC, he also worked on two articles: one on terrorism and the French Revolution, and one on Milosz and the contemporary meaning of The Captive Mind.