CMC Hosts 14th annual Conference on Empirical Legal Studies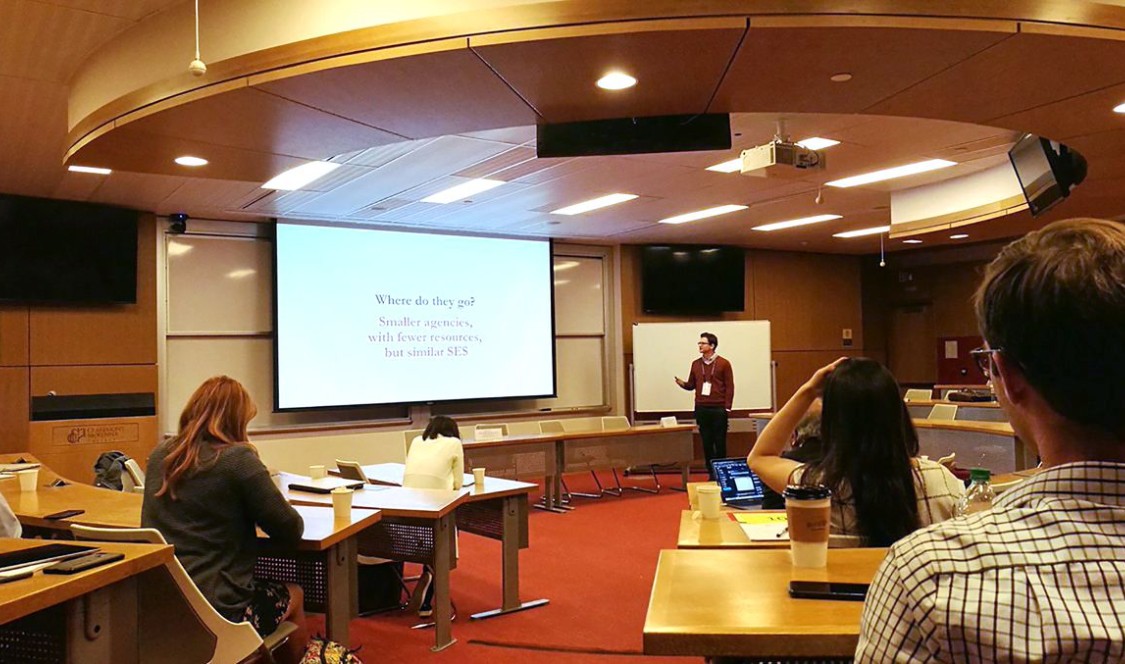 Are fines or liability judgements better tools to prevent medical malpractice? Does discipline actually decrease police misconduct? What are the hidden effects of ideology among federal court judges?
These were among the questions explored by leading legal experts from across the nation at 14th annual Conference on Empirical Legal Studies (CELS) at Claremont McKenna College.
The two-day conference provided a forum for original legal scholarship in a diverse range of fields including law, economics, political science, immigration, psychology, and criminology. More than 200 participants attended from 66 universities.
"We were honored to host CELS - the first undergrad institution ever to do so - and to support two days of scholarly exchange of powerful, cutting-edge empirical research on the legal issues of our time," said Hiram Chodosh, president of Claremont McKenna College, who is a former law school dean.
Jointly organized by the CELS board and Claremont McKenna College, the goal of the conference, usually held at leading law schools, was to stimulate conversations among scholars and encourage experimental scholarship. More than 125 presentations were made by legal scholars hailing from Columbia, Harvard, UC Irvine, Yale, USC, Claremont McKenna College and other law schools, colleges and universities.
"The Conference on Empirical Legal Studies, currently in its 14th year, is a wonderful forum for a diverse group of interdisciplinary scholars to come together to discuss their work," said Eric Helland, the Robert Lowe Professor of Economics at Claremont McKenna College, one of the CELS organizers, with David Bjerk and Daniel Krauss. "The conference encourages scholarship on legal issues. Moreover, the participants ranged from seasoned professors, well established in the field, to graduate students, who are starting with their scholarly endeavors."
In the first plenary session, Randomized Control Trials in the Law, Helland moderated a discussion with Harvard Law Prof. James Greiner and CMC Prof. Jeffrey Flory, who founded the Science of Diversity and Inclusion Initiative (SODI).
Flory and Greiner discussed the growing importance of randomized control trials (RCTs) in empirical legal studies. The pair examined how to promote the use of RCTs and field experiments, the gold standard in scientific analysis of causal effects, in legal studies. They debated how to overcome common challenges to their implementation and take advantage of opportunities.
"And CELS is an excellent place to have this discussion for legal studies — other legal scholars in the field were clearly keen to find ways to move forward with experiments related to their own areas of expertise. An excellent environment to receive insightful feedback from other legal scholars," said Flory.
Other CMC faculty members who participated in the conference include George Batta, Matt Delventhal, Mary Evans, Darren Filson, Andrew Finley, Jeffrey Flory, Ben Gillen, Serkan Ozbeklik, and Jessamyn Schaller.
The Journal of Empirical Legal Studies, the official Society of Empirical Legal Studies journal, will publish an annual conference issue, with papers drawn from the current CELS conference.
- Gilien Silsby
- Photo courtesy of Stanford Prof. Hanjo Hamann
Contact
Office of Public Affairs and Communications
400 N. Claremont Blvd.
Claremont, CA 91711
Phone: (909) 621-8099
Email: publicaffairs@cmc.edu

Media inquiries: Gilien Silsby
Phone: (213) 500-8673
Email: gsilsby@cmc.edu