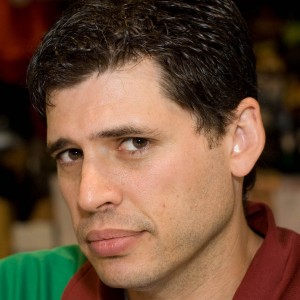 World War Z author Max Brooks: "I went to the Army ROTC office at CMC my freshman year because... I thought, 'America's been really good to me and we're at war (Desert Storm), and I'm going to give back...' "
For Claremont Colleges students who might think keeping their GPA up is a matter of life and death, consider what an army of zombies attacking campus would do to reorder those priorities. Well, that's exactly what happened in author (and '94 Pitzer graduate) Max Brooks' apocalyptic 2006 bestseller, World War Z: An Oral History of the Zombie War.
In an excerpt from the book (pg. 161 in one of the paperback editions), the narrator tells of "The Battle of the Five Colleges" in which 300 heroic students fight a horde of zombies. Given Brooks' major (history) at Pitzer College, it could be a knowing nod to the like number of ancient Spartans who, vastly outnumbered, fought Xerxes invading Persians to a standstill at the Battle of Thermopylae in Greece:
"Just outside of Greater Los Angeles, in a town called Claremont, are five colleges – Pomona, Pitzer, Scripps, Harvey Mudd and Claremont McKenna College. At the start of the Great Panic, when everyone else was literally running for the hills, three hundred college students chose to make a stand. They turned the Women's College at Scripps into something resembling a medieval city. They got their supplies from the other campuses; their weapons were a mix of gardening tools and ROTC rifles. They planted gardens, dug wells, fortified an already existing wall. While the mountains burned behind them, and the surrounding suburbs descended into violence, those 300 kids held off 10,000 zombies! Ten thousand over the course of four months, until the Inland Empire could finally be purified. We were lucky to get there just at the tail end, just in time to see the last of the undead fall, as cheering students and soldiers linked up under the oversized, homemade Old Glory fluttering from the Pomona bell tower.
The book's widely anticipated movie version starring Brad Pitt is set to open wide on Friday, June 21. Pitt has surprised fans across the country by showing up at advance screenings, and the film's official Twitter profile (@WorldWarZMovie) is buzzing with reviews, photos, games and even WWZ gear. Reviews meanwhile have been divided, with Rotten Tomatoes, for example, giving the action blockbuster 81 percent, while the less impressed Telegraph says Brooks' "thinly-veiled parable" had… "much in common with Steven Soderbergh's" medical thriller Contagion.
In a piece for Variety, chief film critic Scott Foundas describes World War Z as a film imagining "how the world's ideologically disparate peoples and governments would respond if great masses of the populi did suddenly turn into rabid, flesh-eating beasties." And while 5C students apparently fought zombies with admirable aplomb and smarts under Max Brooks' vivid imagination, a publicist at Paramount Pictures says The Claremonts didn't make it into the film version.
Which is too bad, right? But Max Brooks has an undeniable soft spot for The Claremont Colleges, and in fact, in his 2011 Commencement address to Pitzer College graduates, he gave a particularly nice shout out to Claremont McKenna College, where he was enrolled in ROTC his freshman year. "I got up every morning and I ran around and I threw up all over CMC, as I'm sure some of you have, too," Brooks said, rousing laughter. "But even though I blew out my knees and my back (to this day I can't run), I met some really awesome people and some career soldiers (in ROTC) who became characters in World War Z. I probably couldn't have written that book if not for that experience."
The impression was so deep, that Brooks says when he published WWZ, "I said, 'Oh my god, I have to get some copies under my arm and come back here (to The Colleges), because this place has defined me. I even wrote about it in World War Z. A whole big zombie battle takes place right here." His first stop with copies of his new book was the Army ROTC offices at CMC, he says––where he'd forged relationships that inspired his characters.
For those who haven't read the book, World War Z is a follow-up to Brooks' The Zombie Survival Guide (2003), and is a collection of individual accounts of a decade-long war between humans and zombies that decimated the Earth's population. As narrator, Brooks assays the role of an agent of the United Nations Postwar Commission 10 years after the zombie's have been eradicated.
Brooks, who has been called "The Studs Terkel of zombie journalism" for World War Z, is the son of director/actor/writer and legendary comedy bon vivant Mel Brooks, and actress Anne Bancroft.
Addressing Pitzer grads a few years ago, his talk was expectedly funny, while perhaps unexpectedly genuine. Although his parents (without naming them) were "hugely successful and never talked about their 'struggle years,' I got out of grad school and spent so many years struggling and just bashing my head against rejection," Brooks said. He says he finally broke through with a two-season gig writing for SNL, during which time he was also finishing up The Zombie Survival Guide.
"All my life I wanted to be a published author, and here it was," he said, reflecting on the moment his book hit the shelves. "And it did turn out to be the most successful thing I've done, and the book that would define my career and change my whole life," he says. "But I didn't know that at the time. Because when it first came out, all I had were some really, really crappy reviews––hugely, epically––crappy … The Los Angeles Times ran a two-page spread of my book and me, and essentially argued that my parents should have used birth control," said Brooks, rousing another wave of laughs.
Perhaps now he's even laughing––yep––all the way to the bank.
Watch Brooks' 17-minute Pitzer College Commencement speech. His comments about how The Claremont Colleges defined him start at about 9 minutes in.