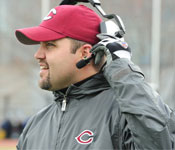 Claremont-Mudd-Scripps Director of Athletics Mike Sutton announced today the appointment of Kyle Sweeney as the new head coach for CMS football. Sweeney, whose leadership of the Stags is effective March 2, 2011, has been the defensive coordinator at the University of Chicago since 2009. Prior to that, he served two seasons as head football coach for MacMurray College in Jacksonville, Ill.
"We are pleased to welcome Kyle to Claremont, where he'll lead a highly motivated football team coming off a great year, and a program that, among other things, promotes the values of leadership, teamwork, discipline, resilience, and positive sportsmanship," Sutton said. "Not only will he be a great coach, but a champion of our students' successes, both in athletics and in academics."
"With this wonderful news, I also would like to congratulate our coaches and our student-athletes on a splendid season," Claremont McKenna College President Pamela B. Gann said of the Stags, who finished third this year in SCIAC playthe highest finish since 2003. "We look forward to welcoming Kyle as the leader of a program that, as with all sports and extracurricular activities and pursuits, further develops leadership in our outstanding students."
Sweeney brings a broad variety of coaching experiences to the CMS athletics football program. At the University of Chicago last year, he helped guide the Maroons to their best record since 1998. In 2010, Chicago ranked 3rd in the NCAA Division III in tackles-for-loss per game. Just a year earlier, as then head coach for MacMurray, Sweeney saw his team improve more than 140 spots in the NCAA III team rankings.
From 2002-06, he was on staff at Endicott Collegehis last three years there as defensive coordinator. Prior to, Sweeney spent a year (2001-02) as a recruiting assistant for his alma mater, Occidental College, where he helped recruit a team of Tigers that led Oxy to a 9-1 record, including two NCAA playoff wins in 2004, and a 9-1 finishincluding a playoff appearancein 2005. He also served a season on the coaching staff at Illinois Wesleyan University (2000-01).
It was during his time as an Oxy student and football player that Sweeney was introduced to, and developed a high regard for, Claremont-Mudd-Scripps athletics. As Oxy is in the same athletic conference, Sweeney competed against the Stags on the field.
"I am eager to work with all of the bright, outstanding young men who have committed themselves to the game of football and to Claremont McKenna and Harvey Mudd colleges," Sweeney says. While at Endicott he helped build a program from scratch into one of the top defenses nationally, at Illinois Wesleyan, he witnessed back-to-back titles. "It was invaluable training in what it takes to win a tough conference.
"I'm prepared to give the same enthusiasm and dedication to Claremont-Mudd-Scripps," Sweeney says. "My philosophy is based on principles of honesty, hard work, and fairness, and I expect excellence from each member of the football program in all interactions with players, coaches, and members of our community."
Sweeney holds a B.S. in economics from Occidental and an M.S. in health, physical education, and recreation from Illinois State University. He was a four-year starter at strong safety, as well as a two-way player (safety/receiver) at Occidental.
CMS Stags Football finished the season 7-2, and 4-2 in SCIAC play. CMS also had the most players (12) represented on the SCIAC All-Academic team. To qualify, players needed to have a 3.40 or better cumulative GPA. About CMS CMS is the combined athletics program for Claremont McKenna, Harvey Mudd, and Scripps colleges. The NCAA Division III program includes ten sports for men, 11 sports for women, and competes in the Southern California Intercollegiate Athletic Conference (SCIAC).