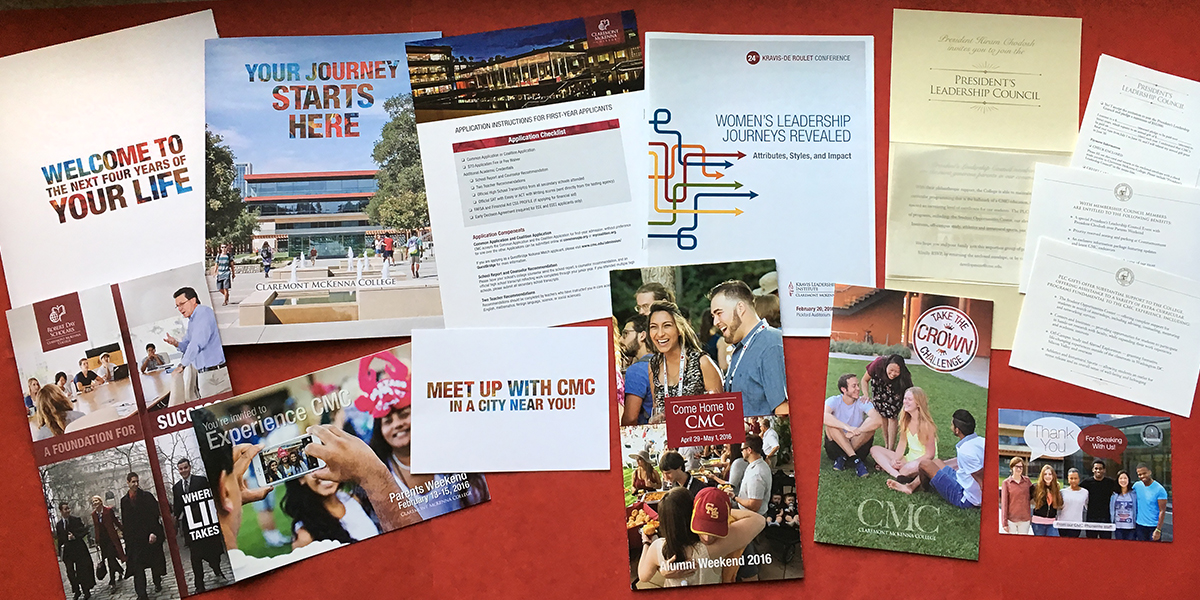 CMC Identity Guidelines and Logo Signatures
Creating marketing materials is a collaborative process. This document briefly describes the Creative Services (CS) Policy and Procedures to produce materials.
Projects generally require at least six weeks to produce
Some projects may require more time, depending on complexity, approvals and printing. Please contact CS several weeks in advance for a timeline specific to your project and expected delivery.
Creative Services can coordinate the development and production of:
Communication campaigns and programs
Newsletters
Brochures
Invitations, announcements, save-the-date postcards
Advertisements and more
Role of Creative Services (CS)
Edit and polish copy when needed
Help develop concepts, design and format
Manage design and print production
Provide other creative content as needed
Negotiate contracts with external vendors and track project progress
Schedule production and delivery
Role of Client
Choose a project manager to communicate with CS and secure all necessary department approvals
Have internal department discussions on what is needed, provide example designs when possible and clearly define goals and expectations
Submit CS request form below
Manage gathering of content, copy, and images
Client to adhere to timeline provided and follow up on status of project, especially when a firm deadline is requested
Proof and approve final content and design carefully
Approve and pay for printing costs and other outsourcing costs, as necessary
Save final PDFs of projects if changes will be required in the future
Printing
Creative Services will select printer for project and provide a quote based on quantity and design. If client wishes to use their own printer, CS will deliver a hi-res PDF for printing once design is approved
Printers are not permitted to make any changes to a PDF or file without approval from CS
Note
Design cannot proceed until bulk of content is received. If client is late with the content, target delivery date will be adjusted
Content should be sent as one package, if possible, with clear instructions
Public Affairs reserves the right to outsource design and other creative support if internal resourcing does not allow for the project completion within the timeframe specified. Client may be required to cover costs for an outside designer
Graphic Design Request Form