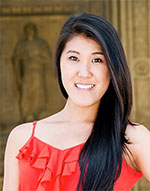 Hannah Oh, a December CMC graduate with a degree in government, called for federal budgetary reform in an article in The Hill's Congress Blog this week.
Oh, the former editor in chief of the Claremont Independent, decried Washington's "out-of-control spending and lack of accountability" and praised the Senate and House Budget committees for focusing on reforming the budget creation process rather than inviting OMB Director Shaun Donovan for his usual annual hearing.
"Washington's out-of-control spending and lack of accountability concern young people like myself who will inherit high levels of public debt, which curb long-term economic growth and drive up interest rates and inflation that disproportionately affect the poor and working class. A slower economy means fewer jobs and weaker wage growth, and that especially hurts young people who are just starting their careers.

"The problem with our current budget process is that it makes it extremely difficult for Congress to even consider reining in the spending area where we devote nearly two-thirds of our budget: entitlements.

"Unlike discretionary spending that is approved through appropriations bills (defense, education, infrastructure, etc.), mandatory spending for entitlements is on auto-pilot (Social Security, Medicare, Medicaid, etc.). Entitlement spending is embedded into law, and it is not subject to the same oversight as – or forced to compete with – other federally funded programs."
Oh argues further that unless reform is pursued now, the federal government will continue to be hamstrung.
"We, literally, cannot afford a crisis in which both retirees and the disabled, who genuinely need help, risk losing their benefits because the government over-promised them payouts that it well knows it cannot provide. It is time to move Social Security on-budget to ensure sufficient funding and oversight for these programs on a regular basis. There is waste and fraud that should be investigated, and operations that can be streamlined and modernized."
Read the full article on The Hill's blog.
Oh in January started a job as deputy to the CEO for Jamestown Associates, a Philadelphia-based political consulting firm.