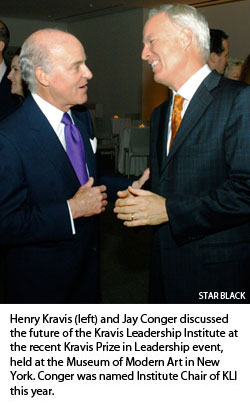 Jay Conger, institute chair of Kravis Leadership Institute and professor of psychology, and Henry R. Kravis '67, co-founder of Kohlberg Kravis Roberts & Co. recently discussed their vision for the future of KLI and leadership education at Claremont McKenna College. Conger was named Institute Chair of KLI this year. *** Henry Kravis '67: During the transition in KLI's leadership, you and I discussed our vision for the future of the Kravis Leadership Institute. Can you elaborate on how you envision the future of KLI, and your plans for leading the institute toward that vision? Jay Conger: My personal goal for the KLI programs is that they inspire our students to become exceptional leaders in whatever careers they choose. At the same time, I want the Institute's programs to spark in every student a deep appreciation for the importance of personal development. I have been fortunate in my career to work with exceptional leaders and to study them. They all place great value on life-long learning. They are driven for self-improvement. I want our students to possess that same mindset and drive. Research shows that one becomes a real expert in just about every field after committing some 10,000 hours to that activity. Leadership is no different. My aim is to get a thousand hours of leadership under our students' belts before they graduate!
How will we achieve these aims? Our vision entails significant expansion of our co-curricular activities. We already have in place an exceptional program called the Sophomore Leadership Program. It is a challenging experience full of opportunities for personal learning and reflection. I see how powerfully it energizes our students to want to become better leaders. It also helps them to understand the responsibilities that come with leadership.
Our goal is to build out a unique leadership program for each class year by 2012. These programs will address different dimensions of leadership. For example, the freshman program will focus on how to communicate effectively as a leader. The junior year program will teach how to lead teams well and so on. Each program will complement the others. By the time many of our students graduate, they will have had four powerful learning experiences about leadership.
Beyond these programs, we have our Leadership Sequence. Over the years, the college has built up a strong leadership curriculum. This past year, we improved the Sequence and added the Foundations of Leadership course. In addition to class work, we also are expanding our offerings of short seminars and learning experiences. For example, this year's KLI Leadership Day featured lessons on entrepreneurship and social entrepreneurship. It generated tremendous excitement about the possibilities of starting one's own enterprise. It also taught important lessons about how to effectively lead new private and social ventures.
Finally, KLI will focus on three primary arenas of leadership. The first is leading in general. Our students go on to many different careers in government, law, business, and not-for-profits. So I want our programs to prepare them with the essential skills and mindsets required by leaders and especially senior leaders in any domain.
The second area of focus is entrepreneurship. We have so many young people on this campus with an interest in becoming entrepreneurs. I now offer a course entitled Leading Entrepreneurial Ventures to help them understand the challenges and opportunities of both starting and leading your own business. We bring approximately a dozen entrepreneurs each year to campus to expose our students to real life lessons. Three of our young alumni have collaborated with you to develop the Innovative Startup Award competition. The competition provides seed capital of up to $25,000 to fund a student team with a viable business idea, and has generated tremendous interest in entrepreneurship.
The third area of focus for KLI is social entrepreneurship. Thanks to the Kravis Prize, we are able to bring a truly exceptional social entrepreneur to campus each year for our students to experience. We see greater opportunities to help students learn about social entrepreneurship. For example, this year we will launch our social entrepreneur-in-residence program providing students access to social entrepreneurs within an academic setting for informal and formal learning opportunities and to further KLI's mission, an element of which is to provide social sector leadership development learning/experiences to CMC students. Sarah Smith Orr, our executive director, will be offering a course on the topic to our students next year. We want our students to be well informed about opportunities to serve society. More importantly, we want them to be well prepared to lead social enterprises either as executives or as board members.
As you can see, we have ambitious plans. We want KLI to be the nation's preeminent center for undergraduate leadership education. We feel that we are close to that goal already, so we have developed a bigger goal. We want to provide our students with the inspiration to develop into great leaders, and the aspiration to have a significant impact on the world around them. Kravis: You've built your career around leadership and leadership development. How does your appointment as Institute Chair complement your career? Conger: This appointment is a wonderful opportunity for me to leverage my career. This role plays to my personal interests and strengths. While I am a scholar of leadership, I am also an educator. I am guided by a personal ambition to make learning relevant and useful. I spent most of my academic career working in business schools where the primary concern is teaching MBAs to be more effective managers and leaders. In other words, the emphasis is on practiceor knowledge turned into action. So my teaching has three goals: 1) to make learning deeply relevant to the learner, 2) to help learners see their potential as leaders in their chosen fields, and 3) to translate classroom insights into tangible leadership practices.
Beyond these goals, the KLI chairmanship is an opportunity to apply two decades of personal research on leadership development. With my long history in the field, I have a strategic and tactical sense of what it takes to develop leaders. I appreciate the magnitude of the challenge, but also have a keen sense of what works and what does not work. Kravis: KLI is one of the more visible institutes on campus, through employment of student assistants and fellows, the Leadership Sequence and the Kravis Internship Program. What do you think is attracting students to KLI and leadership as a concept? Conger: CMC is a college that selects and attracts high achievers who want to have a significant impact on the world. Many of our students really want to be leaders when they arrive. They see KLI as a principal source to learn about how to lead well. They also see our programs as opportunities to reflect on themselves and to learn about the different arenas in which individuals lead. We also have wonderful students who work for KLI. They are passionate advocates for what we do. Finally, we have designed exciting and engaging learning experiences. Some of these have the potential to change a student's complete perception of what they can achieve. Kravis: In your opinion, what should CMC students gain through leadership education opportunities at KLI? Do you see areas where students are not taking advantage of all that KLI has to offer? Conger: First and foremost, we want our students to appreciate the fact that leadership must be nurtured. Like an outstanding athlete or musician, successful leaders are the product of years of practice and learning. They proactively seek out opportunities to develop themselves. They seek out challenging work experiences, mentors, education and feedback. They are motivated to reflect and to learn from setbacks and successes. Like Olympic athletes, they want to be the best in their class.
Through KLI's programs, I want our students to understand this perspective. This is the most important lesson we can teach them to be proactive learners when it comes to developing their capacity to lead. Some students think that leadership is the product of a role you hold or a promotion you receive. This is so far from the truth. I know too many individuals who hold leadership roles, but who are not leaders. If you wait passively for an assignment or a boss to magically make you a leader, you will have a long wait.
The second aim of KLI is to inspire our students to want to lead. We have so many students at CMC who have the potential to make a profound and positive impact on the world. Yet some don't see their potential, and others don't appreciate the necessity of becoming a leader to achieve their goals. Through our programs, we aim to help them to glimpse at their potential. We also help them to experience directly the significant difference that leadership will make in their lives and careers.
Beyond these goals, KLI is equipping our students with fundamental skills in leadership through the Sequence and other opportunities. They learn the critical roles of building strong working relationships, networking, constructively addressing conflict, communicating well, establishing core values, devising a leadership vision, and more. We cultivate in them an appreciation for the range of capabilities required for leading well. We also teach them the importance of integrity and authenticity, as well as the responsibility that comes with leadership. We teach them the importance of being role models. Kravis: There's been much discussion about the role of leadership education at CMC. How would you approach that question? Would you like to see leadership approached differently at CMC? Conger: I have an outsider's view' on the college and its approach to leadership education since I have worked at other academic institutions. Several of these institutions advertised leadership education as an essential part of their curriculum. They often relied on a few courses and two or three faculty. In comparison, I am pleased to say that CMC is far ahead of the pack. At CMC, we take a more comprehensive, campus-wide approach to leadership education. We start thinking about leadership in the admissions criteria of our students. Our President, Pamela Gann, and our faculty dean, Gregory Hess, both believe in the importance of leadership education and are deeply committed to KLI and its activities. We have a significant core of coursework and faculty focused on leadership. We have an organization the Kravis Leadership Institute that is dedicated to the mission of leadership education on the campus. Together, all these dimensions reinforce the school's emphasis on leadership. My aspiration for CMC and KLI is to see an expansion of our co-curricular programs so that everyand I mean everystudent at CMC has a significant leadership development experience before they graduate. Kravis: The Kravis Prize in Leadership is now in its sixth year, and we've had the opportunity to recognize the accomplishments of five very deserving recipients. What do you see as the role of the Kravis Prize in relation to the Institute and the College? Is there an opportunity for more collaboration or integration of the Prize with the Institute? Conger: The Kravis Prize has been a wonderful vehicle to generate excitement among our students in the world of social entrepreneurship. In campus forums with Prize winners, CMC students not only learn about the challenges of building and leading successful not-for-profits, but they are inspired to consider careers as social entrepreneurs. At KLI, we have been proactively building activities around the Prize. For example, this year's Leadership Day focused on social entrepreneurship with presentations by a panel of social entrepreneurs and by KLI board member and senior advisor for Ashoka, Jack Edwards and Asoka fellow, Kara Andreade, a social entrepreneur from Guatemala. We are initiating this spring a social entrepreneur-in-residence program and our executive director, Sarah Smith Orr, will be offering coursework on social entrepreneurship in the near future. Further, KLI partnered with Pratham, the 2010 Kravis Prize recipient, to sponsor two CMC internships in India. Through several college sponsored summer internships, students worked with RDI and FAWE, the 1st and 2nd Kravis prize winners, respectively. All of the KLI-sponsored domestic and international summer internships were with social sector organizations, additional evidence that we at KLI are inspired to highlight the social sector in many of the Institute's activities. Kravis: Many other colleges are touting "leadership" as a key component to their educational philosophy, and others also have leadership based schools or institutes. What does KLI offer that the others don't? Conger: What distinguishes KLI from its peers is its blend of approaches. We tackle leadership education through both curricular and co-curricular offerings. We teach our students in the classroom and in the real world'. We blend the academic with the pragmatic. We bring on campus real leaders who teach the students their personal life lessons about what it takes to lead organizations. We also have wonderful teachers who inspire our students to become better leaders. Conger: Now, Henry, I'd like to ask you a question. Tell us why leadership is your passion. What was your vision for the development of the Kravis Leadership Institute? Kravis: KLI is almost 15 years old now. When we developed KLI at CMC, we discussed how to teach students to be better leaders, and whether one could be taught leadership. My vision was to have a more integrated leadership focus across the curriculum. I wanted to make sure that CMC had a series of courses so that students could understand about leadership without having it drilled into them. Students need to understand how leadership works through literature, economics, political science across the wide spectrum of disciplines. We wanted to weave leadership into the class structure, and into everything that one would do on a daily basis. Leadership is not just about one thing or another it's about how you live your life every single day. My vision was to develop this approach as part of CMC's educational philosophy, which I think we have achieved.
Giving back has been a part of my life since growing up. I learned that lesson from my father. I am proud to have given back to CMC, and hope my legacy will continue to develop young leaders at CMC.