Silicon Valley: Data Analytics and Dodgeball, by Alison Choe
Joining RetailNext, a data analytics company for retail stores, has been an exhilarating but also challenging experience. I feel like I am finally settling into the program – getting into the groove of classes and digging into the meat of the projects I am working on. This definitely feels good, as much of the start of the program and the application process was met with ambiguity and uncertainty. Not to be mistaken – I don't mean that as a bad situation. In fact, the experience taught me a lot about myself and how to manage my time.
While I was interviewed and hired for a more general role, I now am conducting analyses for RetailNext clients This means pulling tens of thousands of data points from stores to find consumer behavior trends that could make a positive impact on the bottom line. With other analysts, I work with retail consultants and the retail customer directly. We then provide insights and recommendations on how to improve the customer experience and increase revenue. It has been fascinating to also be able to test our hypotheses and gather results quickly.
Despite the fast paced nature and how busy everyone is at RetailNext, they have been incredibly gracious about offering their time to speak with me. In my first week of work, everyone I connected with carved out a good portion of their time for me. I've met with product managers, engineers, sales, R&D, and support staff, to better understand their role and motivations. It's been a steep learning curve but enjoyable.
While I feel that I've never been busier, I've had a good amount of fun especially after the long week of work and classes. Other students on the Silicon Valley Program and I have had barbecues, cookouts, hikes and more. My company has also had bonding activities such as a dodge ball game at a trampoline park. I learned that adults never lose the kid inside that just wants to jump around on trampolines. Here's a picture after some pretty hardcore dodge ball.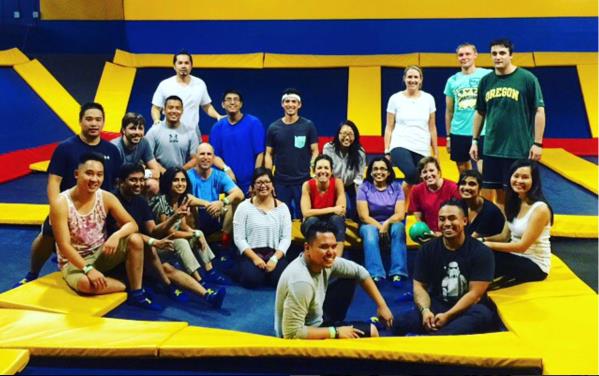 It's only been three weeks into the program and so much has been achieved and learnt, I'm stoked to see what the next few months bring.
Alison Choe '17
Scripps College
Intern, RetailNext