Silicon Valley Program
SVP Photo Contest
Share your SVP experience through photos. Win cash prizes! The deadline to submit is Friday, October 11, 2013. Select your favorite "Kodak moments" of the Silicon Valley Program that best captures your time on the Program.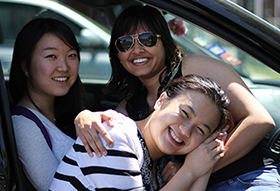 Photo contest guidelines:
Only two photos per student will be judged. Send as many photos as you like, but indicate which two you want to be considered for the contest.
Photos must be emailed in high-quality JPEG format in their original size. Do not send your photos in a Word document or PDF. We need the highest resolution possible.
Submit your entries on this form.
No photos containing alcohol, bikinis, or extreme sports.
Open to all enrolled students at one of the Claremont Colleges, who are current or former SVP participants.
One Grand Prize of $75 will be awarded for the best overall photo. An additional First Prizes of $50 and/or Second Prize of $25 may be awarded, depending upon the quantity and quality of the submissions.

If you have any questions, please feel free to contact steve.siegel@cmc.edu. We look forward to seeing your pictures!

Submit SVP photos here