There's is no better way to learn about the intricacies of U.S. government and politics and their impact on the world than to spend a semester in Washington, D.C. While our nation's capital is best known for politics, it is also a leading hub for international exchange, arts, culture, history, and news media.
Message from the Director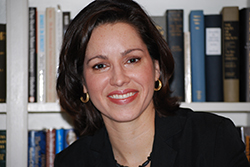 Why the Washington Program? Because you will be part of a proud tradition and open doors to your future. In Washington, D.C., students find that Claremont McKenna College is well-known and that they can obtain prestigious internships. Why? Because those who work in the nation's capital recognize CMC as a top-ranked liberal arts college with a special focus on politics, economics, and leadership that has been sending its best students to participate in the Washington Program since 1972.
More than forty other colleges and universities have started their own Washington programs since then. But Claremont has always maintained a strong program that is distinct and considered to be one of the best. This well-deserved reputation has stemmed from both the nature of the program and the outstanding students selected to participate.
The Washington Program is rooted in a full-time internship and a serious discussion of contemporary political issues. The first component allows students to become immersed in their work environment to the extent that some are considered junior staff members. The second component - two seminar classes and a directed research paper - provides a coherent intellectual framework for the semester. Internship supervisors praise the academic challenges of the program, because they get better student interns as a result.
Claremont students also meet with prominent people in and around politics - from Capitol Hill to non-profit groups, from the mass media to the White House - and have the opportunity to make lifelong friendships as they get to know downtown, the Hill, Dupont Circle, Georgetown, and Adams Morgan. Opportunities to socialize include gatherings at student apartments, going out after classes and on weekends, and trips to places like Gettysburg, Annapolis, and Monticello.
Graduates of the program have been among Claremont's finest, distinguished at graduation by national scholarships and acceptance into leading graduate and law programs. Many program alumni have returned to Washington for careers in government and related fields - in Congress, top law firms, the executive branch, think tanks, high-tech companies, and the media.
If you are considering a career that has to do with politics - in or around government, with a non-profit or an advocacy group, in journalism or policy analysis, with an international organization or a trade association - you need to spend a semester in Washington, D.C., whether you come for the opening of the Court session and the splendid leaves in the fall, or the budget battles and cherry blossoms that fill the spring.
Dr. Elizabeth Spalding
Location
The CMC facility is located at 1101 17th Street, N.W., Suite 604, in the heart of downtown. Within blocks of the White House, Farragut Square, and the famed Mayflower Hotel, our address provides a central site for Claremont and its students in Washington, D.C. Students secure their own housing for the program.
Dates
The calendar in Washington corresponds to the academic calendar of the Claremont Colleges. Classes take place in the evenings at the CMC facility. Interns will sometimes take time off from their office work to attend special lectures, hearings, and other activities. The amount of time devoted to work-related experiences is determined by each office. In the case of official events sponsored by the Washington Program, students must clear absences with their supervisors well in advance.
Faculty
Elizabeth Spalding, Ph.D.
Dr. Elizabeth Spalding serves as the Director of the Washington Program and is an Associate Professor of Government. She has been with the Washington Program since 2000. Dr. Spalding teaches GOVT 125: Readings in American National Politics.
John Haskell, Ph.D.
Dr. John Haskell is Senior Fellow of the Government Affairs Institute at Georgetown University. He has been a Visiting Assistant Professor of Government for the Washington Program since 2001. Dr. Haskell teaches GOVT 126: Policy Analysis.
Adam Wolfson, Ph.D.
Dr. Adam Wolfson is the Assistant Chairman for Programs at the National Endowment for the Humanities and a Visiting Assistant Professor of Government. Dr. Wolfson teaches GOVT 127: Research on the Political Process. Elizabeth Spalding, Ph.D.
Curriculum
The Washington Program integrates work and study in a four-course credit program. All courses must be completed for a letter grade. Students will normally not have the credit/no credit option on any program courses. The program will permit this option only in extraordinary circumstances (e.g., serious illness) and only with the consent of both the course instructor and the program director.
Government 30: Internship in Politics
This course is an intensive internship in which students work five days a week. This full-time presence distinguishes Claremont interns from most other interns and allows them to be treated as regular junior staff and integrated quickly into office routines as trusted employees who can meet deadlines.
Government 125: The President and U.S. Foreign Policy
This course examines how Washington, particularly the executive branch leadership, makes U.S. foreign policy. In practical terms, students will focus on the President and his interactions with the heads of the National Security Council, Congress, the State Department, the Department of Defense, and the intelligence community. In thematic terms, students will concentrate on the policies and politics that pertain to national security, diplomacy, development, defense, and intelligence. By the end of this seminar, students will understand the main domestic policymakers, institutions, and political factors that – all in a Washington, D.C., context – go into shaping American foreign policy.
Government 126: Policy Analysis
This course takes an advanced look at the federal budget in all its component parts, including defense and domestic discretionary spending, mandatory programs, and revenue. Students will learn how the President, through the Office of Management and Budget, puts together his annual budget proposal to the Congress and how Congress does its work to fund programs and legislate on the tax code. Most importantly, the course integrates policy and process with politics so students come away with a practical and comprehensive look at the federal budget.
Government 127: Research on the Political Process
This course is a tutorial designed to produce a major research paper. Frequent meetings and communications between the instructor and each student cover everything from possible paper topics to the final draft. Since paper topics almost always relate to the student's internship, on-the-job supervisors or colleagues may also become involved in the research project.
Internship Placement
Students are responsible for applying for their own internships with the guidance of CMC's government faculty. In most cases, students begin applying for internships after they have been accepted into the program. Some internships require security clearances and applications due up to one year in advance of the Washington Program deadlines. However, students are not guaranteed admission to the program simply because they have already applied for internships.
Internships span a breadth of areas, such as arts and humanities, business and economics, journalism and communications, international relations and foreign policy, health and human services, and civil rights and legal affairs.
Note to Internship Supervisors
A commitment to full-time internships and their prestigious liberal arts background at the Claremont Colleges make the Washington Program interns among the most professional and sought-after interns in Washington. While working full-time, students study academic topics such as foreign policy, Congress, campaigns and finance, the Executive Branch and leadership, and the modern federal system of administrative government. Students thus apply classroom knowledge to real-world challenges through their 40 hour per week internships. In addition, the connections they make – and the colleagues who serve as mentors – have an enormous impact on their professional lives. Your organization can benefit from the creative minds of the Claremont Colleges' students.
Please email the Washington Program office if you have an internship opening or if you are interested in having your organization listed as a prospective internship site.