Fall 2014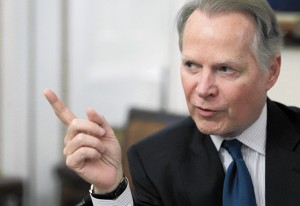 Until his retirement from Congress in 2013, the face of American politics at CMC belonged to David Dreier '75 (pictured), the College's highest-ranking, longtime Republican congressman and chair of the powerful House Rules Committee from 1999-2007.
Today, while Dreier has turned his post-Congress energies to several important policy-related enterprises, including the Dreier Roundtable at CMC (for more on the DR, see page 41), a number of CMC alumni are continuing in elected offices around the country.
Alumni now serve at the state and local levels, as well as in several unexpected roles:
In office, state level: Steve Tully, a Republican member of the Arizona state legislature; Ken Cheuvront '83, a Democratic member of the Arizona state senate; Craig McPherson '06, a Republican member of the Kansas house of representatives; Johnny Ellis '82, a Democratic Alaska state senator and currently senate majority leader; and Tyler Olson '98, a Democratic member of the Iowa legislature.
Bids for office: Hugh Hallman's '84 bid for Arizona treasurer (he's the former mayor of Tempe) ended in August in the Republican primary; Matt Monforton '91 is a Republican contender for a seat in Montana's house. On the CMC campus, some undergraduates aren't waiting until graduation to run for public office: Junior Nathaniel Tsai '17 is currently campaigning for a seat in California's assembly.
Other roles: Jake Zimmerman '96 currently serves as Democratic Assessor of St. Louis County; Patrick J. Conroy '72 is a Jesuit priest and the 60th Chaplain of the House of Representatives; Brandi Hoffine '06 is White House Assistant Press Secretary; Daniel Yohannes '76 serves as U.S. Ambassador to the Organisation for Economic Co-operation and Development (OECD); and Larry Andre Jr. '83 serves as U.S. Ambassador to Mauritania in western North Africa. Adam Rush '03 is the mayor of Eastvale, California; and Simon Salinas '78 is a Monterey supervisor and former member of the California Assembly.
• For more on alumni in office, go to www.cmc.edu/magazine
• Sources include: John Faranda '79, Jack Pitney's page for students ( www.claremontmckenna.edu/pages/faculty/JPitney/Prospectives.htm)