Fall 2014
Visit cmc.edu/news for more on these and other stories.
Brief & Newsworthy
Rising through the ranks: U.S. News & World Report has ranked Claremont McKenna College No. 8 among national liberal arts colleges. In its 2015 rankings, released on Sept. 9, Claremont McKenna is tied with Carleton and Haverford colleges for the eighth spot.
You love us, you really do: Princeton Review's "The Best 379 Colleges: 2015 Edition" surveyed 130,000 students at 379 top colleges and universities, asking them to rate their schools on dozens of topics, and to report on their campus experiences. For the second time, Claremont McKenna placed No. 1 in the category "Their Students Love These Colleges," a category introduced by Princeton Review in 2013, at which time CMC also made the top of the list.
Ice water rains down: Ice machines around the country have been working overtime to keep up with demand since the ALS Ice Bucket Challenge hit social media in July. The Challenge also reached the CMC campus, where supporters have dumped ice water on several familiar individuals—including President Chodosh (pictured with Ben Tillotson '15)—to raise money to fight ALS and build awareness for the disease.
Interim Ath director: CMC First Lady Priya Junnar is leading the Marian Miner Cook Athenaeum during the 2014-15 season as the search continues for a permanent replacement for Bonnie Snortum, who retired earlier this year. Jeff Huang, Vice President for Student Affairs, Admission and Financial Aid, announced the appointment in August, stating: "As we continue the search for a permanent Director in the coming academic year, it was important to find a uniquely capable person to assist us in an interim role." Huang cited the First Lady's academic background (an MBA from Case Western Reserve, a Master's in international relations from Yale, and a Bachelor's from UC Berkeley) and her professional experience in university communications as an ideal combination for this temporary post.
New Title IX Coordinator: Nyree Gray has been appointed as the College's Title IX Coordinator and Chief Civil Rights Officer, announced President Chodosh in a community message released in early October. Gray will be responsible for the College's federal civil rights obligations to prevent "discrimination and harassment including but not limited to gender-based conduct," Chodosh's message said. (The College is also in the process of recruiting for an investigator position dedicated to investigating sexual misconduct, civil rights complaints, and other matters within the College. ) Gray joins CMC from Southwestern Law School, where she served as Dean of Students and Diversity Affairs and as an associate professor of law.
A weekend with Impact: Members of the College's institute boards and other organizations gathered on campus in early October for the first annual ImpactCMC Weekend. More than two hundred people participated in meetings, training sessions, and conversations with the College's leadership as well as a keynote luncheon address by Trustee Tom Leppert '77, CEO of Kaplan, Inc. The weekend also included meetings of the Forum for the future, an opportunity for the Class of 2015 to network with alumni, and a CMS Homecoming football victory against the University of La Verne.
A farewell to Evans: A memorial service was held on campus in early October to honor the memory of Trustee Bart Evans '70, who led the College's drive to raise its tech profile in the Silicon Valley and beyond. Evans passed away in May after a struggle with pancreatic cancer. Speakers at the service held at the Kravis Center included Professor Robert Faggen (Barton Evans and H. Andrea Neves Professor of Literature), Trustee Harry McMahon '75 P'08 P'09, President Hiram Chodosh, Associate Vice President and Chief Technology Officer Cynthia Humes, Dan Beer '15, Trustee Fred Prager P'99 P'01, and Scripps President Lori Bettison-Varga.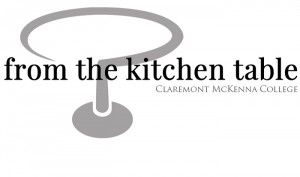 The President's Blog: With the start of the new academic year, President Chodosh launched a new blog to share ideas and exchange views onissues facing CMC. "I've been searching for a process of communication that would help me discuss important issues with the College community," Chodosh writes on his blog, From the Kitchen Table. The title was inspired by his experiences, as a child, of the family kitchen table as a gathering place for conversation and debate. "Over time," he adds, "I hope this tool will help us share critical observations, generate new ideas, pose tough questions, make open reports on our progress, frame issues—all in an effort to advance and enhance our shared vision and mutual commitments." To read more of the president's blog, visit www.cmc.edu/ kitchen-table/
Alumni in the News
Abhi Nemani '10 joins L.A. Mayor Garcetti's team: "Wonderful, fun, and inspiring first day at Los Angeles City Hall. It's a privilege to serve with this team." That was Abhi Nemani's '10 first Tweet in his new role as the big city's first Chief Data Officer. In a Q & A at www.cmc.edu/news, he describes his job, how Claremont McKenna prepared him for his work, and which professors had the greatest impact on him.
Illumina CEO Jay Flatley '74 P'03 profiled in Forbes: "Flatley's Law: The Company Speeding A Genetic Revolution" is the name of a story appearing in September in Forbes. "Thanks largely to Flatley's leadership, Illumina emerged as the dominant maker of DNA sequencers eight years ago and has maintained 80% market share despite an assault by several well-funded competitors," the article reports.
Sahil Kapur's '09 political reporting in the media spotlight: Sahil Kapur's '09 reporting is getting a lot of attention. Just do a Google search with his name and see a "who's who" of top media outlets citing his work. Kapur is senior congressional reporter and Supreme Court correspondent for popular political blog Talking Points Memo. His articles have been published in the Huffington Post, The Guardian, and The New Republic.
Faculty News
Libya's militia problem: "As the U.S. builds its military campaign against the Islamic State, extending airstrikes into Syria, it is not too late for Washington and its allies to heed the lessons from Libya." So writes Assistant Professor of Government Kristin Fabbe in a September Op-Ed in the Los Angeles Times, co-written with Mieczyslaw P. Boduszynski. The authors continue: "Militias in Libya offer young men power, prestige and money exceeding anything that the official state can provide."
Piercarlo Valdesolo on cheating and climate change: A virtual coin flip and a hidden camera have shown that 90 percent of subjects will cheat to get the results they want. Read a Pacific Standard cover story that mentions cheating research by Assistant Professor of Psychology Piercarlo Valdesolo. Meanwhile, Scientific American has posted the scholar's September piece, "Trust in Science Reduces Concerns About Climate Change."
Joshua Rosett leads Financial Economics Institute Joshua G. Rosett, the Curb Family Associate Professor of Business and Law and George R. Roberts Fellow, has been appointed as the new director of the Financial Economics Institute. In this role, Professor Rosett, who is on the faculty of the Robert Day School of Economics and Finance, leads the Institute's support for student and faculty research, including student access to powerful financial databases such as the Bloomberg Terminal and the Wharton Research Data System.
Wendy Lower directs Center for Human Rights Leadership: Along with FEI's Rosett, Wendy Lower started her tenure this summer as director of the Center for Human Rights Leadership. Author of the prize-nominated study Hitler's Furies: German Women in the Nazi Killing Fields, Lower is John K. Roth Professor of History and George R. Roberts Fellow. This fall, under her direction, the Center has co-sponsored with CMC's History Department an exhibit of World War I artifacts, "Over There, Over Here: A Glimpse of the Great War Through The Claremont Colleges Archival Collections" at Honnold/Mudd Library.
Praise for the Letters of Robert Frost, co-edited by Robert Faggen: "…Continuous tact and sensitivity to the likely demands of a literate reader" is how The Times Literary Supplement reviewed The Letters of Robert Frost, Volume 1: 1886-1920, co-edited by Robert Faggen, the Barton Evans and H. Andrea Neves Professor of Literature and Gould Center Director. The book is the first major edition of the poet's written correspondence, offering hundreds of previously unpublished letters.
Hilary Appel's Ukraine views in the Russian media: Hilary Appel, Podlich Family Professor of Government and George R. Roberts Fellow, wrote a policy piece on Ukraine's "distant and unlikely" membership in the European Union that was picked up by one of the most visible, respected media outlets in Russia— RBC Daily, which attracts some 2 million visitors daily. Appel also traveled to Washington D.C. to present that policy memo to Russia experts in government, media, and think tanks.
Mark Blitz discusses Plato with Bill Kristol: Mark Blitz, the Fletcher Jones Professor of Political Philosophy and director of the Henry Salvatori Center, was recently on "Conversations with Bill Kristol," a video discussion series with Kristol, Weekly Standard editor and chair of the Salvatori's Board of Governors. Blitz talked about his newest book, Plato's Political Philosophy, and much more.
Eric Helland to join Philosophy, Politics, and Economics program: Eric Helland, the William F. Podlich Professor of Economics and George R. Roberts Fellow, will teach in the expanded Philosophy, Politics, and Economics program (PPE), beginning in 2016-17. Helland will play a major role in helping to plan the growth of PPE, working in tandem with current PPE faculty members Paul Hurley of philosophy, Brock Blomberg P'13 P'16 of the Robert Day School, George Thomas of government, and new philosophy faculty member Adrienne Martin.