Fall 2014
The signal that a new chapter in his life at Claremont McKenna was about to begin, recalls David Mgrublian '82 P'11, started with an email from Harry McMahon '75 P'08 P'09.
McMahon wanted to see him.
Mgrublian didn't think it was unusual that they should meet. After all, as members of the Board of an ambitious, ever-growing college, there are always important matters to discuss. But Mgrublian says he wasn't expecting McMahon, then preparing to step down after eight successful years as the Board's chairman, to tell him he'd been chosen by his fellow trustees as the top candidate to succeed him.
"Though I was surprised given the timing for me in my career, I couldn't turn CMC down," says Mgrublian during an interview in the offices of IDS Real Estate Group in downtown Los Angeles. "At that moment I realized it was compelling for me, especially considering our new president and my longstanding relationship with students, faculty, staff, the Board, and the Alumni Association."
This summer, on July 1, Mgrublian started as the eleventh Board chair in the college's 68-year history. His name joins a list that begins with Garner Beckett in 1946 and includes, in more recent decades, the names of Richard Flamson '51, Robert Day '65 P'12, Robert Lowe '62, Peter Barker '70 P'01, and McMahon '75 P'08 P'09.
"David is a vital member of our Trustee family. There's no one who has shown better judgment or engagement on the key issues facing the college," says McMahon. "There is no one I trust more than our new Chair. I am braced to see the last Chairman's administration completely upstaged!"
Such admiration, it turns out, is a two-way street between them.
"I received a heck of an education sitting next to Harry," Mgrublian says with a smile.
Mgrublian's new leadership role also coincides with another recent change in the college's top leadership, the arrival of President Hiram Chodosh, who started July 2013. Mgrublian and McMahon served as co-chairs of the search committee that ultimately brought Chodosh to CMC from the Quinney College of Law at the University of Utah where he was Dean.
Mgrublian considers this change in leadership from a strategic perspective.
"Hiram and I are about the same age," he explains, "and I see that as useful and important for CMC's direction today and for the future."
❖❖❖
A Multitude of Roles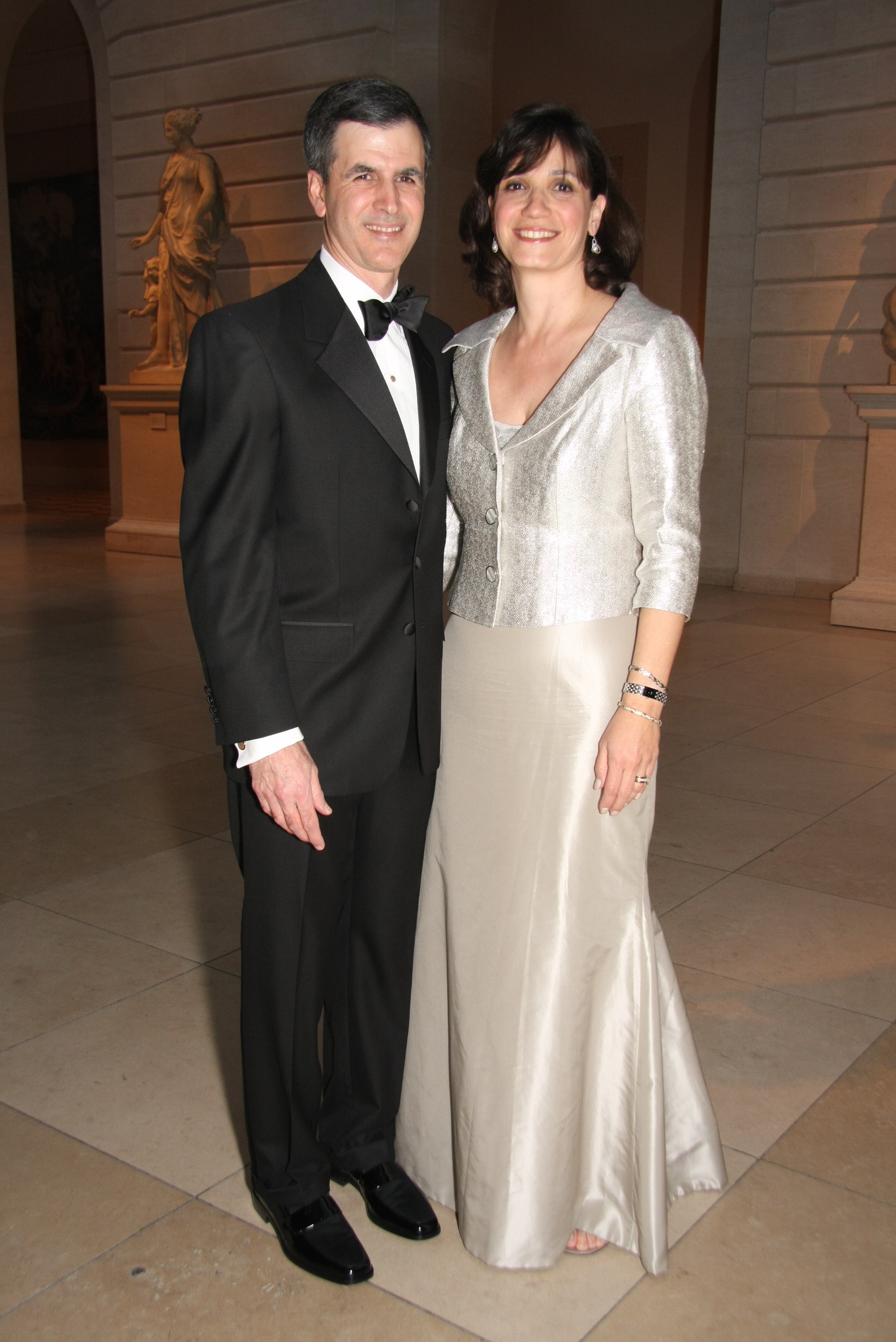 At 54, Mgrublian is the chief executive officer of IDS, which he joined in 1992. He oversees IDS's Real Estate Services, Corporate Services, and Advisors divisions. He's also a member of the Urban Land Institute's Urban Development/Mixed-Use Council. Mgrublian holds an MBA from Harvard Business School.
While he regards his new CMC role as being "a resource primarily for the College President and senior staff as issues emerge," he also acknowledges that it will require him to be more visible than in his previous roles.
"At CMC I've mostly stayed out of the limelight despite the high-profile projects I've been involved with," he says. " Except for the Board and my friends and family, I think I'm an unknown quantity to most."
Mgrublian's service to his alma mater started during his undergraduate years when he became ASCMC President. After graduation, he went on to assume many other positions, including president of the CMC Alumni Association and Alumnus Trustee. His love of CMC, he jokes, "has always been in my DNA."
In 2003, he joined the College's Board as a regular Trustee and, during 11 years of service, has served on the Board Affairs, Academic Affairs, Research Institutes, Capital Campaign, and Executive Committees. He has worked closely with Emeritus Chairs Lowe, Day, Barker, and McMahon.
Mgrublian has also chaired the Board's Building and Grounds Committee, overseeing the campus's transformation and working with a variety of stakeholders. That role has been an immense undertaking, especially in light of the continuous projects that are sculpting and shaping the physical appearance of the campus.
Projects that he has spearheaded include: Campus Master Plan, Kravis Center, North Mall Renovation, Hub, McKenna Auditorium, Crocker Reading Room renovations, the Parents Field restoration, and exterior lighting and signage upgrades. He also worked closely with Trustees Steve Eggert '82 P'15 (on the Athenaeum renovation), Ken Valach '82 (on the Mid Quad renovation), and Ken Novack '67 (on construction of the forthcoming Roberts Pavilion).
Mgrublian explains that his commercial real estate background with IDS has been a major asset in this work, especially the master planning process.
"It's been an amazing experience," he says, "because I understand what makes CMC special. I've been able to engage the CMC community and that helps me explain the collective vision to the architects of how to make new buildings fit and feel like they belong here."
❖❖❖
First In His Family
Growing up in an Armenian- American family in South Pasadena, the son of a self- taught engineer, Mgrublian excelled in math and social science in high school and was the first in his family to attend college.
"My parents encouraged me to think about economics so I went to Pasadena City College as a senior in high school and took an econ class," he recalls. "I applied to both CMC and the University of Chicago since economist Milton Friedman taught there. But I decided I wanted a small school, and CMC has the strongest undergrad econ program on the West Coast."
Today, as progress continues on The Student Imperative, the college's year-old initiative dedicated to improving the total student experience (financial aid, academic programming, and campus environment), Mgrublian recalls his own dreams of attending CMC and the support that turned this into a reality.
"I couldn't have done it in part without the Geoffrey Draper Memorial Scholarship," he says. "I am forever grateful for that."
He's also grateful for the special collaborative relationships he experienced once he arrived and decided to major in economics and political science.
"I felt mentored by so many people in this community," he says, describing how Corporate Finance Professor Harold McClelland urged him to attend Harvard Business School. "I hadn't even considered going there until he suggested it to me."
Mgrublian's love for his undergraduate experience extended to everything, even— he says with a laugh—to his constitutional law class with Professor Winston Fisk which forced students out of bed early on Monday mornings.
"I just had remarkable professors who made such a difference in my life. I didn't want to miss out on anything. Our school is so student-centric," he says. "We have such a strong model of professors working on cutting-edge research and wanting to involve their students in it."
As Mgrublian found, such tight-knit relationships on campus would continue after graduation.
"Our alumni do the same for each other," he says. "It's a consistent thread through CMC. When I was graduating from business school and wanted to start my career in commercial real estate in Southern California, Jeff Nickell '79 helped me land my first job here with Trammell Crow Company."
Involvement with CMC has always been a family commitment. Mgrublian says he met his wife, Margaret, at a large Armenian wedding shortly after graduation from CMC.
"The family joke is that we cut our honeymoon short so we could attend my fifth CMC reunion," he says. His wife has been active with the college's Center for Human Rights Leadership, their daughter Kathryn is a Class of 2011 alumna, while Madlyn, the couple's younger daughter, went east to pursue her liberal arts education at Williams.
❖❖❖
Giving Back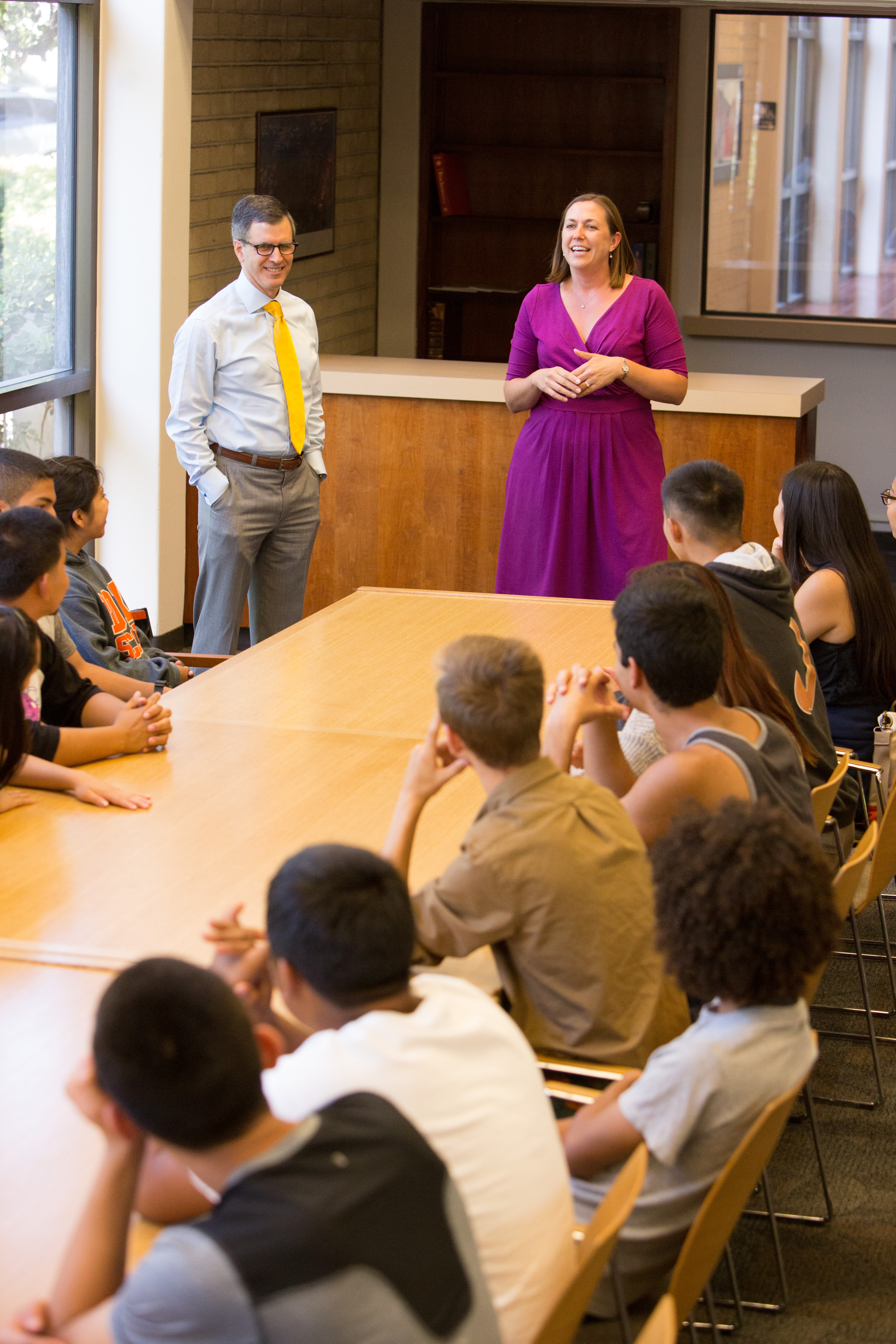 In addition to funding several family student scholarships at CMC, the Mgrublians also support activities and programs for deserving low- income students attending Pasadena Unified School District schools. Each summer, the couple sponsors a group of high-achieving high school seniors who visit CMC and spend a couple of days on campus.
"Margaret and I get great satisfaction out of this," he says.
Educating tomorrow's civic leaders is what Mgrublian considers central to CMC's mission. He draws on his father's service during World War II as an example of the kind of commitment to public service he hopes will be instilled in students.
"My Dad spent what would have been his college years in the South Pacific intercepting and helping to break the Imperial Navy's Katakana code," he says. "He served his country and the greater good, and I firmly believe CMC has a national and global obligation to inspire our students via the liberal arts to do the same."
Along with several family photos in his downtown L.A. office, there are photos of Mgrublian with rod in hand, fishing in Montana and Wyoming. When he does manage to take an occasional break in his very tight schedule, Mgrublian says he enjoys the serenity of fly fishing "to clear my mind." But in general, if he has any time to spare, he says he'd rather spend it on the campus.
"For real fun, all I have to do is walk around the CMC campus and see the students, the buildings, the faculty, and the staff," Mgrublian says. "I can recharge my batteries there for the rest of my life."
❖❖❖
Mgrublian's 'devotion to CMC is total'
Responses from the CMC community
"What do you want in a Board Chair for CMC? A person who is successful and demands excellence in others. A person who is a decision maker but listens carefully to others. A person who loves the college and is not afraid of tough decisions to enhance it. A person who earns respect by respecting others. These are some of the reasons why Dave is the Board Chair."
—Ray Remy '59, Life Trustee
"The best and most effective committee upon which I have ever served was the Presidential Search Committee co-chaired by David Mgrublian. David was masterful, drawing upon his own intelligence, integrity, openness, and unswerving commitment to CMC to foster an environment of candid, reasoned discussion marked by transparency, inclusiveness, and clarity of mission. I am confident that David will bring these same exceptional qualities to his new role, and that he will find similar success." —Paul Hurley, Edward J. Sexton Professor of Philosophy
"David Mgrublian cares deeply about CMC. He is an earnest, approachable, and highly-motivated member of our community who understands the value of the liberal arts and who is well-suited to play a key role in CMC's evolution. I am delight- ed that he is our new Board Chair."
—Audrey Bilger, Professor of Literature, Director of the Center for Writing & Public Discourse
"I have a rather long background with both the CMC Alumni Association (a director since 1955) and the CMC Board of Trustees (a Trustee and serving the Board as CMCAA President 1959-60 and 1966 to 2006). During that time I served with every CMC Trustee Chairman from its first (Garner Beckett) to immediate past (Harry McMahon). And, I worked with our new Board Chairman David Mgrublian when he was the Alumni Association's President, a CMCAA Director, and then a CMC Trustee. David has a background with unusual knowledge of the CMC Associated Students, CMCAA, and CMC. Moreover, he has people skills and understanding that are remarkable. He is a welcoming, open- minded listener, then a decisive decision maker, and, when it rarely happens, admits his mistakes. In all of his capacities David has always sought to determine what was the right thing to do and then do it. I know of no person who has been better overall qualified to be our CMC Board Chairman. I believe that the combination of David and President Hiram Chodosh will prove to be one of the best duos in today's American higher education."
—Gene Wolver '51
"David Mgrublian has a vision of CMC as a great liberal arts college, and a deep understanding of its strengths and future needs. His devotion to CMC—as an alumnus, parent, and trustee—is total, and he brings immense knowledge, energy, and precision to any conversation. He has a warm and gentle sense of humor and an uncanny ability to listen to, understand, and communicate with all members of the community. David is truly fun to work with."
—Robert Faggen, Barton Evans and H. Andrea Neves Professor of Literature, Director, Gould Center for Humanistic Studies
Ellen Paris is a freelance writer on economics and business for Forbes magazine and other publications.