Fall 2014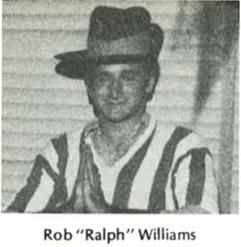 Briefly, for just a year, the late actor and comedian Robin Williams was a CMC Stag.
News of Williams' death in August prompted a host of tributes from around the world, including members of the Claremont McKenna community (for more, see the Class of '73 section of Class Notes).
While other tributes focus on his time at Juilliard or his rising career as a stand-up comedian, CMC memories revolve around the antics of the young freshman known as "Rob" or "Ralph" who attended the college during the 1969-1970 academic year.
Williams studied political science, played soccer for Coach Steve Davis, and demonstrated his trademark lightning-fast humor for the delight of his classmates.
That humor was on abundant display during a student comedy show held in McKenna Auditorium in the spring of 1970.
Williams' performance is described in a recent edition of Myths, Legends and Tall Tales in a story by Dick Gale '71. Gale quotes Al Dauber '71, who organized the event and ran a full-page advertisement in The Claremont Collegian, the main newspaper reporting on events at all of The Claremont Colleges.
Both Gale and Dauber said Williams stunned everyone at rehearsal with his powers of improv. According to Gale's anecdote: "The next thing I knew…" Dauber recalled, "he was being challenged by one of us after another, to do the most off-the-wall characters and accents. 'OK, do a Russian fisherman lost at sea… Rob, do a Bulgarian farmer trying to revive his crops after a storm… Robin, can you do a South American priest trying to convert an orthodox rabbi to Catholicism?' "
"I had never seen anything like it," Dauber continued. "With every outlandish request we made, he would not only switch dialects in mid-sentence, but—without missing a beat—he would have us in stitches. It was as though he had rehearsed for weeks, when in reality he was making this material up on the spot." In a recent email exchange for this article, Dauber added that he believed that experiences like improv classes and their comedy show served as "the catalyst for Robin's launching of an incredible career in comedy."
Along with the standard general course requirements for all freshmen, Williams also took a class on improvisational theatre at Scripps, which is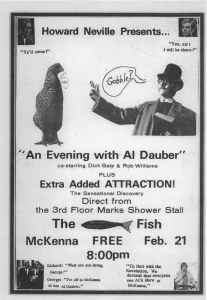 mentioned in a 2011 profile in CMC Magazine of Fr. Patrick Conroy '72, Chaplain of the U.S. House of Representatives. That spring, Williams also played the role of the Mad Hatter in a production of Alice in Wonderland staged by the student troupe known as the Four College Players.
During Williams' year on the men's soccer team, Coach Davis led the team to a SCIAC championship.
Also in an earlier issue of CMC Magazine, Davis shared several anecdotes about Williams—how, for instance, during a soccer game he used a convincing Cockney accent that made the other team think he was from England.
Williams' humor cropped up at unexpected moments, Davis said. Once, as the team sat together in Collins, one of the deans approached and tapped Williams on the shoulder as he was about to take a bite of his sandwich. Without blinking, Williams said to his sandwich, "Don't go away—I'll be back," and turned to face the dean.
— Nicholas Owchar '90