The Big Sky's the limit
Fall 2014

What's one of the best ways to see everything that Montana has to offer? Take Highway 200.
The route unwinds through a beautiful landscape: vast open plains, rolling hills, and craggy mountains. For some, the sky seems bluer, and the sweeping clouds more majestic, than anywhere else in the U.S.
But that shouldn't come as a surprise—isn't this the state known as "big sky country"?
Route 200 runs like a thread across the state, from east to west, connecting many of the small towns— Dixon and Heron, Bonner and Milltown—between Missoula and Great Falls. It's the perfect route for a tourist.
Or a gubernatorial candidate.
In 2012, during the governor's race, Steve Bullock '88 traveled back and forth across this highway—and many others—in an old 28-foot RV to meet his fellow Montanans and see if he really could be their governor.
"We called it either the eagle or the 'Bullock mobile,'" he recalls. He has a deep, hearty laugh. "It wasn't as sexy as a presidential campaign charter bus, but it gave me an opportunity to take my kids on campaign trips they wouldn't have otherwise wanted to go on. And it gave us all a good laugh on the trail."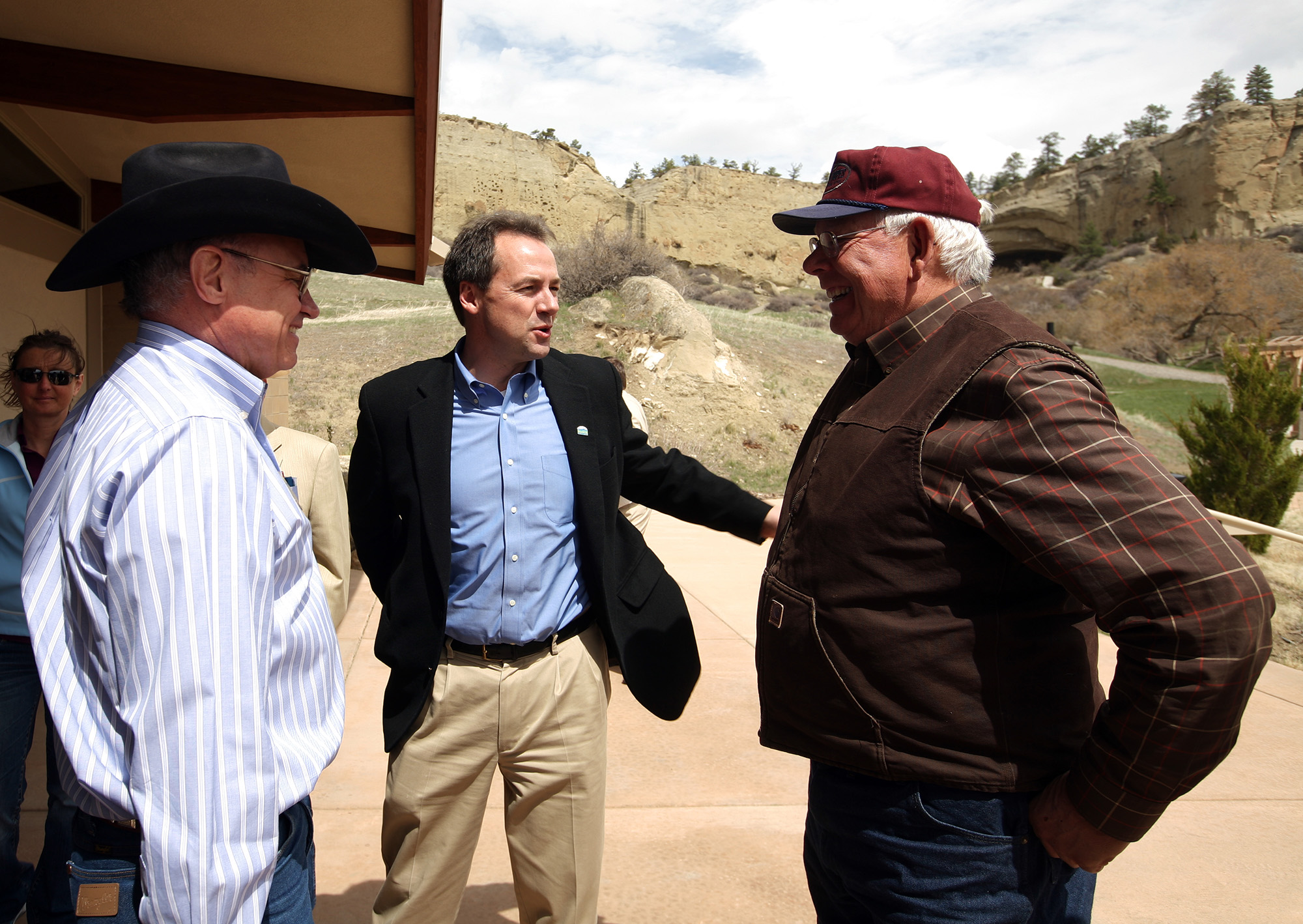 Not only did "the Bullock mobile" keep the mood light and provide plenty of chances for family time, it also kept Bullock close to the voters and the issues. You really can't listen to people in tucked-away corners of the state if you're rolling by in a fancy campaign bus or jetting overhead in a chartered plane. "You can't see them from up there," he says.
As a candidate, CMC's first and only governor (so far) traveled the state's 147,000 square miles to attend Crow Nation parades, listen to vets in Missoula, stand in the middle of livestock auctions, visit elementary school classrooms, talk to ranchers and fly fishermen out in the fields and inside coffee shops…. in other words, all the things central to an elected official's life —and something Bullock says he'd been ready for since his undergrad days at CMC. This isn't some calculated political nod to his alma mater, though. Bullock really means it.
At CMC, he was one of the earliest members of the fledgling Philosophy, Politics, and Economics sequence, a degree program that pioneered cross-disciplinary study by finding a through line connecting these fields.
Every day Bullock says he looks for similar points of connection with people from all walks of life, with all kinds of experiences. That's why the broader the education, the better— "it helps you understand where people are coming from," he says.
That's also why, when he learned about President Hiram Chodosh's cross-disciplinary Liberal Arts in Action message (the two haven't met yet, but Bullock says he hopes it will be soon), it made sense to him.
"I had a great liberal arts education, and it taught me not what to think but how to think," he says. "It gave me a platform for how to think and listen and gather and pull from different disciplines and points of view. I use it every day."
❖❖❖
"Like a blind date"
Bullock won the governorship in a tight race against Republican Congressman Rick Hill even though Barack Obama lost the state to Mitt Romney by nearly 14 percentage points — a huge margin.
In a state known for its Republican-dominated legislature, Bullock's Democratic victory was credited to his "superior ground game" and to mobilizing more of his voter base, according to pundits.
In the years before the campaign, Bullock had also built several key connections before and after becoming the state's Attorney General.
He was especially popular with the state's high percentage of sportsmen (he wrote the state's opinion on guaranteeing access to rivers, streams, and public lands), and he led the drive for new crime and safety measures important to just about everyone, like a sobriety law cracking down on repeat DUI offenders.
"He often recalled on the campaign trail how he used to ride by the state capitol on his paper route," USA Today reported after Bullock's election victory.
"Now Bullock has found his way to the corner office on the second floor of that venerable building."
But Bullock says he never imagined entering political office when he was a child. He didn't dream about it the way some kids dream of being a fireman or president.
He did, however, dream about being a lawyer.
"I can't say exactly why. We didn't have any lawyers in our family," he says. "But I wanted to help people some day, and in grade school I had this idea that lawyers were the ones who could really help people. So that's what I wanted to do."
But what college should he attend?
A part of him wanted to stay in Montana ("a lot of me is rooted here") so he applied to the University of Montana. But CMC became another appealing choice because of his mother, Penny, who remains a strong presence in his life even today (of the governor's race, he says she was very proud of him and "more than willing to give her share of campaign advice along the way").
"I'd never visited CMC. I never stepped foot on the campus until I showed up for orientation. It was like a blind date," he says. "My mother found it. She liked that it was a small school focused on all the things I wanted to do. If I wasn't going to stay in Montana, she thought it would be a good place for me. She was right."
At CMC, Bullock was a PPE major, and he was actively involved in campus government. Maybe he wasn't dreaming of political service as an undergrad, but that didn't prevent him from running for freshman class president. Even now, more than 30 years later, his campaign is difficult for some to forget.
One afternoon, in the fall of 1984, students encountered a small corral set up outside Collins Dining Hall. The corral held a couple of sheep that Bullock had borrowed—temporarily, of course—from the animal husbandry department of nearby Cal Poly Pomona.
It amused everyone, but Bullock's target audience for this stunt was his fellow freshmen. His campaign slogan? "A Vote for Steve Will Be a Vote for Ewe."
He might have left Montana behind to attend CMC, but he brought a little of Montana to campus on that day. (He won, by the way.) He would go on to become ASCMC President.
That memory comes courtesy of Rena Bever, who was Dean of Housing at the time—it's featured in a recent edition of Myths, Legends, & Tall Tales, a book of alumni stories regularly published by the college's Office of Annual Giving.
❖❖❖
"Knocked my socks off"
Ask Bullock which CMC professors inspired him, and it's a hard question for him to answer. He can't name just one.
But when he's pressed, he names off several, including Ward Elliott, the late Langdon Elsbree, Gordon Bjork, and John Roth.
Roth, especially, "really knocked my socks off," he says. "He challenged us to live the questions, not just to think about them, you know?"
The two remain in touch via email today.
"John wanted us to face uncertainties," Bullock says. "He really inspired me to recognize opportunities and to realize that nothing we do in life is in black and white."
Bullock learned a similar lesson from a new, young member of CMC's Government Department … John Pitney.
Pitney arrived at the College during Bullock's junior year after serving as a senior policy analyst for the U.S. House Republican Research Committee. Bullock asked Pitney to be his adviser on his senior thesis, the main piece of undergraduate scholarship that every CMCer completes as a graduation requirement. Under Pitney's guidance, Bullock wrote his thesis on welfare reform.
"Jack helped me along the way substantially…" he says. "His politics were different from mine and working with him made me realize you have to understand things from other sides besides your own."
For a future elected official, the lesson was invaluable.
"He showed me how to weigh and balance other points of view, and I learned a lot from him," he adds. "It's an experience I've carried with me ever since." When these comments are relayed to Pitney, he fields them by setting them in a larger context.
"I'm flattered Steve mentioned me, but he was really talking about the whole culture of CMC," says Pitney, Roy P. Crocker Professor of American Politics.
"Here, students learn how to engage with people they disagree with."
Pitney still remembers their work together. Bullock's resulting thesis was a "thorough, balanced, and thoughtful" legislative analysis. He says Bullock was a good fit for the PPE program's interdisciplinary focus.
"Steve always had a sharp eye for the intersection of policy and politics," he says. "If we went back in a time machine and told the class of 1988 that Steve would someday be governor of Montana, nobody would be shocked."
❖❖❖
Political lessons
Morning at the Governor's residence in Helena—an 11,000-square-foot ranch house a few blocks from the capitol building (and Bullock's childhood home)— begins around 5:30 a.m.
Bullock goes for a short run, consults the day's edition of The Helena Independent Record and other papers, and helps his wife Lisa with their children.
The Bullocks have a young family — daughters who are ages 12 and 10, and a seven-year-old son — and the early morning, he says, is probably just like it is in any household with children.
"It's the same scramble. Making lunches and getting them out the door," he says. "When I'm home, I'm the father of three kids. After a long day, sometimes the most satisfying thing is just helping them with their homework."
At 48, Bullock is one of the youngest governors currently in office—the youngest is South Carolina's Nikki Haley, 42; the oldest are Hawaii's Neal Abercrombie and California's Jerry Brown, both 76.
After CMC, he went to Columbia Law School and then into private practice, preoccupied with the things that preoccupy most young people: starting a family and figuring out how to pay off $100,000-plus in school loans. But by the middle of the 1990s, he and Lisa were back in Montana again, and Bullock served as legal counsel to Montana's Secretary of State and worked in the Attorney General's Office on issues important for the state, like access to streams and public lands.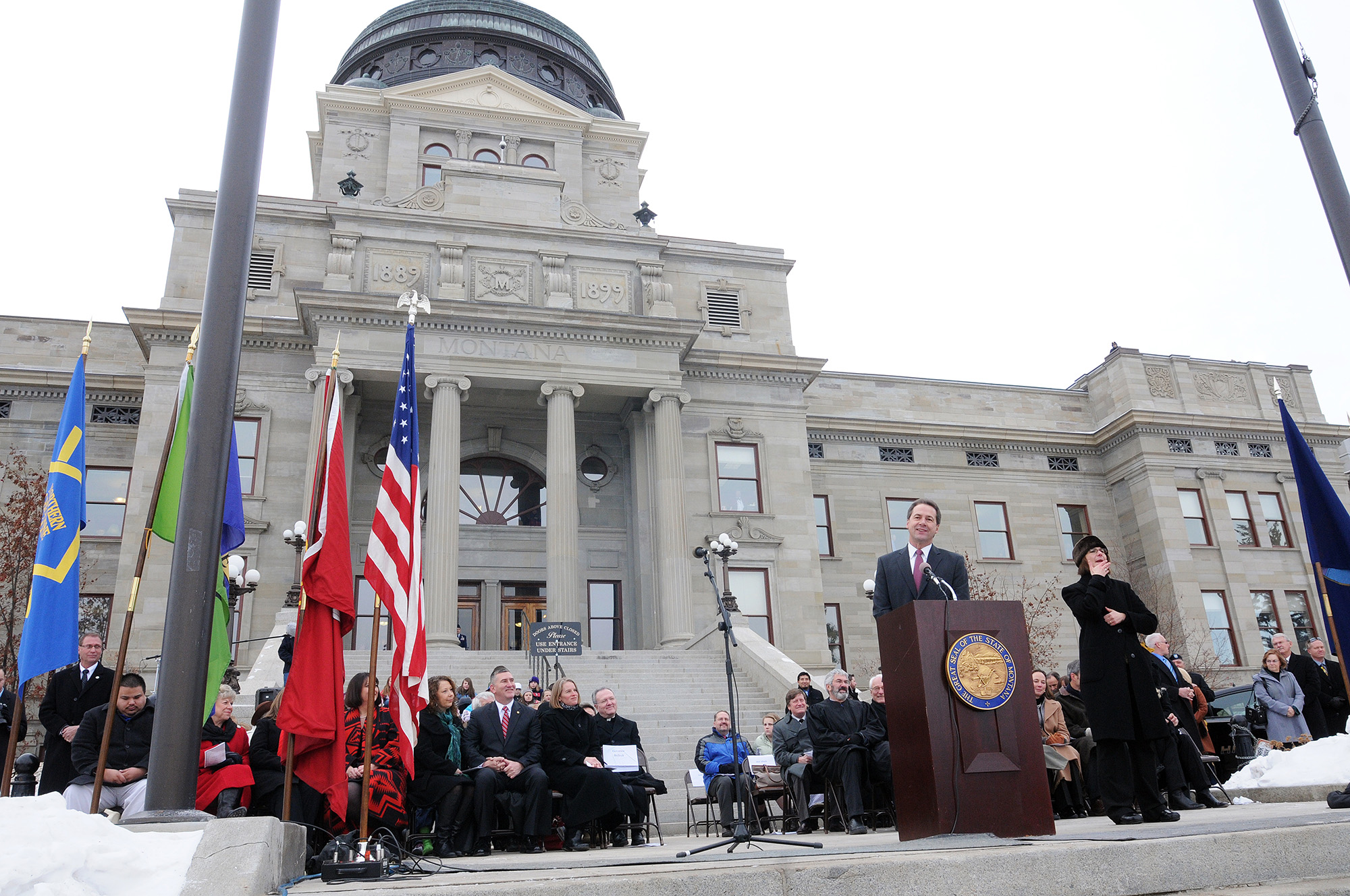 "I thought it was such a cool job," he says about being Attorney General. "I was 34, and I thought I might actually want to be this job one day."
In 2000, Bullock had his chance. He ran and lost in the Democratic primary. He lost big—in other interviews, he uses the word "trounced" to describe that defeat.
"I lost significantly," he says. "But I didn't run in 2000 thinking I'd do it again in 2008. I just did it at the time because I thought it was a great job worth having."
What was also worth having? Experience on the campaign trail.
The trail taught him a lesson that can't be learned in any other way: that life, he says, "doesn't always go on the exact path you expected; it's how you adjust to setbacks and learn from them that counts more than your victories."
In 2008, he ran again, beating Republican challenger Tim Fox to become the state's attorney general. With one term under his belt, and Montana's Democratic governor Brian Schweitzer about to leave office because of term limits, Bullock set his sights on the state's top job.
He won with a campaign on issues of wide interest and concern to most voters and interest groups—job creation, improvements to the public school system, campaign finance laws and banning corporate money in state elections (something he even had a chance to discuss on MSNBC with Rachel Maddow), women's rights, and access to public lands and rivers.
Many of these issues, especially job creation, remain central in his administration today. That isn't unusual—most governors, especially in the Western Governors' Association, are eager to grow their state economies and increase the pools of desirable jobs.
"If my kids decide to stay in Montana," he says, "I want to make sure some of those jobs are available for them."
Other issues important for the Bullock Administration include state campaign finance laws and gender parity in the workforce. He's also especially enthusiastic about a push in Montana schools to invest in pre-kindergarten education.
❖❖❖
The inevitable question
In the end, though, the conversation inevitably shifts from Montana's present state of affairs to Bullock's plans for the future. No matter who Bullock is talking to, he gets asked the familiar question: So what next?
In American politics, after all, governorships have been the traditional launching pads for many U.S. presidential bids.
Recently the Great Falls Tribune wondered aloud in a headline, "Will Governor Bullock Run for President?" News reports say he remains popular with voters there and with the state's Democratic Party.
But Bullock handles the question with another hearty laugh, and an answer that's as wide open as the view of the horizon from Route 200.
"I so enjoy what I get to do now, I couldn't say," he says. "I don't know where the next chapter will be, or how the next chapter will unfold."
Steve Bullock: A Brief Bio
Born: 1966 in Missoula, Montana; raised in Helena, Mont. Education: B.A., 1988, Claremont McKenna College Philosophy, Politics, and Economics J.D., 1994, Columbia Law School Career: Governor, Montana, 2013-present; Attorney General, Montana, 2009-2013 Family: Spouse, Lisa; children, Caroline, Alexandria, Cameron