Fall 2015
2015 New Dean Keynotes on "Civil Wars and Deanship"
Hundreds of students and faculty gathered September 4 in McKenna Auditorium for CMC's 69th Convocation Ceremony to kick-off the school year with speeches and song and faculty and staff honors for years of service and achievement.
The Convocation's Keynote Address "Civil Wars and Deanship: Parallels and Insights" was delivered by Peter Uvin, the newly appointed vice president of academic affairs and dean of the faculty.
A former Amherst provost, Uvin spent nearly two decades working in Africa, chiefly in the areas of conflict prevention and democracy rights. During that time, he was involved in trying to find resolutions to civil wars and conflicts in Burundi, Rwanda, Chad, and Niger, among other countries.
After acknowledging the key differences between civil wars and academic communities, Uvin discussed how the causes or deeper drivers of civil wars, as well as the solutions to them, are similar to the challenges of managing a college or university. He said that the things that can and do frequently go wrong in higher education are fundamentally nearly identical to those that go wrong in countries at war.
He enumerated how the five signposts that will guide him at CMC are remarkably similar to those that guided him in his conflict resolution work in Africa. Those signposts and his comments are:
Shared sense of community: "One of the key factors of civil wars I have seen is the fundamental absence of a shared sense of community: there were always significant groups of people who deeply felt that some category of others just did not belong in their country, town, or neighborhood. … Much of my job here, as in Africa, is to find ways to include, to re-humanize, to rebuild community where it has broken down."
Legitimate institutions:
"… If there is one thing I have learned from my work as a scholar and practitioner, it is that institutions are fragile things. Institutions have formal elements (rules, offices and officers) and informal ones (expectations, beliefs, and habits)…. [W] e can keep the buildings and the accounts and the rules in the books, but once people stop believing in the values of the institution, the real, de facto institution will rapidly move away from the formal, de jure one. This holds true for colleges and universities as well."

Predictability: "One of the core factors that undermine institutions, eating away at their legitimacy, is a lack of predictability— and that holds for countries in Africa as much as for colleges and universities in the U.S. It is at the very heart of nearly every situation of civil war I have ever seen."
Relish difference: "My fourth signpost points to the difficulty, beauty and absolute imperative of being able to work across differences. I have learned, in peacebuilding and really in any form of social change, that the key to sustainable success is the capability to include the difficult people, the negative forces, the ones you don't understand or share nothing with."
Respect: "Finally, I am coming to the most important signpost in my life. R-es- p-e-c-t. It is the immediate corollary of much of what I have talked about so far…. A good society is a society whose institutions and practices do not humiliate its members. This holds for a college as much as for a country. Blows to people's sense of dignity and self-respect are the core source of unhappiness in this world."
For convocation video, visit: cmc.edu/news/civilwars- and-deanship-keynote-theme-cmc-convocation
Johnson writes and blogs for various publications, including People Magazine.
Have cello, will travel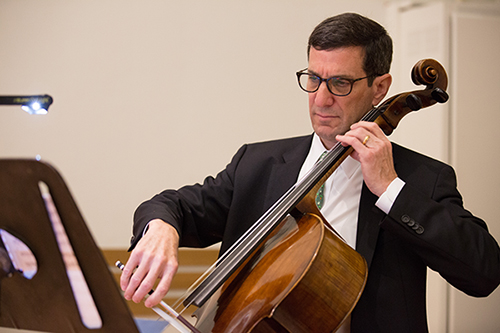 For many, Convocation not only ushers in the fall semester, it also sets the tone for the entire academic year. Since 2010, Professor Joshua Rosett has helped set that tone by performing the prelude to Bach's Cello Suite No.1 in G Major.
"The song is a combination of both the seriousness of the occasion as we start our academics again, but it is also a celebration of life," he explains.
Rosett, the Curb Family Associate Professor of Business and Law and George R. Roberts Fellow, joined CMC in 2003. He also serves as the Director of the Financial Economics Institute.
When not consumed by his teaching duties and scholarship, Rosett cultivates his passion for classical music with his cello. Upon his arrival at CMC, he began performing with the Claremont Concert Orchestra at Scripps College. Starting with the first graduating class of Masters of Finance students, he has played at the Robert Day School Hooding Ceremony, and shortly thereafter he was asked to play at Convocation.
His cello has an equally interesting story. It resided in Europe for approximately 267 years, crafted in 1740 by British luthier Peter Wamsley. In 2007, Rosett acquired the cello from a violin shop in his hometown of Rochester, New York, as a gift from his wife.
Over the years, he and his cello have gained a presence across the 5Cs. In addition to his participation in CMC Convocation and graduation ceremonies, he has performed at the Athenaeum, twice in the Noon Concert Series in Balch Auditorium at Scripps College, as part of the "Cellopalooza" at Pomona College in 2011, and, most recently, with a group of students from the 5Cs at Scripps in a performance of the Mendelssohn Octet.
– Alyssa Jones '17