Fall 2015
Alumni and parents turned out in force for the second annual ImpactCMC Weekend.
Following the successful examples of other leading colleges and universities across the nation—Oberlin and Wesleyan, for instance—CMC called its legions of volunteer-leaders to campus in early October for a focused weekend of discussion and decision-making.
More than 250 members of the College community attended a multitude of events, organized by the College's Office of Alumni and Parent Relations, including: members of the Board of Trustees, Forum for the Future, Board of Directors, Parent Network Board, institute and center boards, class liaisons, class agents, and alumni interviewers.
While various boards conducted their regular business, attendees also received reports from the College's administration on the state of the campus today.
Forum for the Future members discussed social issues that are hot-button topics at many colleges today—sexual assault, for example, and alcohol and drug policies—in an interactive format that featured table and stage discussions.
A group of trustees led by David Hetz '80 P'10—including Trustee Chair David Mgrublian '82 P'11, Ray Remy '59, Laura Grisolano '86, and Doug Peterson '80 P'14 P'15—fielded questions with President Hiram Chodosh in a lively Saturday morning panel held in the Security Pacific Dining Room.
Impact attendees also had an opportunity to experience CMC's evolving campus with guided tours of the Mid-Quad student residences as well as Roberts Pavilion, which is quickly rising on the southeast end of campus.
As one alumnus quipped when the weekend was over, "This is what being close-knit is all about. I plan to attend every year."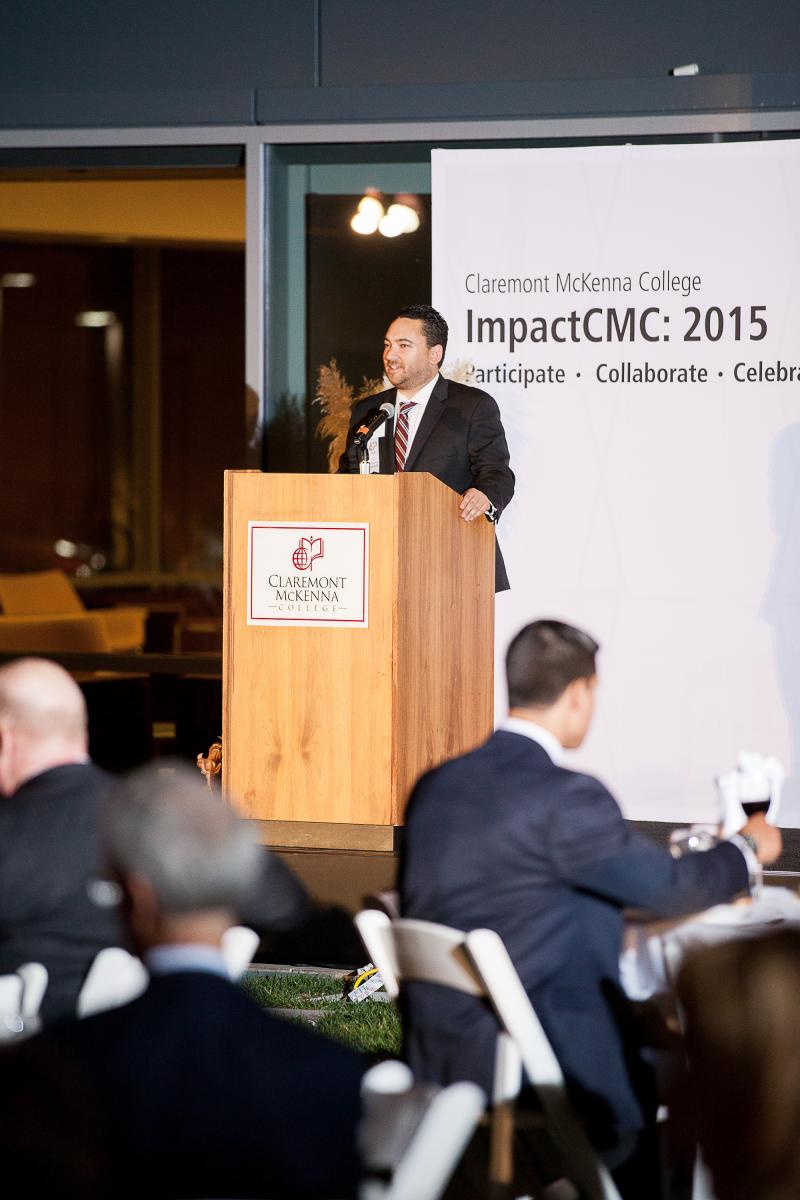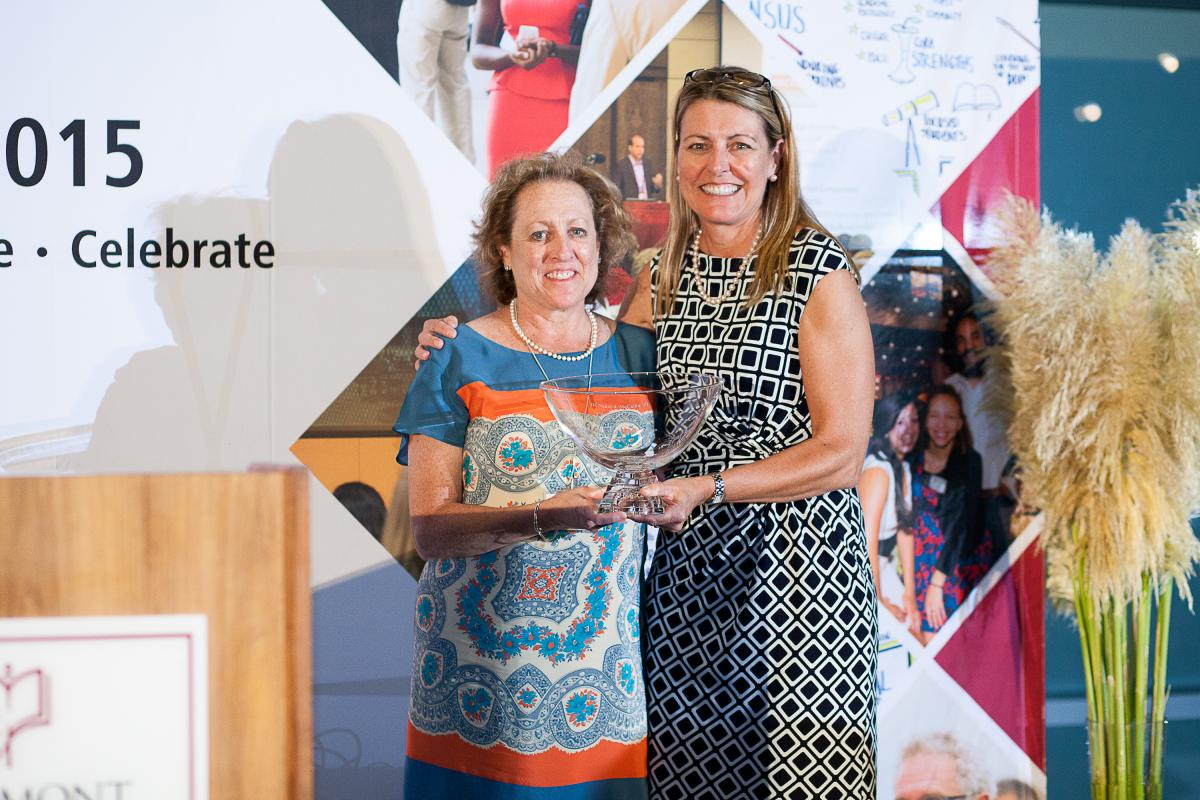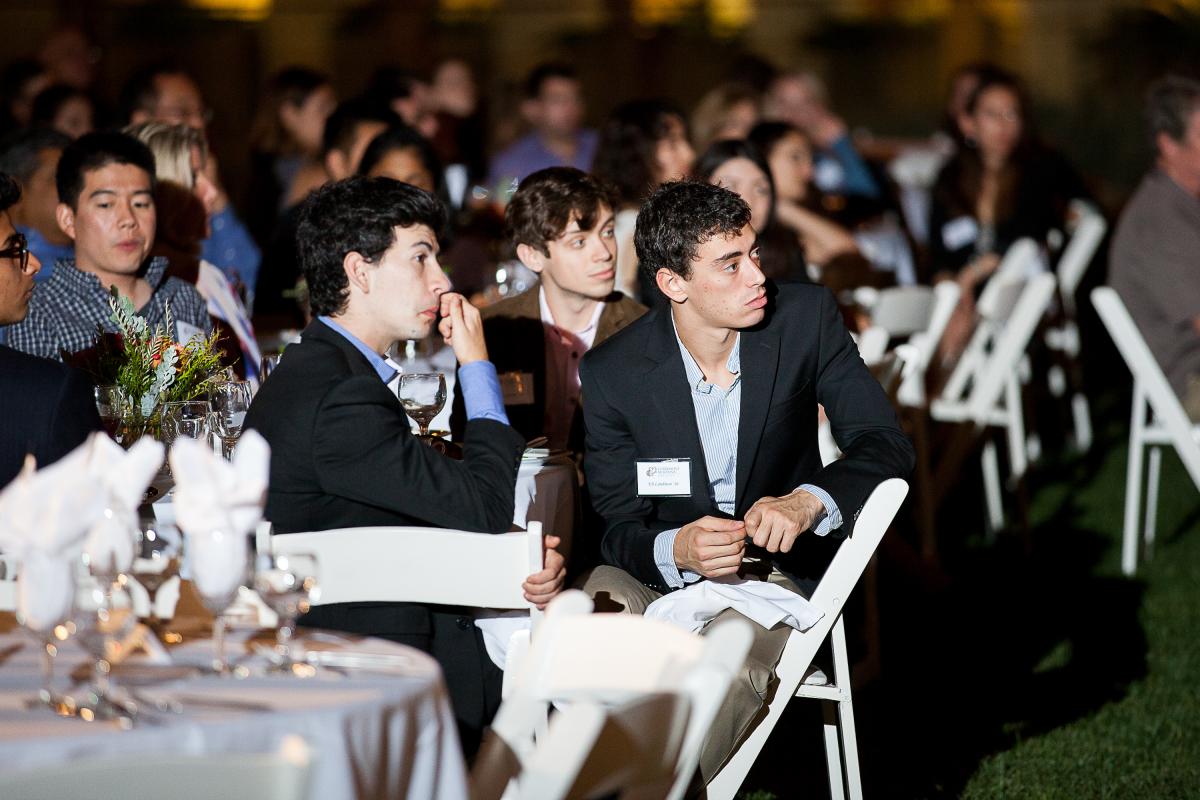 1. CAPACITY CROWD: Friday night's audience also included plenty of recent alumni and members of the Class of 2016.

2. VIEW FROM THE
KRAVIS
CENTER: Tables resembling a snowflake pattern are ready for Friday night's kickoff dinner
on the
Gann
Quadrangle.
3. ALUMNI AWARDS: Nancy McCallin '81 (left) received the George C.S. Benson Distinguished Achievement Award from
CMCAA President Susan Matteson King '85 P'18 (right) during Friday night's reception and dinner. Other awardees included
Ray Remy '59 who received the John Faranda '79 Student Service Award and Volunteers Of the Year April Weathers '12,
Camilo Cuellar '09 and Katie Walker '10.
4. MASTER OF CEREMONIES: Evan Rutter '06, director of the Office of Alumni and Parent Relations.
5. ENERGETIC EXCHANGE: Trustee Laura (May) Grisolano '86 (center) shares a laugh with Life Trustee Ray Remy '59
(left) and Trustee Doug Peterson '80 P'14 P'15 (right) during a morning panel discussion in the Ath.
6. CATCHING UP: Berger Institute Board Member Faye Karnavy Sahai '90 visits with Professor Emeritus Ward Elliott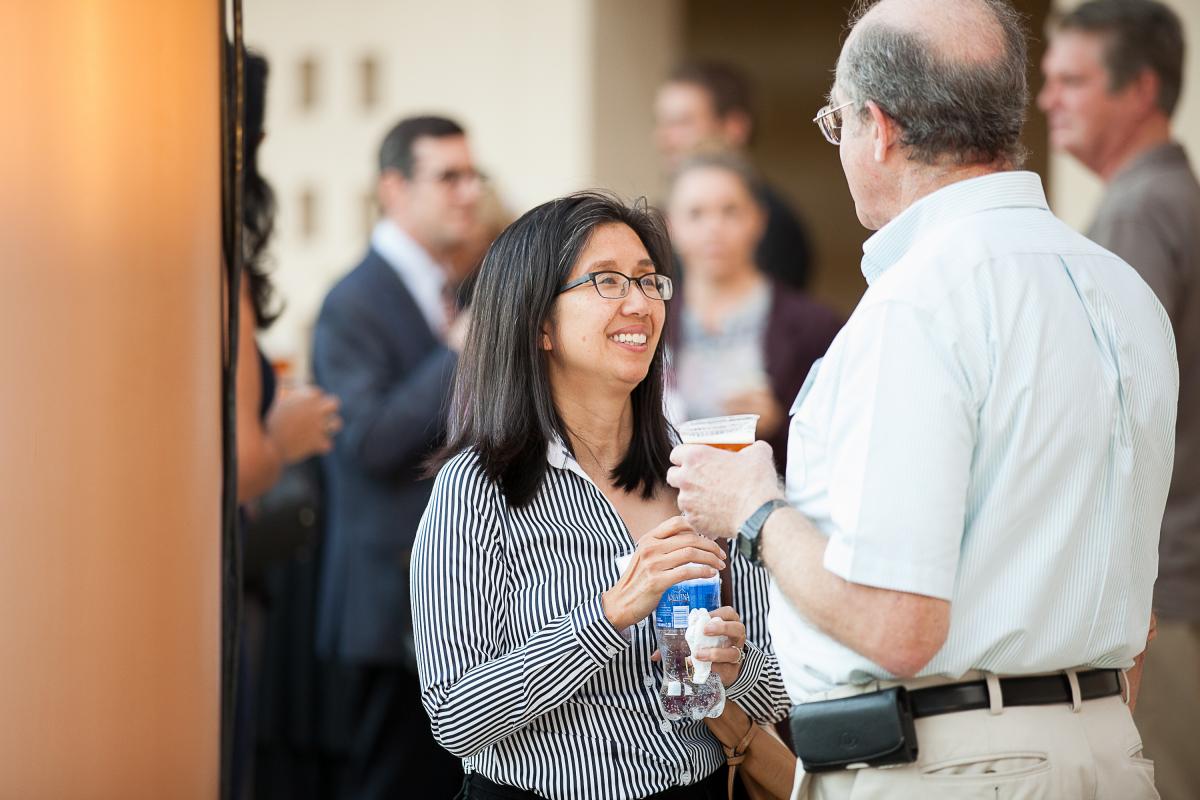 THE GREAT CONVERSATION: This year's Forum for the Future participants (CMC alumni who have graduated between 2006 and 2014) listened to stage presentations and engaged in table discussions on "Evolution of the CMC Social Scene," "What Is Responsible Moderation?," "Role of Risk – YOLO," "Relationships and Sexuality," "Leisure Time," and much more.
1. STUDENT LIFE: Residential life is a rich, exciting time that is full of opportunities and challenges, too, explains Jeff Huang, vice president for student affairs, admission and financial aid.
2. SERIOUS TALK: April Weathers '12 listens carefully to feedback at her table.
3. HAVING HIS SAY: A TED-style moment for Madison Friedman '14.
4. KEEPING IT INTERACTIVE: Katie Walker '10 tracks the issues that the Forum's attendees want to discuss.
5. WHAT DOES 'LEISURE TIME' MEAN FOR STUDENTS TODAY? Camilo Cuellar '09 expresses his views.