Fall 2015
Fall 2015 issue of CMC Magazine featured an abridged version of this obituary for Mary Dell Pritzlaff, 1929-2015 In Memoriam: Mary Dell Pritzlaff, 1929-2015.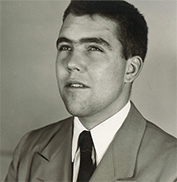 Donald Alton "Dak" Kenmonth '51 passed away at his home in Fair Oaks, Calif., Aug. 16, 2014. He was 85. Donald was born April 4, 1929, in Los Angeles. A love of history and literature led Donald to CMC, where he graduated with a bachelor's degree. When the war in Korea broke out, he enlisted in the Marine Corps, serving as a platoon leader. He was awarded the Bronze Star and a Purple Heart. After the war, Donald joined the family business, Piston Supply, which he consolidated in the early 1970s in Sacramento, Calif. Donald is survived by his wife, Jennifer Jacqueline Miller; and his children, David Alton, Craig Mead, and Lori Lee Kenmonth; and six grandchildren.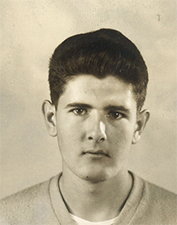 Sanford Newton '51 of of Pomona died July 19 of cardiac arrest. He was 87. Sanford was born on Aug. 14, 1927, and lived in the Lincoln Park area of Pomona for most of his life. During World War II, Sanford was a draftsman on the Manhattan Project in Los Alamos, N.M. After the war, Sanford was selected to be part of a team to go to Bikini Atoll in the Marshall Islands to assess the effect of bomb detonation on animals and other life forms. After graduating from CMC, he established a small loan company that eventually became Newton Realty, located on Towne Avenue in Pomona. Sanford was involved with many local nonprofit organizations, including the Boys & Girls Club of Pomona Valley and the American Red Cross. When he wasn't working or assisting a nonprofit organization, Sanford would slip into overalls and spend time in the workshop he set up in his garage. In addition to his wife, Pat, whom he met while she was attending Pomona College, Sanford is survived by his daughters, Katy and Karen; son Bill; seven grandchildren; and two great granddaughters. He was preceded in death by his daughter, Mary Newton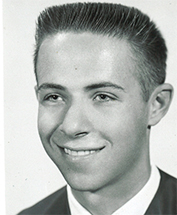 Michael Stephenson "Mike" Connolly '57 died July 14 in San Diego after a brief illness. He was 79. Born March 29, 1936, in San Francisco, Mike grew up developing a passion for tennis, eventually ranking No. 2 among amateur doubles teams in California. After graduating from CMC in 1957, Mike was hired as the first manager of Scripps College's new Garrison Theater in the early 1960s. It was there in 1965 that he met Pamela, whom he wed in 1968. In 1966, Mike left Scripps for UCLA, where he managed the school's performance facilities, including Pauley Pavilion. In 1972, Mike was hired by the city of San Diego as general manager for the city's performance facilities, including the San Diego Community Concourse, the Civic Theatre, and the (original) Convention Center. Throughout his 43 years in San Diego, Mike continued acting and performed award-winning voiceover work in hundreds of regional and national ads (including Toyota's television campaign in the 1970s). In 1997, with his wife and a few friends from the Claremont Colleges, he launched the Jesse Swan Scholarship, which is awarded on a rotating basis to a junior or senior showing promise in theatrical arts at Scripps, CMC, Harvey Mudd and Pitzer Colleges. The couple was married for 50 years until Pam's passing in March. Mike is survived by his children, Michael, Jr., and Elizabeth '90; his younger brother, John; and nephew, Iain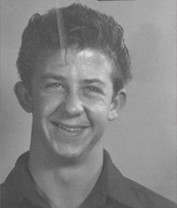 Frank Colson '58 died Aug. 7. He was 84. Frank was born in Paris, the son of a Latvian ballet dancer and an American opera singer, and grew up in Southern California. As an art student at CMC, he took many classes at then Scripps Women's College and was the first male student to receive a BFA from Scripps in 1957. Frank earned his master's at Syracuse University and worked in television for a couple of years before devoting his attention back to art, specifically the creation of ceramics. Frank opened the Colson School of Art in 1963, which was the first pottery school in Sarasota, Fla. Frank was also a guiding presence at the Manatee Art League in Sarasota in the 1960s and '70s. He also taught at the Penland School of Crafts, University of Tampa, and Florida State University. Frank was the author of several books that explore specific methodologies for clay creation. In addition to his wife, Diana, whom he met while taking art classes at Scripps, Frank is survived by his sons, Kevin and Sean; daughter-in-law Marina; and granddaughter Lola Camilla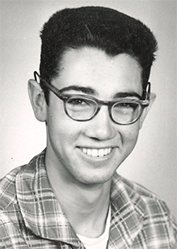 Willy Chamberlain '62 of Santa Ynez Valley, Calif., died July 28. He was 75. Born on the July 4, 1940, Willy died surrounded by family at the family ranch, Rancho Los Poteros, that his father, Ted, purchased in 1929. Along with his brothers and sisters, Willy grew up riding the range, herding cattle, bucking hay, and changing sprinkler pipe. At CMC, he played football, joined a social club (The Tortugas) and enrolled in ROTC. A Santa Ynez Valley cattleman who defeated a four-term incumbent to become Santa Barbara County's 3rd District Supervisor in 1993, Willy's place as supervisor marked the first time in decades that Santa Barbara County had a prodevelopment majority. Willy earned a name for himself on the board as a supporter of agricultural land preservation, helping to develop a special events ordinance and assisting in balancing the budget during a time of financial uncertainty. He was a staunch supporter of agriculture and ranching, and he served on the advisory committee for the Williamson Act in the 1980s and 1990s. Outside of politics, Willy was a 1986 Picadore Maverick in the Rancheros and a member of the Santa Barbara Trail Riders.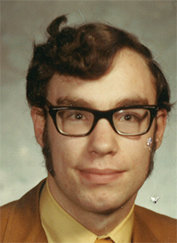 Cole Danehower '76 died Aug. 21 after battling late-stage pancreatic cancer that was diagnosed in May. He was 60. Born on Sept. 28, 1954, in Louisville, Ky., Cole lived most of his early life in the San Francisco Bay Area. After working for years in the computer and communications fields, Cole, in 1998, launched Oregon Wine Report, in which he wrote about—and rated—wines from his adopted state. In 2004, the quarterly newsletter earned Cole a James Beard Foundation Journalism Award for the most outstanding food and wine newsletter in the nation. In addition, Cole was also highly regarded as a judge for local and national wine competitions, including the prestigious Dallas Morning News Wine Competition and Sunset Magazine International Wine Competition. He is survived by his wife, Andrea; and his sister, Sandy Miller.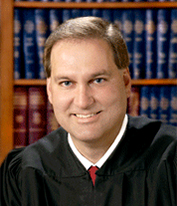 Franklin Stephenson '83 of Ripon, Calif., died Sept. 22 in a car accident in Ripon. He was 54. After graduating from CMC, Franklin earned a J.D. from Humphreys College School of Law in 1988 while working at the San Joaquin County District Attorney's Office as a law clerk. He later worked in the Stockton law firm of Hakeem, Ellis and Marengo. Throughout his career, Franklin continued to teach and mentor Humphreys' students. In 2002, he was appointed to the San Joaquin County Superior Court by California Gov. Gray Davis. During his tenure, Franklin presided over felony and misdemeanor matters in the Stockton and Manteca courts. In 2010, he had been re-elected to another six-year term. An avid golfer and sports fan, Franklin coached his sons' Little League teams. While at CMC, Franklin played defensive back for the Stags. He is survived by his wife, Michelle; and three school-age sons.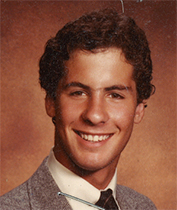 Jeff Galant '88 of Los Angeles, passed away after a sudden heart attack on Aug. 23. He was 48. Born in Lyon, France, where his father was stationed as a military doctor, Jeff was attracted to CMC by the College's Management/ Engineering program. After graduation, he earned his degree at Columbia University in industrial engineering. In 1997, he cofounded GoNeo, an innovative startup in the nascent cellphone industry that designed and licensed Body Glove neoprene accessories. After selling the company, Jeff went on to consult in the electronics and luxury goods fields, where he started Smart IT USA and served as CEO of Modelabs and G2enterprises. For the past 10 years, Jeff was CEO at Smart IT USA, LLC. Jeff's greatest joy came from playing with his young sons Jacob (11) and Jordan (8) and dancing with his wife, Rachel. He is also survived by his parents, Dr. Stanley and Ilona Galant; and his brothers, Daniel and Michael.
Mark Ross Taylor '89 passed away peacefully in his sleep on May 6. He was 48. Growing up, Mark was an avid sailor and enjoyed many hours navigating the waters of the Pacific Northwest. In addition to being a high school foreign exchange student in Germany, which helped to broaden his horizons, and an Eagle Scout, Mark's love of computers became a cornerstone of his life. It led to Mark enrolling at CMC, where he earned undergraduate and graduate degrees in management information systems. During his career in IT, Mark worked for various companies, including Continental, Unigard, Photoworks, and most recently Moneytree, Inc., where he was chief technologist. He is survived by his wife of 24 years, Nancy; his parents, Ross and Sonja Taylor; his brother David; many aunts, uncles and cousins; and a beloved family of English Bulldogs.
Correction:
In the Spring/Summer 2015 issue of CMC Magazine, an obituary for Thaddeus "Trip" Montgomery identified him as a member of the class of 1998. In fact, Montgomery was a member of the class of 1989.
LARRY HAMMETT (1934- 2015): A former Trustee and member of the Gould Center board, Larry Hammett '57 died in June in Santa Barbara. He was 81. For more on his life and career, please visit: http://www.cmc.edu/news/cmc-mourns-loss-of-former-trustee-larry-hammett-57