Fall 2015
Turning tools of Violence into a force for good
Remember that line from Isaiah 2:4 about beating swords into plowshares?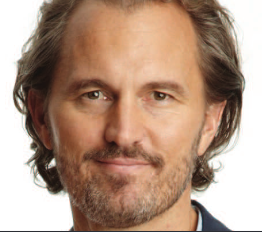 That biblical adage receives a modern spin thanks to Peter Thum's '90 eorts to turn weapons into beautiful objects aimed at beneting society.
This isn't the rst time Thum (pictured) has focused his energies on social impact. His Ethos Water (sold to Starbucks in 2008) generated donations per bottle to support charities aimed at providing access to clean water in Africa. Not long ago, on a trip to Africa to visit some of his Ethos-funded projects, Thum encountered men and boys carrying illegal assault ries. That disturbing experience led to a new project and a new vision of societal change.
Thum's Fonderie 47 takes scrap metal from conscated, destroyed AK-47s and turns it into high-end jewelry and timepieces whose sale, in turn, supports eorts to remove more illegal guns in Africa. Thum has started another eort, Liberty United, to do the same thing with illegal weapons conscated in the U.S. His work has been the subject of stories in the New York Times and Fast Company; he's also given a TED talk and been spotlighted on TED's blog: http://blog.ted.com/ak-47s-transformed-into-jewelry-and-watches/
The following graphic illustrates Thum's earliest eorts — and the challenges he faced — in re-purposing conscated weapons for a greater good.
–NO '90