Fall 2016
A study by a team of three women economists that included Boswell Professor of Economics Heather Antecol concluded that a policy intended to equalize a gender gap in university faculties may actually create an advantage for male tenure-seeking professors. Antecol worked with Kelly Bedard, an economics professor at the University of California, Santa Barbara, and Jenna Stearns, a doctoral student at University of California, Santa Barbara, on the study, which news outlets are calling an important step in finding the right way to address gender inequalities. The study was funded by the Institute for the Study of Labor, a private, independent research group that focuses on labor.
"The Constitution is meant to be a structure of government that secures individual rights for all of its citizens," says CMC's Mark Blitz, author and professor of political philosophy. "So really the ground of the United States is freedom, because it means to secure as a country, we mean to secure as a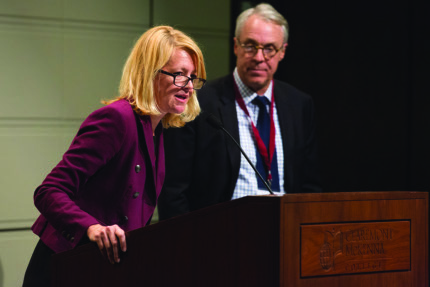 country individual, natural rights." Blitz recently sat with Bill Kristol to discuss natural rights, liberal democracy, and the American regime. See the videos, broken into two chapters.
For the Oxford University Press blog, Philip M. McKenna Professor of the Pacific Rim Roderic Camp offered his thoughts on why Mexico's path "toward a consolidated democracy" hasn't been strengthened in the way early observers of President Enrique Peña Nieto had hoped. Camp also recently recorded an hour-long, formal interview with the Ambassador from Mexico to the United States, Miguel Basáñez Ebergenyi, for edited digital recording in the Oxford Research Encyclopedia of Latin American History. The edited version of the interview is available in Oxford's digital library.
During his address at the Reagan Library on Constitution Day, CMC's Visiting Professor of Government Zach Courser '99 recalled a question that often sends his Gov 20 students into a tailspin. Although the Constitution begins with the phrase, "We the people," it then goes on, he says, to place numerous obstacles between the people's will and the government. Does that therefore make the Constitution undemocratic? "The answer of course," Courser says, "is a qualified, 'Yes, it is in many respects, undemocratic.' " At which point, bewildered students ask, "That's bad, right?" (Hear his full response, and entire address, on CMC's Youtube channel.)
Robert Faggen, the Barton Evans and H. Andrea Neves Professor of Literature and Director of the Gould Center for Humanistic Studies edited Mary Weatherford: The Neon Paintings, a recently published illustrated book of Weatherford's abstract paintings and neon work. Faggen also wrote essays included in the publication, along with Katy Siegel and Jennifer Peterson.The book was co-published by the Gould Center for Humanistic Studies and Prestel (a division of Random House).
Gary Hamburg, the Otho M. Behr Professor of the History of Ideas at CMC, and his recent work, Russia's Path Toward Enlightenment: Faith, Politics, and Reason 1500-1801 (Yale University Press), defines exactly that. It has been called a seminal work, and is the first to offer an in-depth examination of every important Russian influencer over the period pre-dating modern Russia.
Questionnaires range from the mundane (think doctor's office) to the intellectual. Visiting Assistant Professor of Literature Evan Kindley's latest book, Questionnaire, is part of a series from Bloomsbury Press called "Object Lessons." Questionnaire aims to tell us everything we ever wanted to know about these info-gathering lists. Kindley wrote about one of the world's most-famous questionnaires, the Proustian Questionnaire, for The New Yorker recently. In part, he writes, "it was the questions themselves that, in due time, began to take on a totemic significance."
Adrienne M. Martin, the Akshata Murty '02 and Rishi Sunak Associate Professor of Philosophy, Politics, and Economics and George R. Roberts Fellow, has published her first book: How We Hope: A Moral Psychology. With Athenaeum Director Priya Junnar, she also helped organize an Athenaeum speaker series on Race and Law Enforcement in America, starting with September guest Peter Wagner from the Prison Policy Initiative.
Associate Professor of Government Frederick Lynch was published in the Washington Examiner earlier this year. His editorial explored potential causes of populist anger, and suggested that recognition of both the symptoms and the causes of the ire could provide a "welcome antidote" to distrust in government of late. Read the editorial here.
The Economist reviewed Minxin Pei's P'11 new book, China's Crony Capitalism: The Dynamics of Regime Decay, in its Oct. 15 edition. According to the review: "This book is essential reading for anyone who wishes to understand China today, or en-gage with it at any level, in any field." Pei is the Tom and Margot Pritzker '72 Professor of Government, George R. Roberts Fellow and director of the Keck Center for International and Strategic Studies.
Ronald Riggio P'10, Henry R. Kravis Professor of Leadership and Organizational Psychology, is working on a research project that provides insight into long-term links between early childhood development, leadership, and success. The project is supported by a grant from the W.K. Kellogg Foundation. Riggio and his team intend to examine leader emergence and leader effectiveness.
Myra E. Moss Rolle, professor emeritus of philosophy and government, died July 26 in San Marino. She was 79. Moss taught philosophy at CMC for 32 years, starting in 1975, when it was still a men's college, and was chair of the department from 1992 to 1995. She graduated from Pomona College in 1958, and later earned her doctorate from Johns Hopkins University. During her career, Moss contributed scholarly monographs and articles to many publications and wrote several books, including Benedetto Croce Reconsidered and Mussolini's Fascist Philosopher: Giovanni Gentile Reconsidered.
Salvatori Professor of American Constitutionalism Ralph A. Rossum's 10th edition of the two-volume Rossum and Tarr, American Constitutional Law, was published by Westview in July.
Andrew Schroeder, assistant professor of philosophy, won the Graves Award in the Humanities, an American Council of Learned Societies-administered award "intended to encourage and to reward outstanding accomplishment in actual teaching in the humanities by younger faculty members."
Aseema Sinha, Wagener Family Associate Professor of Comparative Politics and George R. Roberts Fellow, has received a Fulbright to research U.S.-India foreign relations. Since her move to the United States in 1993 to complete a doctorate at Cornell University, Sinha has observed a "radical turnaround in India's relationship with the United States." In addition to her Fulbright, Sinha has published Globalizing India: How Global Rules and Markets Are Shaping India's Rise to Power (Cambridge University Press, 2016), and wrote a post for the London School of Economics and Political Science Business Review blog: "The quiet revolution in India's private sector and international trade."
George Thomas, Burnet C. Wohlford Professor of American Political Institutions, was featured in the publication National Affairs this fall. His essay, "Madison and the Perils of Populism," explored the role of populism in our modern elections against the backdrop of James Madison's plea for political and civic institutions to guide our populist decisions. The essay can be read here.
Two of the four articles recently published by assistant professor of psychology Piercarlo Valdesolo were for Scientific American: "Why Do Some Words Make People Uncomfortable?" and "Is Swearing a Sign of a Limited Vocabulary?"
Jamel Velji, assistant professor of religious studies, has a new book: An Apocalyptic History of the Early Fatimid Empire (Edinburgh University Press), the first volume in a new series on Islamic apocalypticism and eschatology.