New CARE Center: A Resource for All
Fall 2016
From the moment the Claremont McKenna College CARE (civility, access, resources, and expression) Center began operation with an open house on August 30, students, faculty, and staff have been utilizing the Center's offerings.
The CARE Center, located on the second floor of the Heggblade Center, aims to strengthen community on campus with services and programs focused on education about identity and communicating across difference.
"For us as an institution, we want to build responsible, global-thinking leaders that are going to impact the world in various professions," CMC Assistant Vice President for Diversity and Inclusion Nyree Gray said. "Part of that is creating an opportunity for individuals to build capacity in communicating across differences, and to learn to actually engage with one another, instead of conversation being social media attacks or other barriers that cause distance and are personal attacks. We really want to give people tools in which to say, 'You know what? We can disagree and it could be completely civil. We can still care for one another and just think differently.' That's good. That's positive."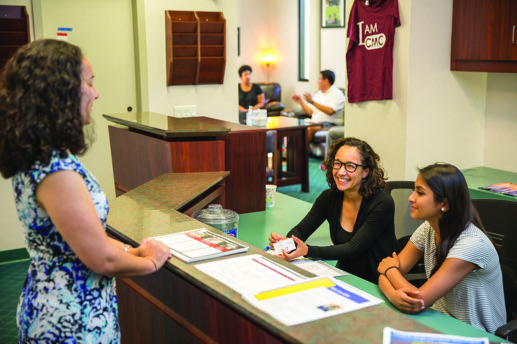 To fulfill this mission, the CARE Center has two main functions. The first is from the programmatic side; the Center offers a diverse range of workshops and programs that speak to either identity or inclusion, with the goal of helping the community increase its capacity for communicating across different backgrounds and experiences. Workshops and programs, such as Implicit Bias workshops and the Real Talk series, help promote the exchange of ideas and discussions about difficult topics. Subjects have ranged from the presidential election to San Francisco 49er quarterback Colin Kaepernick's protests during the national anthem.
"I want this to be a place where it's absolutely accessible to not only our entire student body, but the larger CMC and Claremont Colleges community. And we've already started to see some of that, which is really encouraging," Assistant Dean of Students for Diversity and Inclusion Vince Greer said. "We've had an active presence from our faculty, staff, and coaches. The workshops, discussions, and dialogs are not just for one population. All of us can learn from it [the workshops] and has something to bring to the conversation."
Weekly event emails are sent to the campus community from the CARE Center. Staff is also working with student groups and faculty to build awareness around events.
The CARE Center will be greatly supported by student efforts. The inaugural class of CARE Center fellows was recently hired and is excited to contribute to the learning environment. Fellows are responsible for developing workshops, community events, and other programming that engages campus groups that might not naturally engage with each other. The goal is to give people opportunities to learn from ideas and concepts that are different from their own.
Programs and workshops are just part of what is offered; the CARE Center also has a healthy offering of student services available. Whether students come in for counseling, one-on-one advocacy and support, academic advising, or just to find a quiet spot to study, the doors are open. The Center strives to be a place where students feel valued and supported. Students may face many challenges as they transition through college and the Center wants to remove any barriers – institutional or otherwise -- that may impede success.
A major effort has been made to collaborate with the Claremont Colleges to make sure their resources are known and accessible through the CARE Center.
"What we've done is we have created a way in which those services come here to the CARE Center," Gray said. "Having representatives from the Claremont Colleges come to the CARE Center helps students feel like they're accessing the Claremont Colleges' resources on their campus, which allows us to get better utilization of those services as a collective. That's been a great benefit."
Faculty and the CARE Center also have collaborated for joint programming. Some faculty have held their office hours in the CARE Center or hosted lunch talks about their scholarship and identity. "My hope for the Center is that it will continue to evolve and engage the community in a variety of ways," Gray said. "I think the work we do touches on so many different aspects of campus."
College Reaffirms Principles on Freedom of Expression
With the debate ongoing about freedom of expression on campuses around the country, President Hiram Chodosh and Dean of Faculty Peter Uvin reaffirmed the College's principles on free speech in a Sept. 1 letter to the campus community. The Campus Resource Center referenced in the letter has since been named the CARE Center (see adjoining article). Their letter follows:
In recent days, we have seen much debate about free expression on our campuses, in part provoked by a letter from the Dean of Students at the University of Chicago to incoming students. Some have asked about CMC's position.
Freedom of speech and diversity of opinion are foundational to the mission of the College. Both the faculty and our Board of Trustees have endorsed the University of Chicago's Principles of Free Expression as consistent with our own.
We encourage our professors to challenge our students intellectually. We teach sensitive material. We do not mandate trigger warnings. We invite controversial speakers. We accord these rights to our students as well, whether they agree or disagree with faculty, administrators, or one another.
Our new Campus Resource Center is equally resolute in its commitment to inclusivity, openness, and pluralism. To quote from its charter:
First, the Center will be inclusive and open to all, regardless of background, identity, viewpoint, or values. It will aspire to be inviting to all students and to actively create opportunities for the broadest possible range of students to learn.
Second, … the Center will be dedicated to the principle of pluralism in thought, beliefs, and perspectives. It will not institutionalize a single way of thinking, but will instead reflect the core values of the college in focusing on complex issues in ways that are thoughtful, critical, respectful, and interdisciplinary.
To benefit fully from the free exchange of challenging ideas, we must ensure that all people with different viewpoints, experiences, and analyses are included in our conversations. We protect the freedom of association as an individual and collective right. We reject exclusion and ad hominem attacks as barriers to learning. All of us—students, faculty and staff—must commit to high standards of civility, respect, and appreciation for differences. All of us must value and support one another in challenging ourselves to analyze issues from many sides, to develop rigorous tools of intellectual inquiry, and to cultivate the habits of mind of an educated citizen.
This is the work of the Athenaeum. This is the mission of our institutes. This is the purpose of our upcoming dialogue event (You. Me. Together CMC.). This is what happens in our classes, our residential life, and throughout our student experience. This is what we have done since our founding seventy years ago, and it remains the bedrock of our work today.