Bursting the bubble
Spring 2019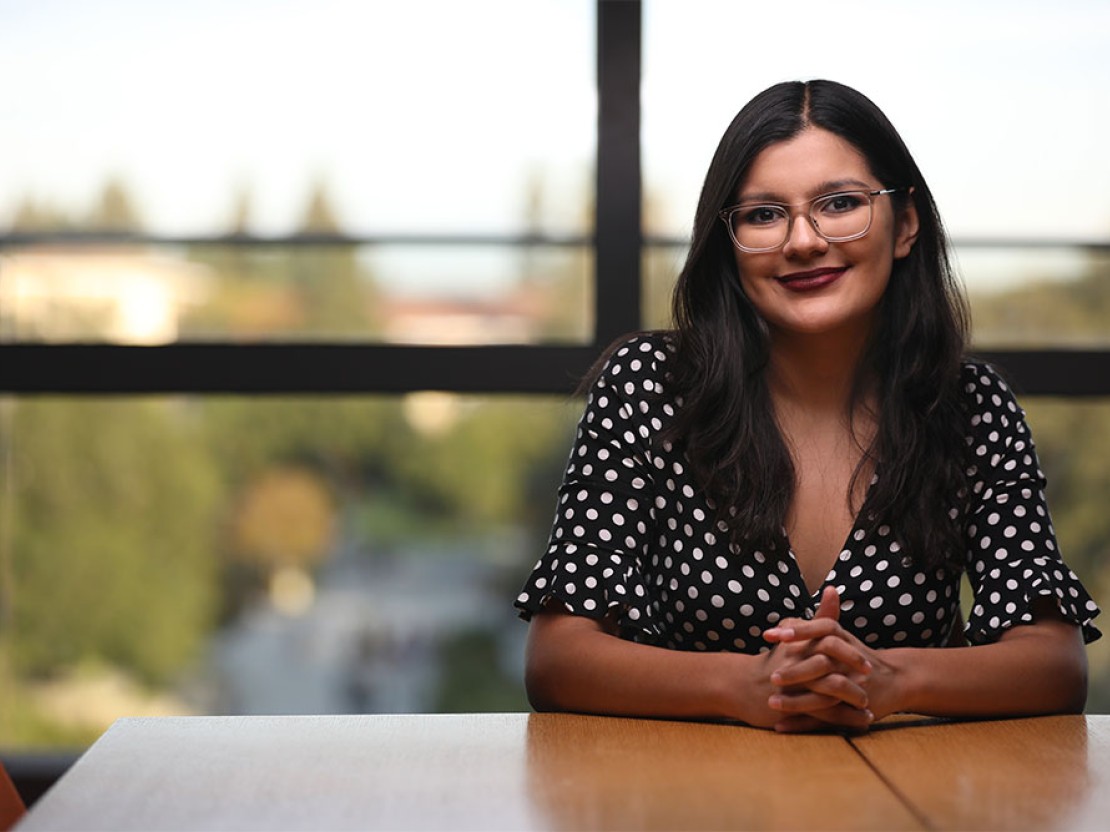 Zenaida Huerta '20 is as politically active as it gets. But just being around like-minded progressives? No thanks.
By Thomas Rozwadowski
When George Will visited the Marian Miner Cook Athenaeum in early November, he saw a familiar face at the head table—appropriately, seated directly to his left.
Zenaida Huerta '20 showed the conservative columnist a photo they took together at the Philadelphia Marriott during the 2016 Democratic National Convention. She also reminded Will why she was at the DNC as the youngest delegate representing California. Huerta earned the nomination as a Bernie Sanders presidential campaign "super volunteer."
Her political allegiance must have amused Will, because after Huerta stood and asked him a question during his Ath talk, he remarked that everyone at dinner should be careful since she was a "Bernie Sanders operative."
"And when he came back to his seat, he told me that I was 'far too smart to be a Sanders supporter,'" Huerta said. "Quite the backhanded compliment!"
Huerta, a government major, takes politics seriously—but not so seriously that she can't enjoy good-natured ribbing from one of the leading conservative voices in the country. She isn't naturally defensive, anyway. Huerta felt a kinship with Sanders because he talked about issues she cares about: universal health care coverage, income inequality, campaign finance reform, and veterans care, to name a few. Yet just as she's met other Sanders supporters on campus, Huerta has also had spirited conversations with liberals and conservatives who, like Will, aren't ever joining the Bernie bandwagon.
She wouldn't have it any other way.
"The risk these days for anybody who is politically active is that they get locked into a particular perspective. Zenaida is refreshing in her approach," said Ken Miller, associate professor of government. "She's exactly what CMC has always prided itself on: someone who is engaged and active, but is open to real discussion about real differences."
Doing what's right
Huerta grew up in Whittier, the daughter of Henry and Martha Huerta, who met as employees at the California department of labor. One of her earliest memories is sitting atop her dad's shoulders at a May Day parade. Henry was an AFL-CIO campaign manager who supported the unionization of car wash workers in Los Angeles.
Politics, particularly the topic of workers' rights, often made its way to the Huerta family dinner table. But it was her grandfather Juan, a quiet organizer with the United Farm Workers of America in the Salinas Valley, who left the biggest impression. When she asked him in grade school why he would often work for no pay and sacrifice time with his wife and five children to join the UFW movement, Juan told his granddaughter, "It was a lot of work. But it was right."
"I think it's why I approach politics with a deep sense of justice, a moral conviction," Huerta said. "Part of my identity is doing what's right."
At the urging of a friend, Huerta attended an August 2015 Sanders campaign rally in Los Angeles. She was a 17-year-old political novice—and the fiery candidate's message hit her like a lightning bolt. Shortly after, she started a Lancers For Sanders club at La Serna High School. It had the intended effect of drawing peers to join, but also prompted fellow La Serna students to start a young conservatives group as a counterweight.
"My high school was not known for being politically active, so it was something new that a lot of us were feeling in the moment and experiencing together," Huerta said. "That kicked off some fun and interesting debates at my school, and it's how I began to form arguments for progressive ideas that only grew stronger as I did more work for Sanders."
The healthy back-and-forth extended to the surrounding Whittier community, where Huerta spent hours after school and on the weekends canvassing for Sanders. Knocking on doors made her anxious. "You never knew who was going to be on the other side and how they'd respond," she said, but Huerta learned to be observant and find common ground with strangers. For example, when approaching a house that had a well-manicured garden or intricate rock and water fountain, she would try to connect on environmental issues. Huerta also has 12 relatives who served in the United States Armed Forces dating back to World War II. An American flag or "Support Our Troops" ribbon would be a starting point. But her personal attention to veterans' issues forged a deeper connection with undecided, even opposing, voters.
"I remember talking to one particular veteran who told me he hadn't voted in quite some time. When I brought up my family history and how important veterans' issues were to me and my vote, he cried," she said.
"It was a raw moment, and it taught me about the personal attachment a lot of us have to our political views."
Policy and politics
Breaking bread with strangers. Engaging on a human level. Listening. This was all routine for Huerta before she even stepped on CMC's campus as a freshman. When she arrived for the academic year, Huerta had her eye on the Rose Institute of State and Local Government.
Now in her third year as a Rose research assistant, Huerta promotes speaker events and leads on issues related to California politics, health care disparities, and campaign finance in state legislative races. Local politics is her passion. For the past two years, she served as a Democratic state central committeewoman for the 57th assembly district (her hometown of Whittier), a position meant to hold elected officials accountable. Running for re-election this year put her back on the door-knocking circuit, meeting with more strangers and learning about their personal struggles, whether related to housing affordability or a neighborhood fracking issue.
"I identify with California," Huerta said. "I know that people say all politics is local, but I really want to be invested in the important issues here. I want to see the difference at my home." Beyond the public side of her political engagement, Miller is more impressed at how Huerta digs into the actual work of confirming why she believes what she believes. He found it telling that instead of a glamour position in Washington, D.C., she took an internship last summer with California Insurance Commissioner Dave Jones in Sacramento.
"It is a part of the government that doesn't have a profile in terms of partisan orientation," said Miller, who is also associate director of the Rose Institute. "Zenaida really cares about health care policy, the nuts and bolts. She wants to understand how this all really works, so she found a way to do it."
Miller sees Huerta as someone who has a long-term objective to "not just be a political person, but a policy person." Her analytical approach reminds him of what the best lawyers learn early—in order to successfully advocate for what you believe in, you have to understand the opposite position first.
"A big reason why I chose CMC is that I knew I wanted to pursue a public service career, so I was going to have to engage with people who disagreed with me. And I know there are people here who disagree with pretty much everything I believe in," Huerta said with a laugh.
"But it's also the part of CMC that, I feel, is most in touch with reality. This is what the real world is like. Not everyone agrees with you! I can't imagine what it would be like to go to a school where everyone thinks like me, only to be shocked and appalled to find out that once I leave college, that's not always the case."