CMCAA President's message
Spring 2019
Dear Fellow Alumni,
We are at an important crossroads in the history of the College. As we approach our 75th anniversary, we reflect on how far we have come, where we stand in higher education, our history and founding, and our increasing importance as a leader in education globally. We also turn to our alumni—13,000—small by comparison but mighty by impact. Without our alumni, we simply could not be where we are today.
Our alumni are, in many ways, the glue that holds the institution together—both to present day and to our past. We rely on alumni not just for philanthropic support, but to help us recruit the best and brightest students, assist with job, internship, and shadowing opportunities, serve on numerous boards, and help grow our regional and on-campus programming.
The CMC Alumni Association has made it a priority this year to grow engagement both on and off campus. We want to enhance opportunities for our alumni to interact with the CMC community. That way, we can support one another and our students. As we approach Alumni Weekend 2019—April 25-28 to celebrate our "4"s and "9"s—we encourage all alumni to come back and reconnect, or engage off campus, in preparation for our alma mater's 75th birthday.
In honor of our 75th, we also look at what makes CMC unique in the world of higher education. Intellectual thought and political diversity are some of the most important and identifying characteristics of CMC, and I am proud to support the initiatives of the Open Academy to ensure our students and institution stay true to our original values. To be a future leader, one must understand all sides of the argument and be exposed to diverse viewpoints and opinions. I hope you will join me in this exciting, and much needed, initiative.
I thank you for your continual support of the College, and look forward to seeing you on campus or around the world.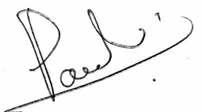 Paul "Pablo" Nathan '80
President
Claremont McKenna College Alumni Association