Celebrating twin anniversaries for the Kravis Prize and Kravis Leadership Institute
Spring-Summer 2015
Gala event celebrates twin anniversaries for the Kravis Prize and Kravis Leadership Institute
T
he Security Pacific Dining Room of the Athenaeum welcomed Marie-Josée and Henry Kravis '67, members of the Kravis Leadership Institute, and this year's Kravis Prize recipient, Endeavor, for a night of tributes in honor of the 20th anniversary of the founding of the Kravis Leadership Institute and the 10th anniversary of the Henry R. Kravis Prize in Nonprofit Leadership.
Trustee Doug Peterson '80 P'14 P'15, who is President and CEO of McGraw Hill Financial, served as the event's emcee and welcomed attendees to a special night dedicated to the College's twin institutions aimed at producing maximum social impact.
Celebrating both milestones during one ceremony was inevitable, and not for the obvious reason—they both bear the Kravis name—but because their missions of visionary leadership and social impact are intertwined.
Twenty years ago, when Henry Kravis conceived of the Kravis Leadership Institute at his alma mater, he envisioned it as an incubator for developing the leadership capabilities that translate across fields and industries, from the private to the public and social sectors.
Twenty years later, he told the audience, "I'm pretty pleased about where we are today."
He described how the Kravis Prize draws on that same vision of leadership and social impact as KLI. This year's recipient of the Kravis Prize, Endeavor, recognizes that creating social change in economically challenging times involves more than creating an appealing message and inspiring ideals—it requires concrete support on the ground, ranging from seed money for entrepreneurial enterprises to developing networking channels to practical advice and mentoring, all of which Endeavor gives to entrepreneurial businesses in need of help scaling up and optimizing their reach.
This year marks the Kravis Prize's 10th year and 11th recipient (two recipients received the Prize in 2012), and comes with $250,000 and membership as part of the Kravis Prize family, which includes organizations pioneering social programs around the world. Many of the past recipients, like Landesa's Roy Prosterman, who received the very first Kravis Prize for landrights advocacy in developing countries, were there.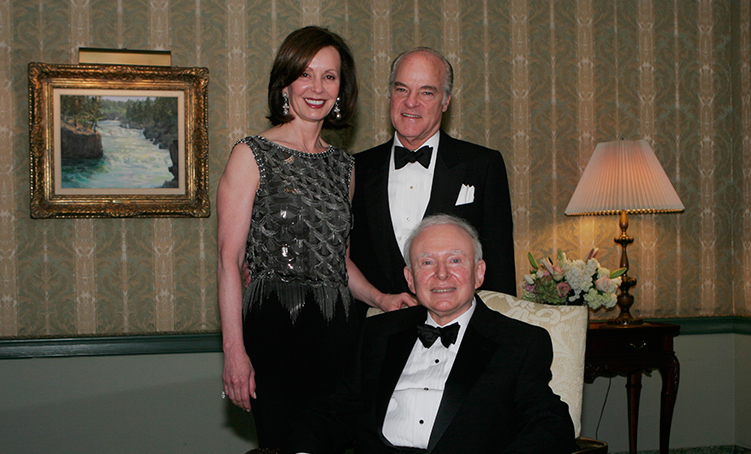 Inspired by the direction and vision of Henry and Marie-Josée Kravis, the Kravis Prize identifies extraordinary organizations in the nonprofit sector, celebrates their accomplishments and shares their best practices with others. A rigorous due diligence and selection process is conducted to choose an annual recipient.
The program offers a number of internships to CMC students. More than 700 million people in more than 100 countries in five continents have been impacted by the efforts of Kravis Prize recipients.
As part of the KLI segment of the celebration, emcee Peterson, who is also new KLI Advisory Board Chair, introduced past Kravis Prize interns and others on their experiences working for the Prize's many recipient organizations.
A video was also shown highlighting KLI's accomplishments in the fields of leadership studies and education, and a special 20-year anniversary edition of Illumine, KLI's premier publication, was produced in honor of the special milestone.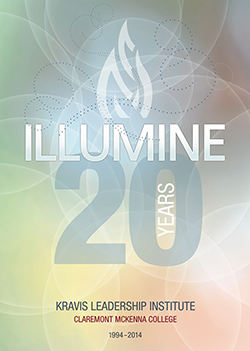 "As we look to the future," writes Sarah Smith Orr, who serves as KLI's Executive Director, in the Illumine special edition, "the goal of KLI's and CMC's leadership is to intensify our commitment of the past 20 years to educate future leaders, bringing alive and putting into action the College's phrase 'leaders in the making.'