Departures: Sarah Smith Orr leaves her mark on KLI
Spring-Summer 2015
Sarah Smith Orr's tenure ends as KLI executive director after leading the Institute through a period of unprecedented expansion
T
his spring's Kravis milestones come with another turning point for these vital campus institutions: the retirement of Sarah Smith Orr, who has stood at the helm of the Kravis Leadership Institute in the role of Executive Director since 2008.
During her tenure, KLI has grown with a host of new programs and offerings, including Smith Orr's teaching of the "Foundations of Leadership" and "Leading a Social Enterprise" coursework and her involvement in establishing the Innovative Start-Up Award. She was also one of the leaders of CMC's recent successful effort to receive an Ashoka University Changemaker Campus designation.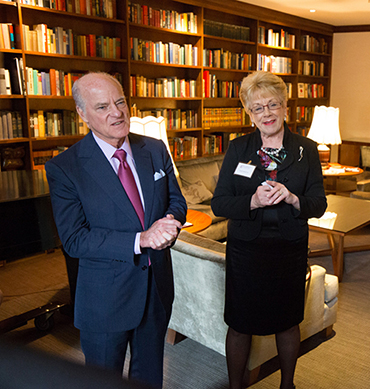 "The focus of all our energy is on impact," she explains about KLI's mission in the 20th anniversary issue of Illumine, the Institute's flagship publication, "providing a platform for our young leaders to help 'change the performance capacity of society,' a much-needed goal as we consider the leadership challenges of our global community."
Smith Orr's own effort to build the "performance capacity" of non-profit organizations originates in her early roles with the United Way during the 1970s through her vice-presidency of the United Way of Greater Los Angeles. Her work in the non-profit sector also extends to The Hudson Institute, Leadership California, and her own firm, Smith Orr & Associates.
Her legacy at CMC and at The Claremont Colleges also includes her service as a founding Advisory Board member of KLI and organizer of the annual Kravis-de Roulet Conference; her involvement with the Women and Leadership Alliance; and her membership on Claremont Graduate University's Advisory Board for Applied Women's Studies and as an adjunct faculty member of CGU's Drucker School.
In April the KLI Board presented Smith Orr with a resolution praising her for her "changemaking impact upon the lives of countless students and members of our community."