Spring-Summer 2015
An Affinity for Sympathy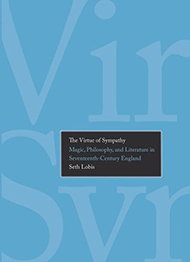 Look up the word "sympathy" in the dictionary and what do you get? You won't find a single definition, but a number of them, all pointing to the same general meaning: the feeling of compassion toward another being.
In his new book, The Virtue of Sympathy: Magic, Philosophy, and Literature in Seventeenth-Century England (Yale University Press) Associate Professor of Literature Seth Lobis uses some of literature's mightiest writers to explore how a word once associated with magic and mysticism became one associated with morality, and an empathetic component in human relationships.
"This is a book about seventeenth century England and more specifically about the relationship between two major concepts of sympathy in the period, one universal and magical, the other interpersonal and moral," writes Lobis, an expert in Renaissance literature.
Lobis says previous literary and intellectual historians have tended to "treat the two concepts in isolation, as if they belonged to entirely separate historical conditions… Standardly affiliated with ethics, sympathy, I want to argue, needs to be understood more generally in terms of dynamics, as a principle of mobility, communication and exchange of matter and spirit as well as of thought and feeling."
University of Notre Dame's Laura Knoppers says Lobis' discussion of the sources and complexities of sympathy brings an "important new lens to bear on major literary authors such as John Milton and Margaret Cavendish, with equally insightful readings of such later authors as James Thomson, Mary Shelley, and Nathaniel Hawthorne."
The book begins with Shakespeare's The Tempest, and—in addition to the writers named above—draws on the philosophies of a number of thinkers, including Plato, Thomas Hobbes, and Michel Foucault.
Lobis' analysis isn't limited to the literary world only, but includes the philosophical and political, which underscores another important message of his analysis with far-reaching implications. When something is understood as being common to us all, internal, rather than given by a supernatural, exterior source, the seeds of societal change—and an understanding of equality—begin to grow, too.
– Alissa Stedman
Digging for New Archaeological Understanding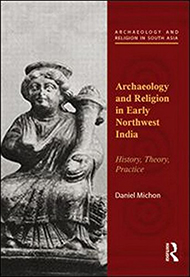 In his new book, Daniel Michon shows us how the archaeological record of early northwest India has been used in the process of identity formation in colonial and postcolonial South Asia.
Using fieldwork, archival sources, museum collections, photos, and secondary accounts, Archaeology and Religion in Early Northwest India: History, Theory, Practice (Routledge) "recovers the voice of ancient communities and their social, cultural, and religious milieu."
An associate professor of religious studies whose published works include articles on archaeology, religion and digital technology, Michon examines this topic by focusing, in three parts, on how: the early historic archaeological record of Punjab was used in the process of identity formation; studying the archaeological material (and how it was shaped by ancient identities) is more important than focusing on colonial or postcolonial identities; and three case studies highlight the material consequences of intentional actions of people in the past.
"I argue that if we intend to recover the agency of past peoples, we must pay very close attention to the archival sources," Michon writes.
He notes that the early historic period has been the most neglected time frame in the study of the ancient world on the subcontinent.
He adds that scholars "have been more interested in writing about colonial British identity or postcolonial Pakistani and Indian national identity than they have been about the lives of those who created the material culture."
"[Michon] effectively illustrates how data generated by early archaeologists remain relevant today… [and] provides new insights on religious beliefs and practices in early historic South Asia," says Carla M. Sinopoli, professor of anthropology at the University of Michigan. "Equally important, he demonstrates that valuable new knowledge can be gleaned from 'excavating' existing archives and museum collections."
Sinopoli, who also serves as curator of Asian archaeology and ethnology in the Museum of Anthropological Archaeology, emphasizes Michon's book as a timely reminder that as "archaeological sites across South Asia are increasingly threatened, such collections become ever more important."
– Alissa Stedman
Paradise Built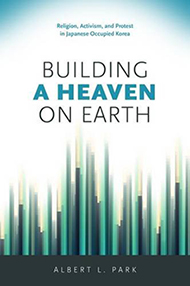 In Building a Heaven on Earth: Religion, Activism, and Protest in Japanese Occupied Korea (University of Hawaii Press), Albert L. Park addresses two primary questions: why and how Korean religious groups responded to growing rural poverty, social dislocation, and the corrosion of culture caused by forces of modernization under strict Japanese colonial rule from 1910–1945.
An associate professor of history, Park bases his book on the study of key Korean religious leaders who sought to combat brutal economic conditions experienced by Koreans (especially peasants) living under Japanese colonial rule. In the process, he shows readers that religion was not a static force immune to change. "Instead, it was (and is) something that needs to be continuously adapted to changing conditions in society," he explains, "by reconfiguring traditional religious language, practices and institutions into meaningful and purposeful forces for building inclusive communities and social change."
Building a Heaven on Earth provides a fascinating study of the drive by various religious groups to contest standard conceptions of modernity and forge a heavenly kingdom on the Korean peninsula to relieve people from major disruptions in their everyday lives.
The results of Park's study might just reconfigure debates on colonial modernity, the origins of faith-based social activism in Korea, and—beyond the Korean peninsula—how we understand the role of religion in a modern world.
– Tom Johnson
What the Founders Thought About Public Education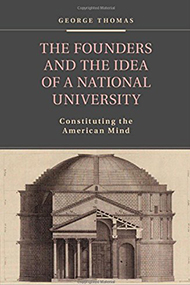 When critics complain, especially now that the 2016 presidential campaign is taking shape, that the federal government should stay out of public education, or that it has no business there, it would make sense for them to turn to George Thomas for a little historical perspective.
A professor of government specializing in American constitutional development, Thomas might surprise them by telling them that the Founders very much believed that the federal government should play a part in educating the American public. In fact, they considered it vital to this country's survival.
Education is "not formally mentioned or even acknowledged in the Constitution," writes Thomas in his recent The Founders and the Idea of a National University: Constituting the American Mind (Cambridge University Press), and this omission may suggest to some, especially opponents of federal influence, that "it was left to families, local communities and the states."
But, Thomas adds, "national education was not only contemplated by the founding generation, it was understood as part of creating and maintaining the American constitutional order."
Gary Jacobsohn, who is Malcolm MacDonald Professor of Constitutional and Comparative Law at the University of Texas at Austin, calls The Founders and the Idea of a National University "a superbly illuminating study of an unrealized component of constitutional design that through [Thomas'] efforts may yet contribute to the sustaining of the American political order."
Although Thomas looks back at the American republic's early formation and then traces its evolution regarding this idea, his book pivots to help us understand current climates of debate over government and education issues — whether they're taking place in presidential campaign circles or in higher education.
– NO '90
Up close and spiritual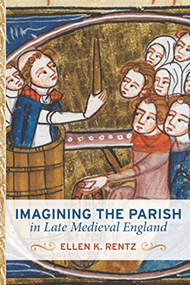 Parish life held communities together in the Middle Ages. The rituals of the altar counted for as much as the rituals of farming in deepening people's understanding of themselves, their community, and their place in the world.
In Imagining the Parish in Late Medieval England(Ohio State University Press), Ellen K. Rentz, an assistant professor of literature, examines this self-identifying power of parochial life in everything from the sermons, prayers, and poetry to the paintings and stained-glass imagery reminding common folk of their higher aspirations. She writes that the aim of her book is "to enrich our understanding of why the parish and the ideal of collective worship mattered to late medieval laypeople."
For Rentz, parochial identity boils down to two things: baptism and burial. These two moments in every Christian's life are linked, she explains, in the waters of the baptismal font and the Rite itself, which ends "by looking ahead to death and urging the new Christian to 'guard' his or her commitment to God…."
Rentz brings together—and weaves together—a multitude of sources, prompting Ed Craun, who is Henry Fox Jr. Professor of English at Washington and Lee University, to praise her book in an advance review for providing "extended, incisive, and compelling close readings not only of what is conventionally labeled 'literary' but also of liturgical and catechetical texts."
Imagining the Parish serves as an important act of preservation for the customs and habits of a vanished society; and in the process of preserving this material, Rentz closes the distance between their world and ours. In showing us people struggling to find meaning and purpose in their daily lives, she reminds us that it's the same struggle, in fact, that many meaning-seekers still experience today.
-NO '90
Noted Briefly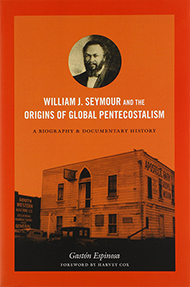 The Pentecostal experience ignited in Southern California on Los Angeles' Azusa Street, and Associate Professor of Religious Studies Gaston Espinosa examines one of its leading figures in William J. Seymour and the Origins of Global Pentecostalism: A Biography and Documentary History (Duke University Press).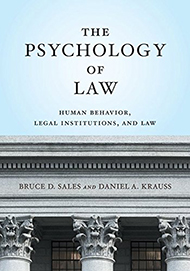 How can psychology advance its contributions to law and legal policymakers? Psychology Department Chair Daniel Krauss and co-author Bruce Sales consider answers to this question in The Psychology of the Law: Human Behavior, Legal Institutions, and Law (American Psychological Association).
Growing financial linkages among countries not only signal new roles and dynamics at the international level, they also pose challenges for policy makers and theorists alike. Sven Arndt, who is C.M. Stone Professor of Money, Credit, and Trade, considers the interaction between advanced and emerging economies and other changes in his Evolving Patterns in Global Trade and Finance (World Scientific).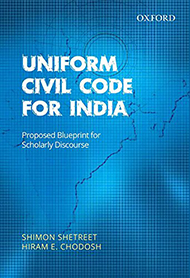 Should the state develop a uniform body of law, or should religious communities have the prerogative to develop their own approaches to personal and family law? CMC President Hiram Chodosh and coauthor Shimon Shetreet consider this question in terms of Indian democracy in Uniform Civil Code for India: Proposed Blueprint for Scholarly Discourse (Oxford University Press).