Going to the dogs at the Westminster Show
Spring-Summer 2015
How a judge has taken his expertise on the bench and applied it to the supreme canine competition
T
he Hon. David Merriam '60
wasn't necessarily every "man's best friend," particularly during sentencing when, as a judge, he presided in the California Trial Courts from 1973 –1993. But he's more than made up for that as a discerning and distinguished adjudicator at, most recently, the 139th Annual Westminster Kennel Club Dog Show where he was selected to judge the all-breed "Best in Show."
"It was an honor and a pleasure to judge Best in Show at Westminster this year," he said. Merriam presided at hundreds of dog shows, including Westminster's, where he has judged individual breeds seven times, but this is his first time judging the all-breed best in show at the event. He's also served on the American Kennel Club board for 20 years, including five years as chair.
"In the purebred dog world, Westminster is one of the two most prestigious dog shows in the world. It was special to me as well because although I have been approved by the American Kennel Club to judge best in show for 50 years now, I have declined all previous invitations from other clubs to judge it."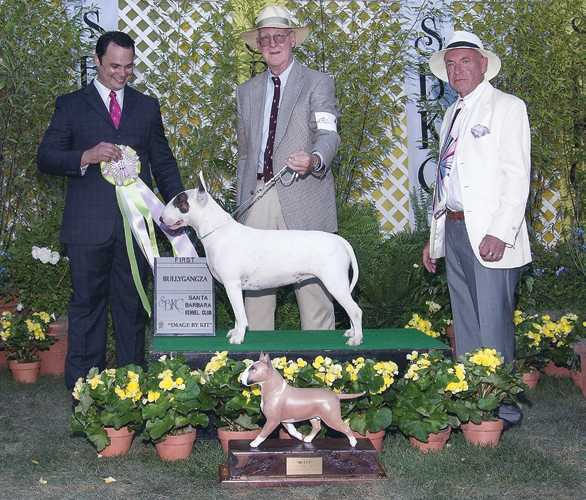 Judge Merriam said that invitations to judge at Westminster are determined by the Show Chairman and his committee. "You definitely do not apply!"
In that capacity, Merriam led a panel of 33 judges from 14 states, Canada and Finland who officiated at the dog show world's most famous and prestigious event which was held at Madison Square Garden and Piers 92/94 in New York City on Feb. 16-17.
According to Merriam, there are similarities between judging on the bench and at dog shows. "It has to do with making decisions or judgments based on facts," he said. "In court you base your judgment on the evidence, i.e. testimony, documents, fingerprints, DNA, etc., as it applies to the law. At the dog show, you compare the dogs in front of you (the facts) to the breed standards which are set forth by the American Kennel Club… The dogs that more closely meet that standard win over those that do so in a lesser degree."
Merriam said his family always had dogs and that he became interested in purebreds when he was about 13 years old.
"I began going to dog shows with a retired Colonel," Merriam said, "and he then gave me a young white Bull Terrier. She proved to be a big winner and I was hooked. I have had Bull Terriers (my favorite) for over 60 years now which has included many litters and I've considerable success at the dog shows. It has proven to be a very enjoyable avocation."
Aside from the pure pleasure of having the dogs as companions and show specimens, Merriam credits association with "the great variety of people in the sport of purebred dogs" as an added plus of the sport.
"The sport in this country dates back to at least 1875 and is still thriving," he said. "The people involved range the full spectrum of our society both socially and financially. I have judged shows extensively in this country and in at least 14 foreign countries, so travel is another benefit. In the course of judging abroad I have met the Queen of England and Henry Kissinger, although not together."
Among the many honors Merriam has won in his long career as a judge and contestant are the Langdon Skarda Man of the Year Award, Dogdom's Man of the Year Award, and the Bull Terrier Club of America's Lifetime Achievement Award.
Although he has never watched the popular "Dog Whisperer" TV series starring that canine Svengali, Cesar Millan, Merriam does admit to being a fan of the movie "Best in Show" which lovingly satirized the world of dog show competitions and was built around a burlesqued version of the Westminster show.
"The movie was a wonderful satire on the sport," he said. "Dog shows are a very competitive activity and move their participants to super efforts. Like all satire, the movie exaggerates the subjects. However, most in the sport enjoyed the movie and we could see some of ourselves in it. It's really not too dissimilar from 'Saturday Night Live.'
" Merriam, who graduated cum laude from CMC with a degree in public affairs, thinks fondly on his learning at the College.
"I suspect that what I most appreciate about my CMC education is its liberal arts nature. It broadened my world and my interests, making my life since then full of appreciation, opportunity, challenge and fulfillment."
And terriers!