Relaxing reading for the 'idol' days of late summer
Summer 2014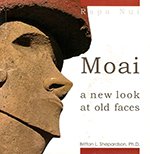 How do we explain the enigmatic statues of Rapa Nui? Who put them there and why? In Moai: A New Look at Old Faces (Rapanui Press), Britton Shepardson '00 employs his training as an archeologist to explore meaning of the monumental stone figures—or moai, as the Rapa Nui people call them—on this southeastern Pacific island known to many by its other name, Easter Island. While his studies have taken Shepardson, a lecturer in the anthropology department of Northern Arizona University, deep into the island's prehistory, he's also very much concerned with the present-day conditions of the island's 5,000 inhabitants. Shepardson describes how his work evolved from a hard-science study of the statues into a form of educational outreach. Aside from the nearly 80,000 tourists who visit the island annually, many of the island's very own high school students understand little about their culture and its artifacts—and Shepardson discovered his mission in this discouraging situation. His book takes an intriguing look at the way he has forged new connections between the islanders and their extraordinary heritage.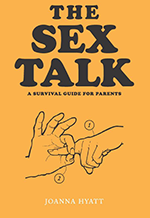 Every parent looks forward to explaining the birds and the bees to their kids, right? Wrong. It's "right up there with Chinese water torture and toothpicks shoved under fingernails. Yes, it's just that fun," writes Joanna Hyatt '06 in The Sex Talk: A Survival Guide for Parents (Yellow Monkey). Even though the topic of sex is everywhere in pop culture—from Hollywood gossip to the latest movies and tabloids—it's an especially difficult subject for many parents to broach with their teens, Hyatt notes. She offers a generous, sympathetic approach to help parents overcome some intimidating assumptions—"if I start talking about sex," for example, "then they may go have sex"—and support their confused, anxiety-filled teens as they grow into adults. Hyatt has tested her perspectives on sex behavior before audiences across the country and in the pages of several publications, including Roo Magazine, Verily Magazine, and Darling Magazine. "They need you," Hyatt gently advises parental readers, "…remember that the person standing in front of you rolling their eyes and slouching into the couch is really just trying to find their way in this world, desperately looking for answers because they actually don't know everything."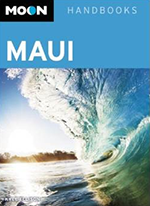 If you want to get the maximum experience out of vacationing somewhere, follow some simple advice: Talk to a local. And in the case of the Hawaiian island of Maui, one of those locals is Kyle Ellison '06, who explores the little-known adventure zones and lesser-known pleasures of the island in Moon Handbooks – Maui: Including Molokai & Lanai (Avalon Travel Publishing). Of course you can go snorkeling in Molokini Crater with a chance to see more than 250 species of fish, but don't forget the sights of Central Maui or the pleasures of the Upcountry, "rural, laid-back, and refreshingly cool," Ellison writes, "[E]verything from vegetables to vineyards, coffee, and goat cheese can be found in this rural and relaxing enclave." The beaten path may be fine for some people, but on your next visit, take along Ellison's insightful, detailed guidebook to ensure that you enjoy something more than just the typical island experience.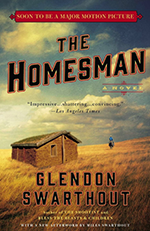 Recently, in Class Notes, you may have noticed Class Liaison Miles Swarthout's '68 announcement about a recent reissue of his father Glendon's novel, The Homesman (Simon & Schuster), and a movie based on the book starring Meryl Streep, Hilary Swank, and Tommy Lee Jones. If you still haven't acquired a copy, what are you waiting for? This is an engrossing narrative of American frontier life that's far from the romantic imagery of Dances With Wolves and similar novels. "Homesman" is a term for the person entrusted with helping pioneers leave the frontier after their dreams of a new life there have crashed and burned. Swarthout's novel has not one but two such people in it, and they're tasked with helping a small party of desperate women face violent weather and even more violent human threats on their exodus home. In an elegant afterword, our Class of 1968 liaison offers context and background, deftly summing up his father's intent in this way: "History is always written by the Winners, in this case the largely white migration of Americans who journeyed west by horse and wagon with American military help…. That Manifest Destiny story has been well-told, many times. But Glendon was more interested in the Losers, the settlers who headed back east once more in much smaller caravans, their health and spirits broken, their crops failed, destitute, their small herds starved or stolen." Stay tuned for his own novel, The Last Shootist, a sequel to his father's The Shootist, which will be published this fall.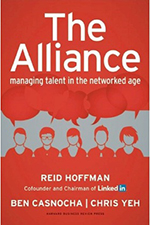 "A business without loyalty is a business without long-term thinking," explain Reid Hoffman, Ben Casnocha '11 and Chris Yeh in The Alliance: Managing Talent in the Networked Age (Harvard Business Review Press). Their book calls for a new understanding and a reframing of the employer-employee relationship that better reflects the contemporary business world. Companies, they insist, are not families. "We believe that most CEOs have good intentions when they describe their company as being 'like family.' … But using the term 'family' makes it easy for misunderstandings to arise," the authors explain. "In a real family, parents can't fire their children." Instead, the authors pose a model of the employer-employee relationship that embraces the principles of a military "tour of duty" or a professional sports team. In either case, members unite for a mutual purpose and mutual benefit. The Alliance also stresses the incalculable value of networking which, considering that Hoffman's a co-founder of LinkedIn, shouldn't come as a surprise. As you're thinking about business strategies for the fall, this book should be on your list of must-reads for the end of summer.
— Nick Owchar '90