'I belong here'
Summer 2018

How a simple mantra yielded a national title
By Chris Watts
Just before the most important game of her life, Margaux Arntson '18 recalled the mantra that had brought her to that point. "I belong here," she said to herself. She was about to play for the 2017 National Collegiate Athletic Association Division III Women's Volleyball National Championship at Calvin College in Grand Rapids, Mich. "I belong here," she told herself again.
It had taken some time to be able to say that with absolute confidence. A senior international relations major, Arntson's journey to the championship began when she chose CMC from her all-girls high school in Tacoma, Wash., with fewer than 50 in her graduating class.
She and the other seniors on the CMS volleyball team—Clara Madsen, Shelbi Stein, Crystal Anderson, Mikena Werner, Mariah Rigg, Jenny Smith, and Sarah Bruml had committed to playing their first two seasons in a temporary home gym at Harvey Mudd College during the construction of the Roberts Pavilion, named in honor of Trustee George R. Roberts '66 P'93. The Athenas had been knocked out in earlier rounds of the NCAA tournament in each of the previous three years.
Their opponent for the national championship match, Wittenberg University, was practically at home. Wittenberg had been in the title match three of the past seven years, won the championship in 2011, and was a five- hour drive from its own campus, with fans and family filling the gym.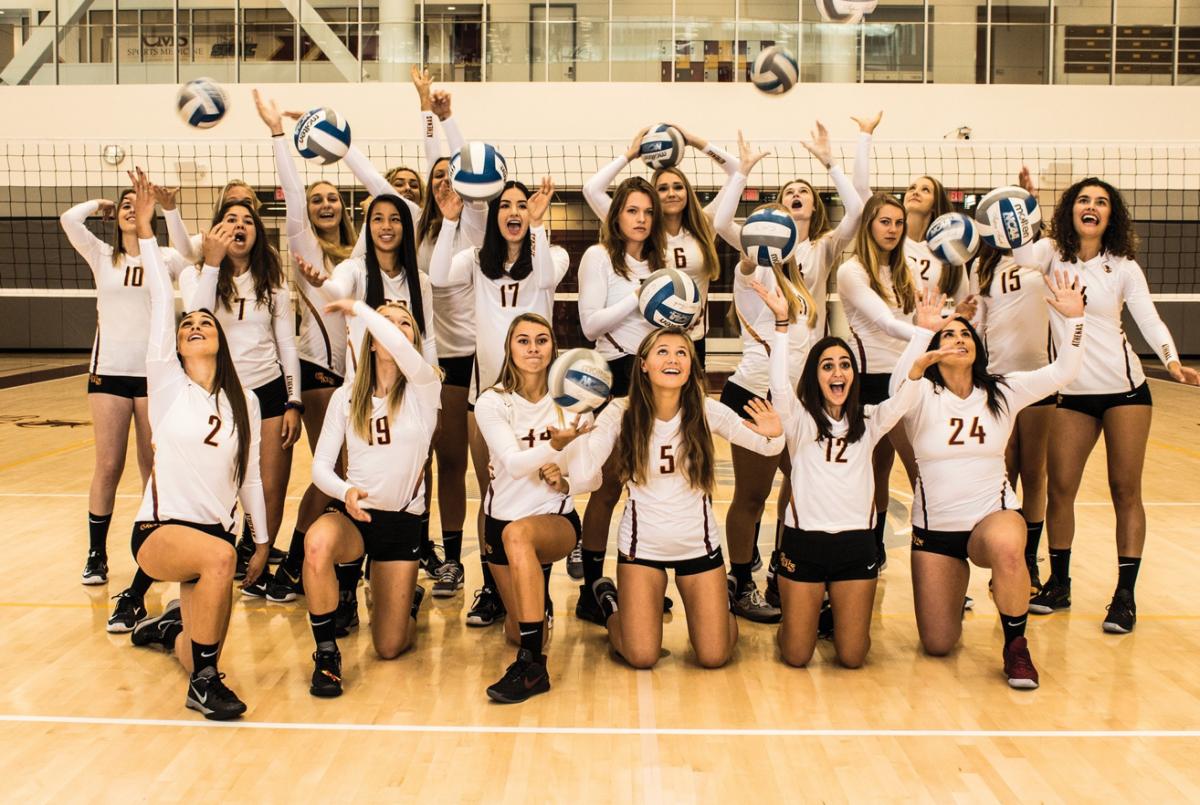 For the first time, the Athenas were in the final; a win would be the first NCAA title for any CMS women's team.
Arntson thought of her mother, Anne, an immigrant from France who teaches meditation. "I belong here," she repeated to herself.
The mantra settled her. Her teammates also had found their own pre-game comfort zone. They were secure in knowing that they had put every bit of their potential into preparing for this moment. During their warmups, they danced, flailing awkwardly in stark contrast to their precise moves on the volleyball court. "That confidence was something I had never experienced before," Crystal Anderson '18 recalled.
They knew they were ready. They felt it to the core. All that was left was to play. The Athenas exploded. Though Wittenberg took an early lead in the opening set, the Athenas ripped through a 7-2 run that turned the tables to win the first set. They took the next set 25-19, becoming the only team in the tournament to win two sets against Wittenberg. The final set was close up to the end, when Arntson sealed the championship with a cross-court kill. She would be named Tournament Most Valuable Player, with 18 kills in the final match and 92 kills in the six tournament matches.
And Claremont-Mudd-Scripps won its first NCAA women's title.
For the Athena seniors, the championship was not a Cinderella story. There was no surprising turn of events. The young women had spent four years focused on a national title. Head coach Kurt Vlasich had recruited them with a pledge that they would win a national championship. Getting there would take planning, preparation, and perseverance, he told them, but they were set on an intentional course. The journey to the championship, however, did begin with something of a leap of faith.
Anderson visited CMC as a high school recruit. She stood in Ducey Gymnasium with Vlasich. Ducey was a relic of CMC's modest beginnings— her high school gym in Sammamish, Wash., was cavernous and opulent by comparison. Vlasich diverted her attention with architectural drawings of Roberts Pavilion, more than two years away from opening. There would be a new facility, Vlasich promised, and there already was a commitment to aim for the very top. "Coach Vlasich told me that by the end of my time here, we would win a national championship. He was the only coach who said that, and he was persistent," she said.
In Ducey Gym at the time, cardinal and gold banners marked CMS' Southern California Intercollegiate Athletic Conference championships. For volleyball, the banner listed two SCIAC titles. Yet Anderson believed Coach Vlasich, as did the other recruits that year. "I wanted to believe it was something we could achieve," said Shelbi Stein '18, "I believed it, but I also had no idea what I was in for."
When they arrived the next school year, Ducey was being razed to make way for Roberts. The volleyball team took up temporary quarters at Harvey Mudd's recreational gym. The team went 27-7 during the 2014 season, and failed to win the conference title. But they did get a playoff berth and surprised everyone by making it to the NCAA tournament quarterfinal—the best finish in program history.
They were knocked out of the tournament by the University of Wisconsin-Stevens Point. While the loss stung, it also gave the first-year players a sense that Vlasich's talk of a national title truly was realistic. "It just lit a passion inside of us," said Stein.
The next season, the Athenas took the SCIAC title for the first time since 1993 (before many of them were born). They were eliminated in the second round of the NCAA tournament by Washington University, Saint Louis.
The junior season for the class of '18 ended even more abruptly. Despite starting with an 18-game winning streak and a mid-season No. 1 national ranking, the team was swept by Cal Lutheran in the SCIAC tournament finals. The Athenas did get an at-large bid to the NCAA tournament, where they were knocked out in the first round by national contender Colorado College.
Some of the players began to question whether they really would win a championship before graduating. There was, after all, only one year left, and they had fallen short three times. But after the third failed attempt, Vlasich saw his team had improved to the point that he no longer had doubts.
At the same time, the players were building confidence through their other experiences at CMC. They were not conscious of it at the time, but with each semester they had picked up bits and pieces of worldliness and maturity. In academics, social life, and other extracurricular areas, they had experienced unexpected setbacks and triumphs over the past three years.
Stein had become a resident advisor. The seniors were building career prospects and researching thesis projects. Balancing those demands with volleyball was exhausting, but exhilarating.
Vlasich said there were several practices when one of the seniors would have to leave to take a telephone job interview. "They would come back to practice a little less stressed, maybe refreshed, or even excited," he said. "It helped them understand what they're here for. You're a student first, you're a human being first, and that helps you to be a better athlete."
At the start of the school year, the seniors also learned there were times to step aside to let others shine. They would cede playing time to sophomore Sarah Tritschler '20 and first-year standouts Regan Dinovitz '21 and Melanie Moore '21. Focused on their national title quest, the seniors knew they had to put the best players out there. "The seniors embraced it," Vlasich said.
Having not reached their goal of winning a national championship in previous seasons, the Athenas needed a different map for the 2017 season. Over the summer, assistant coach Jack Coberly sketched out "The Athena Journey," a classically-inspired flow chart to the championship. Each game of the season was charted, with warnings about each opponent ("Pomona: they want it," "Oxy: cool them off"); for the NCAA tournament, Coberly's chart offered, "Luck is when preparation meets opportunity." Over a drawing of the Parthenon and Athena statue, the team labeled pillars with their values and inspirational directives: "Focus," "Passion" and "Nunc Coepi" (now I begin).
"The map was instrumental," Stein said, "it kept the journey in perspective." After each game, the team colored in the box representing the game on the diagram. "We kept coloring and coloring, and it never stopped," Anderson said.
When the Athenas got to the tournament, they were still seen as the "underdogs," said Clara Madsen '18. "We were the single West Coast team, we had traveled the farthest. There were teams that had been there six times."
But at the final, "we realized where we were," she said. "Collectively, we had put in the work, we had the success, we knew we deserved to be there." The rest was history. Vlasich's recruiting pitch of four years ago was realized. Now, when he recruits in the palatial Roberts Pavilion, Vlasich hands players the national championship trophy. "I tell them to pick it up, see how it feels," he said, "and be ready to win another one."