Alumni accolades
Summer 2018

2018 Claremont McKenna College Alumni Association Awards celebrate career excellence and volunteer commitments.
Nine outstanding Claremont McKenna College community members have been honored by the Claremont McKenna College Alumni Association (CMCAA) for their extraordinary professional achievements and significant service to the College. Every year, the CMCAA recognizes a small group of prestigious alumni, parents, grandparents, faculty, staff, and other friends whose professional acumen and personal contributions have demonstrated extraordinary talent, leadership, and dedication. Warm congratulations to this year's winners.
The George C. S. Benson Distinguished Achievement Award, given for outstanding professional and public service, is the highest honor bestowed by the CMCAA. This year's recipient is Steve Strauss '78, a partner at Cooley LLP who has achieved trial verdicts and settlements in excess of $10 billion. Strauss has been recognized by the Daily Journal as one of the 75 Leading IP Litigators in California (2012, 2015) and the Top 100 Attorneys in California (2016), and consistently is named as one of the Top 50 attorneys in San Diego by Southern California Super Lawyers list in the category of Business Litigation. He is a Fellow of the International Academy of Trial Lawyers and a current member of the American Board of Trial Advocates, California Trial Lawyers'Association, San Diego Trial Lawyers Association, San Diego Bar Association, and the American Business Trial Lawyers Association.
---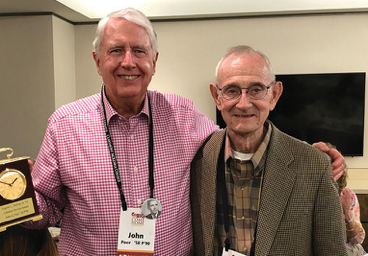 Given in recognition of outstanding service to the College, the Alumni Association, and the alumni of Claremont McKenna College, the Jack L. Stark '57 GP'11 Distinguished Service Award for 2018 goes to Wayne Slavitt '80. A private-sector entrepreneur and business adviser, Slavitt has launched and successfully run several companies. He has served as president of the CMCAA, an alumni mentor for the Entrepreneurial Studies course and moderator for the Center for Innovation and Entrepreneurship's Angel Summit. He remains an active member of the CMCAA Past President's Council, volunteer, and mentor.
---
The Eugene L. Wolver, Jr. '51 Lifetime Service Award is given in recognition of lifetime service to the College, the Alumni Association, and the alumni of Claremont McKenna College. This year's recipient, John Poer '58 P'90, is a former two-sport athlete who, as a member of the Pomona-Claremont varsity golf team, won SCIAC individual championships in 1956 and 1957 and placed second in 1958. Poer also played two seasons of varsity basketball and was a key member of the team that tied for the SCIAC Championship in 1958. He earned Outstanding Athlete accolades for the 1958 school year. Over the years, Poer has stayed involved with CMC as a CMCAA board member and president, CMCAA Sports Committee member and CMS Athletics Hall of Fame nominating committee chairman, and is an active member of the CMCAA Past President's Council.
---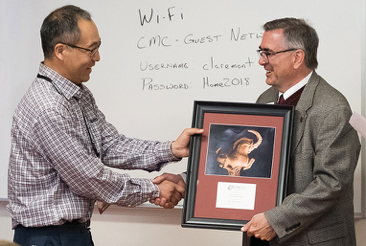 Conferred annually, the John P. Faranda '79 Student Service Award honors dedication to the well-being of current students through volunteerism, mentorship, and/or leadership. Richard Chino '90, recognized this year, has served the College and its students as an alumnus trustee from July 2014 through June 2017, a board member and executive committee member of the CMCAA, a board member for the Center for Innovation and Entrepreneurship, and chair of the CMCAA Mentoring Sub-Committee. He has also been active with CMC's Mentoring Program since its inception and has conducted case interview workshops to prepare CMC students for Management Consulting interviews.
---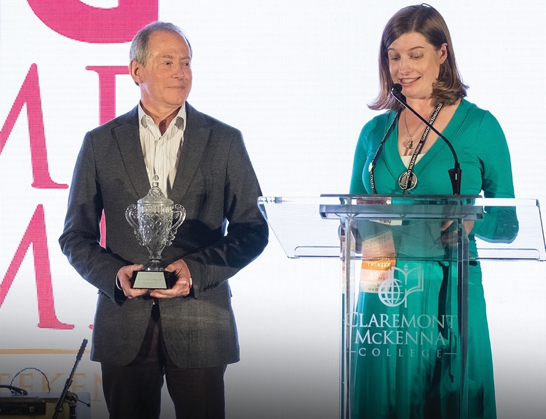 The Pamela Gann Leadership Award is given to acknowledge the significant leadership of CMC alumni who have been notable trailblazers as exhibited by their impact and influence in the advancement of community-building, volunteerism, or social entrepreneurship. This year's recipient, Cary Davidson '75, previously recognized with the Jack L. Stark '57 GP'11 Distinguished Service Award, has specialized in political and nonprofit organization law since 1980. A former congressional aide, public affairs officer and political consultant, he has extensive experience in political campaigns and has served as treasurer and/ or legal counsel for hundreds of campaign committees. His other accomplishments and involvements include past president of the California Political Attorneys Association, Equality California, Congregation Kol Ami, and the CMCAA, Davidson also has served CMC as an alumnus trustee and member of the Rose Institute Board of Governors, and leads the CMCAA Past President's Council.
---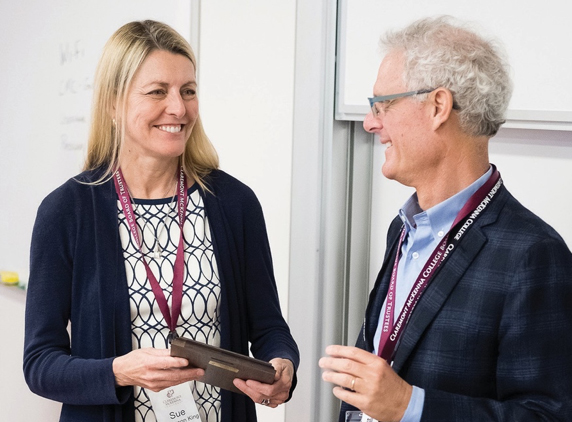 Each year, the Association recognizes an outstanding volunteer and a high-performing chapter. This year, Volunteer of the Year was awarded to Sue Matteson King '85 P'18 for her extensive work with the New York Leadership Group and Chapter. No coincidence that New York was also named Chapter of the Year, which Sue accepted on behalf of the New York Leadership Group. New York boasts numerous prospective student, networking, cultural, and academic events for alumni and parents every year.
---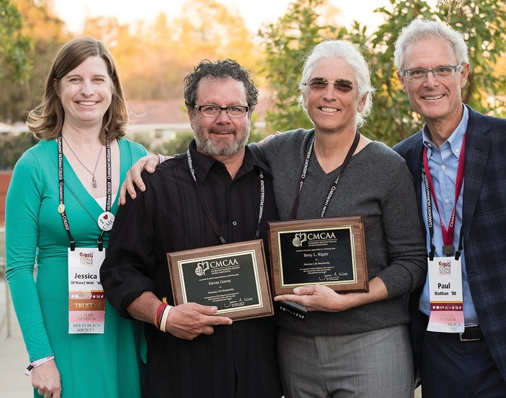 Honorary Life Memberships in the Alumni Association are conferred upon individuals who have made noteworthy contributions to the College or the Association. This year's honorees include former Claremont-Mudd-Scripps Softball Coach Betsy Hipple, Associate Vice President and Dean of Student Opportunities and Dean of the Robert Day Scholars Program Michelle Chamberlain, and Head Athletic Trainer Steve Graves.
Hipple, during her 12 years as head coach of the Athenas, was known for not only her passion and tenacity on the diamond but also her empowerment of strong women leaders throughout the CMS community. Under her guidance, the Athenas rose to their first NCAA appearance, competed twice in the Top-25 NFCA Leadoff Classic Tournament and won two SCIAC Championships and four SCIAC Postseason Tournament Championships. CMS also earned a berth to the NCAA Tournament seven times. Hipple's 340-174-1 (.661) record makes her the winningest coach in CMS softball program history.
---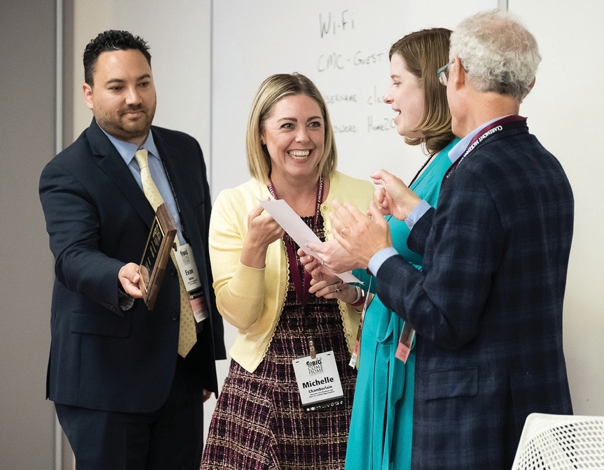 As leader and inaugural dean of student opportunities for the Soll Center for Student Opportunity, Michelle Chamberlain interacts with internal and external constituencies to connect students to the many resources and opportunities offered at CMC through programming and counseling. Chamberlain was instrumental in growing the sponsored internship program and scholar communities, as well as for the success of the Robert Day Scholars program. Previously an attorney with O'Melveny & Myers LLP, she holds a B.A. from the University of Southern California, an M.A. in education administration from Claremont Graduate University, and a J.D. from Southwestern School of Law. Chamberlain also is a member of the Southwestern School of Law Board of Visitors and Mt. San Antonio Gardens Corporation Board.
---
Since joining the CMS family in 1992, Steve Graves has shown a commitment to the overall health and well-being of not only student athletes but also the teams and the department as a whole. You can see Graves on the sidelines or on the road with CMS athletes throughout the academic year. A Southern California native, he received his B.A. in athletic training from the California State University, Long Beach. Prior to joining CMS, he worked with elite-level gymnasts at SCATS Gymnastics in Huntington Beach and at Marina High School.
---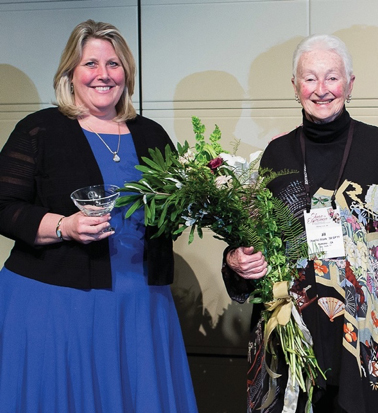 The Parent Network Board conveys one award per year recognizing a CMC parent for exceptional service. The Jil Stark '58 GP'11 Parent Volunteer Award recognizes CMC parents who have contributed in a meaningful way to the mission of Claremont McKenna College. This annual award honors a current parent who has contributed time and talent in an exemplary way, directly benefiting students and inspiring other parents to become involved. This year's recipient, Heidi Friedlander P'19, is a Parent Network board member, currently serving as co-vice president, communication, and active member of the New York leadership group. Heidi works closely with the Office of Alumni and Parent Relations and Office of Admission on projects in Claremont and around the country.
---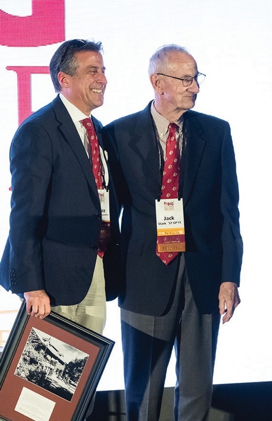 Also during Alumni Weekend, the Jack L. Stark '57 GP'11 Distinguished Service Award for 2017 was presented to Bruce Soll '79 P'12 P'15 P'17. Soll, senior vice president and counsel at L Brands, was counselor to the U.S. Secretary of Commerce during the George H. W. Bush administration, served as the director of finance of Ronald Reagan's Presidential Foundation and Library, and serves on numerous other boards and foundations. Soll is a former CMC Alumnus Trustee and Alumni Association Board Member, current CMC Trustee, and was one of the founders of the new Soll Center for Student Opportunity. He earned his J.D. from the University of Southern California School of Law. In February 2017, the Soll Center for Student Opportunity was named in his family's honor.