A bridge to Claremont
Summer 2018

Alejandro Posada-Sanchez '21 and Angel Ornelas '21 blazed their trail from Dallas to Claremont with the help of a uniquely perceptive guide: their teacher, Chelsee Cox '12.
By Elain E Woo
Alejandro Posada-Sanchez and Angel Ornelas met on the first day of fourth grade at William B. Travis Academy, a Dallas magnet school. Both were academically advanced but seemed to have little else in common.
Angel had a boisterous personality and could strike up a conversation with just about anyone. Alejandro was far more reserved, the type of person who, by his own description, was more comfortable "just kind of sitting in the back" of the room and minding his own business.
"In theory," Angel observed recently, "we shouldn't work out as friends." Instead, they became best buddies.
The friendship that budded in fourth grade was cemented by ninth grade, when they both earned spots in Dallas' top-rated School of Science and Engineering Magnet, or SEM. As freshmen they helped each other survive "fast-track math," which challenged students to barrel through geometry, algebra II, pre-calculus, and calculus AB in one year. They collaborated on history projects, debate team, and band.
When senior year rolled around, it seemed that their paths would diverge- each of them had his eye on a different top college. But fate and a captivating teacher, who happened to be an alumna of Claremont McKenna College, intervened.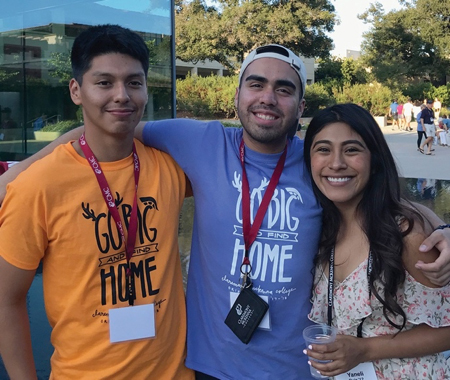 "Neither of them planned on CMC," said SEM Advanced Placement teacher Chelsee Cox '12 of her two former students, who recently wound up their first year at her alma mater.
"I think they were attracted to CMC because of the way I represent the College's spirit of engagement and practical inquiry. They see me as a person who likes to talk and think critically and then ask: What can we do with this information? How can we shake things up? They are completely different people but they both want to go out in the world and be very innovative."
It's not unusual for friends to wind up at the same college, but not many can boast of a relationship as long or unlikely as the one these two forged a decade ago.
Alejandro is the oldest of three children; his mother is a homemaker and his father is a mason. Angel is the youngest of four children, whose parents run a school uniform business.
At a shady table in the lower court at Kravis, they reflected on that day in 2008 when they filed into Miss Humphreys' fourth-grade classroom for the first time. "Angel was actually the first person I talked to," Alejandro recalled. "He's an extrovert. He's just talking to everybody." As for Angel, he remembers Alejandro as quiet but "straightforward and just very authentic," he said.
Both agreed that they bonded more tightly in ninth grade, when they endured the accelerated math program together. "It was insane," Angel said. "That was the year that ensured we would be friends for life."
But there had been an important turning point before they got to high school. In seventh grade, Angel came out as gay to his family and friends. Not long afterwards, in eighth grade, he learned that Alejandro also was gay. "Since we were the only two gay students in our middle school, we bonded."
At SEM, they found a role model and mentor in Cox, who is African American and identifies as queer. "She was one of the very few adults I could talk to about my sexuality without any fear of being judged for something that I can't change," Alejandro said.
Like her former students, Cox grew up in South Dallas and is a product of the Dallas public school system. She planned to attend community college, but her English teacher, Amanda Ashmead, encouraged her to aim higher. Through QuestBridge, a national nonprofit based in Palo Alto that matches talented, low- income students with highly selective colleges and universities, she chose CMC, where she thrived as a religious studies and history major.
After graduating in 2012, she joined Teach for America and was placed at the School of Science and Engineering Magnet, consistently ranked as one of the top- performing high schools in the country.
She met Angel and Alejandro when they took her AP government and economics classes as juniors. Mentoring them has been her way of "paying it forward."
"Someone believed in me," she said, referring to Ashmead, "and I believed in them."
Telling Alejandro about her youth, when she struggled to "find things to like about school," resonated with him, as did her love of Marvel comics. "We are both fanatics of Marvel comics," he said.
Angel gravitated towards her because of their shared passion for politics.
With so much in common, it was natural that when the time came to choose a college, both Alejandro and Angel carefully considered what Cox had to say.
She urged Alejandro to look into QuestBridge. He visited The Claremont Colleges and ended up listing Claremont McKenna as a top choice on his QuestBridge application.
For Angel, Cox "emphasized that CMC was a place for learning who you are and being challenged," he said.
"CMC exposed me to things I would never have seen if I had stayed in Texas," Cox said. "It gave me the breadth of a liberal arts education but also practical skills, like networking, pushing agendas, and shaking up the system from the inside."
Alejandro accepted CMC's offer in December of 2016. Angel received his notice two months later.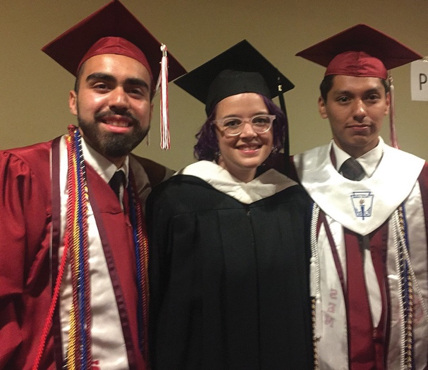 "When February hit, it was like, we're going to be CMC buddies," Angel recalled. "From February to the end of high school everything we did was together."
Their friendship has helped ease the transition to college, although their paths as freshmen are as different as their personalities.
Angel is a Latin American studies major and a leader in numerous campus activities; he is also a force in the classroom, said Roderic Camp, the Phillip M. McKenna Professor of the Pacific Rim. "It's kind of amazing; he's taking my seminar with juniors and seniors and very much holding his own," Camp said.
Alejandro still is pondering his options. A dual major in computer science and film studies, he has written several screenplays, including a sci-fi coming-of-age story, but also is interested in software development and intellectual property law.
Like Cox, they want to pay it forward. They talk to prospective students about their CMC experiences. Alejandro even went back to their high school recently to promote the College, stressing in particular the small classes, ability to get to know one's professors, and opportunity to participate in activities and courses throughout the five-campus Claremont consortium.
Their efforts may have something to do with the School of Science and Engineering sending three more students to Claremont McKenna next fall.
"We don't know them well yet," Angel said of the incoming students, "but we'll be here if they need any advice."