CMC conference explores rights and responsibilities of free speech
Summer 2018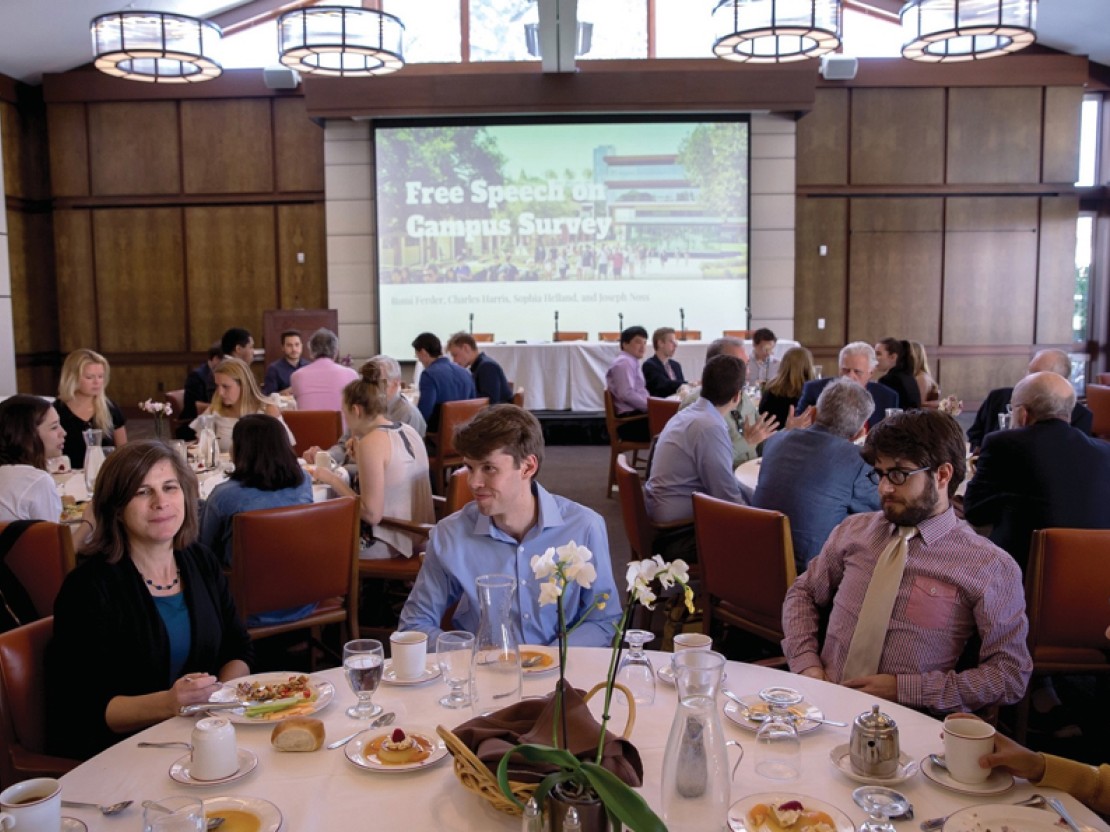 By Henry Fuhrmann
On campuses today, says Steven Hayward of UC Berkeley, we should ask whether trying to prevent harm by restricting speech is "any more sensible than trying to prevent crime by assigning every single person their own police officer." By doing so, "we are actually going to be degrading the intellectual autoimmune systems of our students," said Hayward, a sometimes-controversial conservative author and commentator.
Roosevelt Montas of Columbia University emphasizes that free speech requires a balancing act. Universities should "be in favor of freedom to be offensive, rather than in favor of protecting the feelings of those who may be offended," said Montas, a scholar of American national identity and citizenship. But once free speech is favored, "we must immediately recognize that we are on shaky ground when we tell people who claim to feel intimidated, even terrorized, that they are, in fact, not being intimidated or terrorized."
Hayward and Montas were among a dozen scholars from around the country who spoke at "Free Speech on Campus," a daylong conference held Feb. 9 at the Marian Miner Cook Athenaeum. The program was organized by George Thomas, Burnet C. Wohlford Professor of American Political Institutions at CMC.
Many panelists spoke of the need on campuses to encourage a greater acceptance of opposing points of view. Among their observations: "Isn't it far better to encourage bad ideas to come out of the shadows, where those who espouse them can do battle- and face defeat-in their name?" "Universities have something close to a sacred obligation to give students a chance to think for themselves." "Many of us, faculty and students, seem to know the answers to the questions before any questions are asked ... and are sure of their beliefs without discussing or engaging with those who disagree." "We need to relearn and practice the civilized art of agreeable disagreements."
As the day progressed, several through- lines emerged. The Internet, more than one participant noted, has changed how we regard free speech. "I need to be in a spirit of candor in order to have some fluency in the classroom, and I want that for my students too," said Robert Van Hallberg, professor of literature at CMC, who said students fear denunciation in social media. "Silence is greater now. Students are more inhibited now than 10 years ago."
And while much of the discussion focused on the here and now, historians spoke at the program about advocacy of free speech from the days of the suffragists through the leaders of the 1960s Free Speech Movement to more recent activists, and the lessons that may guide us today.
Professor Thomas said he sought to recruit a diversity of voices, not merely legal scholars who would approach the question from a First Amendment perspective.
"I didn't want it to be 'Here's why we should think free speech is important," Thomas said. "I wanted it to be people from a variety of disciplines, who are engaged in teaching and life on college campuses, to think about why does this matter, how does this matter, how is this important to liberal education." He encouraged speakers to address the different contexts in which free speech must be assessed, such as the classroom versus a public forum or within the confines of a dorm room.
In that spirit, Mark Blitz, Fletcher Jones Professor of Political Philosophy and director of CMC's Henry Salvatori Center for the Study of Individual Freedom, gave what he called his "two-minute defense of free speech" as being essential for self-direction and fundamental to liberal education.
"The limits, I think, largely have to do with the venues and occasions for speech, not with their substance," he said. "Observing these limits should as much as possible be freely self-directed, be privately employed and not politically enforced, be temporary, and be generally agreed on in that venue. ... Insults, for instance, that might be OK in politics or on sports radio are not OK in the classroom or in the courtroom. So no shouting out, no personal insults, no use of generally agreed-on slurs in most settings."
The conference presented three panels, each chaired by a CMC professor. "Is Free Speech Central to Higher Education?" was led by Van Hallberg; "Contemporary Challenges," by Aseema Sinha, the Wagener Chair of South Asian Politics; and "Liberal Education and Free Speech," by Jamel Velji, assistant professor of religious studies. In addition, a group of Thomas' students announced the results of their survey of their classmates' attitudes on free speech.
Two historians on the CMC faculty traveled back along the timeline of free speech activism. They explained how that history can provide context today, specifically after the protests over the appearance by Heather Mac Donald at CMC last spring and elsewhere regarding other conservative commentators invited to campuses.
Lily Geismer, associate professor of history, finds the Free Speech Movement recurring prominently in each of the courses she teaches on political movements since 1945. Speaking on the first panel, she described how the Free Speech Movement arose at UC Berkeley in 1964 in response to restrictions on campus political advocacy and inspired "a new age of student rights and protests around the country." For many of those involved, she said, quoting an old slogan that "the issue is not the issue," the fight for free speech became a means to an end, to protest conditions at the university and in American capitalist society more broadly.
What the recent protests have done, Geismer said, "is to expose a key tension between universities' commitment to diversity, inclusion, and social mobility on one hand, and to their ideal of free speech on the other. I think that going forward the task is not to avoid addressing that tension but actually embracing it."
The long view, likewise, was the theme of Geismer's colleague Diana Selig, Kingsley Croul Associate Professor of History and a member of the second panel.
"One of the challenges on campus that I've been thinking about lately is how to make the case for the defense of free speech as essential for people across the political spectrum," Selig said.
"Some students came away from those events thinking that free speech is an issue of particular concern to conservatives," she said, referring to last year's protests. "Some students who identify as progressive told me that free speech, they think, mostly serves to protect the powerful and is not central to their own work, including about structural reform."
Historical context can provide a broader response to such views, Selig said. She used the examples of suffragist Alice Paul, birth control pioneer Margaret Sanger, and voting rights advocate Fannie Lou Hamer, who suffered harassment, and even went to jail, for exercising their rights to free speech. Their stories, Selig said, "remind us that in times when we have diminished free speech, it has often been the disadvantaged, those without power and privilege, who have, in fact, suffered most."
Among the questions we might ask in response, she said, are "Why is it on campuses today that so many students have lost sight of this history, of the importance of free speech for protecting the voices of those without power or privilege? How can we help students understand and grapple with the ways in which all Americans of whatever background or political views have a stake in debates over free speech?"
In a session at the lunch break, four of George Thomas' students presented the findings of their survey of their classmates' attitudes about free speech. The students-Charles Harris '19, Romi Ferder '20, Sophia Helland '20, and Joseph Noss '20, along with a fifth collaborator, Melanie Wolfe '20-emailed their 25-question survey to a randomized sample of 300 students. They received 120 responses, representing about 10 percent of the student population, and sorted the responses by factors including racial self-identification, political party and philosophy, school class, and major. The overwhelming majority of respondents said that most or some CMC students respect free speech on campus.
The Feb. 9 conference was one product of the dialogue at CMC that has followed the Mac Donald incident, said Thomas, who a day earlier was announced as the next director of the Salvatori Center, succeeding Blitz, effective July 1.