From improv to track, U.S. House Chaplain Patrick J. Conroy '72 was a top CMC performer
Summer 2018
Patrick J. "Pat" Conroy '72, has this advice for today's CMC students: "Try something you've never imagined," he said. "It's easy to think at your age you've got everything figured out. If you're too focused on one thing, you can't see any other possibilities."
Conroy's recommendation comes from his own CMC experience. He credits an improvisational theatre class at Scripps College for teaching him to nimbly work through unexpected challenges. He and other students in the class, including Robin Williams '73, formed the improv comedy group Synergy Trust, later called Karma Pie, and performed weekly.
"The single most influential class in all that education, for what I have gone on to do in my life, was that improvisational theater class," Conroy says. "I've always felt I could enter into any situation and handle whatever came up."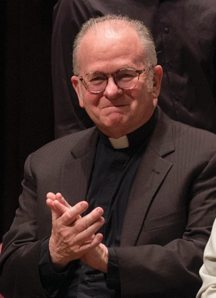 Conroy, in his seventh year serving Congress, has kept in touch with his CMC classmates and professors, including John Roth and Ward Elliott. While CMC friends recall Conroy as something of the life of the party-Professor Elliott said Conroy's guitar and vocal rendition of the Beatles' "Rocky Raccoon" was a crowd favorite at sing-along parties held at his house-they also remember him as driven and devout, both in the classroom and on the track. Conroy is a member of the CMS Hall of Fame for his accomplishments as a distance runner.
CMC, Conroy says, taught him that commitment and preparation were as important as talent. "I wasn't at the top of my class, because many of my peers were smarter or brighter, but my discipline always gave me confidence I could handle the work," he says. "My athletic discipline also reinforced focused study and rest time."
Conroy holds three master's degrees-in philosophy from Gonzaga University, in divinity from the Jesuit School of Theology of Santa Clara University, and in sacred theology from Regis College, University of Toronto-as well as a law degree from St. Louis University.