Honoring a master of the open door policy
Winter 2015
Emeritus Professor Gordon Bjork has welcomed generations of students into his office and home; now they're showing thanks to him with a named scholarship fund, professorship
Ask any former student of Gordon Bjork's about his sartorial style and you're likely to hear the same thing.
Those little nuances of his—the cravat or the bow tie, nicely tailored and folded—lent an atmosphere of the Ivy League and Oxford to his classes in Bauer Center.
Bjork has always cut an elegant figure on campus as well as in the field of economics and the College's Philosophy, Politics, and Economics Program.
Now, to honor this emeritus professor for inspiring countless generations of CMCers, his former students are establishing the Gordon Bjork Endowed Scholarship Fund to assist future students with an interest in studying economics or PPE. Until his retirement in 2003, Bjork was CMC's first Jonathan B. Lovelace Professor of Economics and taught at the college for 28 years.
"I'm delighted that a scholarship program bearing my name will further increase access," Bjork said in a recent phone interview from his Santa Barbara home. "Over the last half-century, CMC has always provided access for students from across the socioeconomic spectrum. One of the great advantages of the college's success is that more scholarships can be used to provide access to the 'best and the brightest.' "
The new scholarship is one of two new ways to honor Bjork and also to acknowledge CMC's "best and brightest"—the other is the creation of the Gordon Bjork Professorship of Financial Economics and George R. Roberts Fellow whose first holder, Fan Yu, was installed during an Athenaeum ceremony in January.
"Looking back on my four years at CMC, I am touched by how much Gordon Bjork helped me," said Mark Schwartz '78, who is leading the drive to establish the scholarship fund. "Without the effort of Gordon, there would not have been a PPE major at CMC. He worked so tirelessly to ensure a quality and unique college experience that is the hallmark of CMC."
It's a sentiment echoed by many; thus far, as of the publication of this issue of CMC Magazine, Schwartz, his classmates, and the College's Development team have raised $180,750 for the scholarship endowment.
When the endowment is fully funded, the Bjork Scholarship will assist students eager to study applied economics and related fields—a focus that's ideally aligned with the goals of CMC's Student Imperative discussed in this issue of the magazine.
For Ernie Iseminger, the College's V.P. of Development and External Relations, the tremendous response of alumni in support of this new scholarship demonstrates that special faculty-student connection that has been a signature of a CMC education since its earliest years.
"Professor Bjork inspired so many students over the years, and now they're eager to return the favor," he explained. "It's exciting to watch Mark Schwartz and his classmates rally behind this effort, especially as it perfectly supports what we're doing with the Imperative: helping more of our students with their financial need and their interests in specific fields."
For Bjork, the key to his teaching—which has earned him two George Washington Honor Medals for achievement in economics education—was to encourage students to develop their own approaches to problem-solving, a view also underscoring PPE's success under his leadership with John Roth and Ward Elliott.
Bjork's approach to teaching has left a lasting impression on many of his former students, including Trustee Bruce Soll '79 P'12 P'15 P'17, another key backer of the scholarship fund.
Soll says this "learning by doing" approach was the core principle behind Bjork's Theory and Practice of Commercial Banking—a course known more affectionately by students as "Banksim."
"Our bank team learned so much about effective management decision-making, especially when our decisions were the wrong ones!" Soll says. "Although we won the simulation, the best part of the course was that Gordon was so actively engaged in our experiential learning … and then, later, he became a lifelong friend."
Bjork says developing close ties with students fosters learning as well as friendship.
"There is a natural distance between students and faculty that can be widened or lessened by either side," Bjork says, "but I thought it was important for students to see faculty at home and in other informal situations just to help them understand where the faculty were 'coming from.' "
To provide opportunities for this kind of interaction, he says he would often go to Collins for lunch and intentionally sit at an empty table to give students a choice to join him. He'd also hike and bike with students and invite them to his home for a dinner at which the dessert centerpiece was usually a trifle made by his wife, Susan. For many years Susan Bjork served as an administrator at several Claremont institutions while her husband taught at CMC.
"She's always responded warmly to the open CMC style and liked our ethos," he says. "One of the most significant differences between CMC as a liberal arts college and 'research universities' is the expectations of student-faculty interaction. I hope that CMC can continue to attract faculty for whom intensive and extensive interactions with students is a high priority."
• Interested in honoring Professor Bjork with a gift to his scholarship fund? Contact Mark Schwartz '78 or Todd Mandel in CMC's Development Office.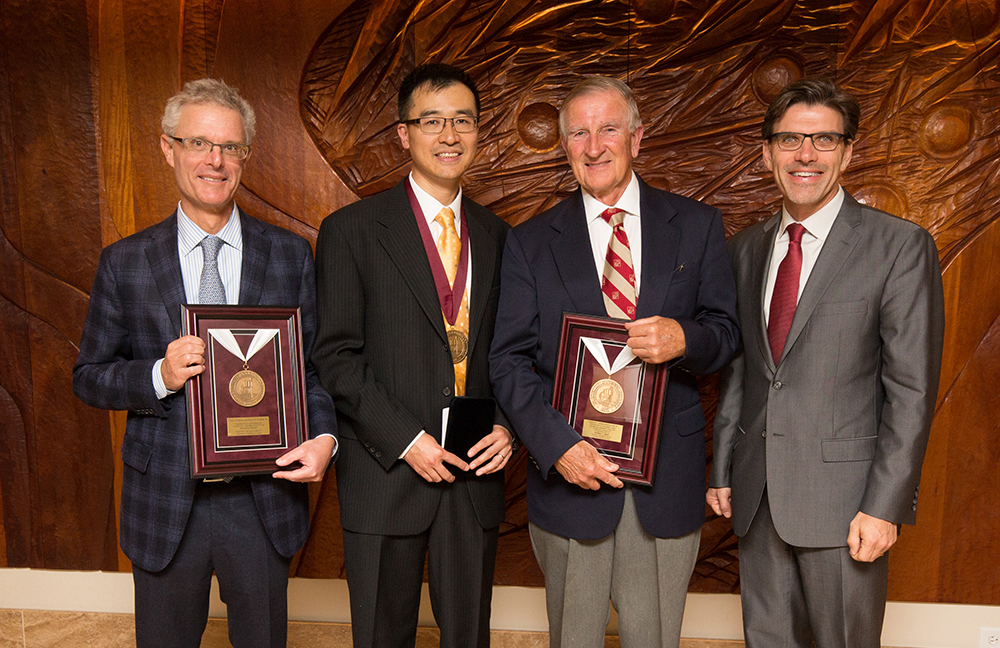 From left: Paul Nathan '80, Fan Yu, Gordon Bjork and Hiram Chodosh.
Fan Yu named first Bjork Chair
In the world of economic analysis, Fan Yu is known for his cutting-edge research on topics ranging from credit derivatives and corporate debt to the nature of China's corporate bond market.
On the CMC campus, he is also known for something else: as first holder of the Gordon C. Bjork Professorship of Financial Economics and George R. Roberts Fellow.
An installation ceremony for Yu, who holds a doctorate in economics from Cornell University, took place in the Marian Miner Cook Athenaeum in late January.
Attendees included Gordon and Susan Bjork, their children and grandchildren, Jil '58 and Jack Stark '57 GP'11, Fan Yu's wife and children, and Marcy and Paul Nathan '80, whose $1.33 million gift, in conjunction with a matching gift from the Roberts Faculty Initiative, made the establishment of the chair possible.
Like Bjork's former students spearheading a drive to establish a scholarship fund in Bjork's name, Paul Nathan explained during the ceremony that it was meaningful to him to establish a professorship in honor of the lasting friendship he forged with Bjork during his undergraduate years.
Bjork has his own memories of how their friendship started. During an interview for this and the related story on the scholarship fund, Bjork says Nathan made a deep impression on him during his freshman year. Together they examined the errors and faulty reasoning in one of the economics textbooks that Bjork was using for their class.
"That convinced me that Paul was a sharp and reliable guy," Bjork says, and, the following year, he hired Nathan to assist him in running a computer simulation for a commercial bank.
The installation ceremony concluded with remarks given by Yu, which he delivered after the presentation of plaques to Nathan and Bjork by President Hiram Chodosh. An expert on derivatives and operational risk, Yu addressed his Athenaeum audience on the topic "The Economics of the CDS Market."
MORE DEVELOPMENT NEWS: Aleta Wenger has joined the Office of Development and External Relations in the new role of Director of Global Affairs. Wenger will assist Development in growing the College's global fundraising and development strategy. Previously, Wenger served CMC for six years as Executive Director of the College's Center for Global Education. Prior to her arrival at CMC in 2008, Wenger worked for Yale and spent 25 years in the U.S. Department of State as a Foreign Service Officer assigned to Tunisia, Algeria, Egypt, Qatar and other places in the region.
— Nicholas Owchar '90