Winter 2015
Two cornerstones of CMC's worldwide renown in entrepreneurship and leadership are celebrating major anniversaries this spring.
Growing from the vision of CMC Trustee and Kohlberg Kravis Roberts & Co. Co-Chairman and Co-CEO Henry R. Kravis '67, the Henry R. Kravis Prize in Leadership is marking ten years, and the Kravis Leadership Institute (KLI) is now in its 20th year.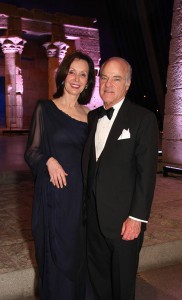 Marie-Josée Kravis
and Henry Kravis
KLI will partner with the Kravis Prize for a joint celebration during the upcoming Kravis Prize ceremony on April 23 in CMC's Athenaeum.
CMC Trustee and new KLI Advisory Board Chair Doug Peterson '80 P'14 P'15, who is President and CEO of McGraw Hill Financial, will emcee the program, which will feature commentary by past Kravis Prize interns and others on their experiences working for the Prize's many recipient organizations. A video will be shown highlighting KLI's accomplishments in the fields of leadership studies and education.
Inspired by the direction and vision of Henry Kravis and Marie-Josée Kravis, the Henry R. Kravis Prize in Leadership identifies extraordinary leaders in the nonprofit sector, celebrates their accomplishments and shares their best practices with others. A rigorous due diligence and selection process is conducted to choose an annual recipient who receives $250,000. Past recipients return to CMC annually for retreats and workshops with students, faculty and staff. The program also offers a number of internships to CMC students. More than 700 million people in more than 100 countries in five continents have been impacted by the efforts of Kravis Prize recipients.
Since its founding in the early 1990s, the Kravis Leadership Institute has established itself as a premier academic center for the promotion and understanding of responsible, innovative leadership. Thousands of students have enjoyed KLI's unique opportunities to develop as outstanding real world leaders in the public, private and social sectors. Many of these alumni have gone on to produce meaningful, substantial impact on companies and communities around the world.