The Bruno factor
Fall 2019

Autism gave Bruno Youn '19 a distinct challenge — and identity— that he is sharing with others
By Thomas Rozwadowski
Coffee, tea, hot chocolate.
Coffee, tea, hot chocolate.
Coffee, tea, hot chocolate.
Bruno Youn '19 relies on scripts. They play like running movies in his head, reminders of how to act because this is what everyone else has adopted as routine behavior.
While at the Marian Miner Cook Athenaeum last academic year as one of two Woolley Fellows, Youn knew to offer each night's speaker something from the drink bar. It was an important part of his campus job, so Youn filed the script to his mental database.
"When I ask a speaker if they'd care for coffee, tea, or hot chocolate, I'm not doing that because I'm thinking, 'Oh, they might really want coffee, tea, or hot chocolate.' I do it because I've seen other people do it, so I know it must be the right thing to do," Youn said, pausing.
"It's easy to forget, but I'm still autistic. I just act like I'm not."
Fitting in has always been Youn's defining challenge. Academics were easy; he excelled in courses that scared off classmates. But, diagnosed with moderate-to-severe autism at age 4, he didn't have an aptitude for the rites and pleasantries of everyday social interactions that came naturally to others.
When Youn was looking for a college, he wanted to immerse himself in what came hardest. "I knew in order for others to consider me a success, I would have to get better at my social skills," he said. CMC, with an entirely residential social environment teeming with exuberant extroverts, was just the place.
Fortunately, Youn's into-the-fire plan worked. The child who was nonverbal for years ended up being elected class speaker at commencement, as well as a Phi Beta Kappa graduate in philosophy, politics, and economics. But being social took a toll. After nights at the Ath, Youn would often have to recharge for an hour or two. His reliance on scripts also meant that a deviation from what was expected could take the form of an awkward or unwelcome outburst. The temptation to hide—to disconnect from society's version of "normal" behavior—is always present, Youn said.
"It wasn't that long ago that I was alone, playing Fallout 4 in my dorm room for hours and hours," he said. "I'm incredibly aware that the easiest thing for me to do is retreat to that world again."
Early challenges
Though he was already reading poems at age 3, Youn could only mimic words like a parrot. He didn't understand his relationship with language, said Josette Thompson, Youn's mother. For instance, when asked if he wanted a cookie, Youn couldn't say "yes" or "no" or nod his head. "To get a cookie, he would move your hand to the cookie jar," she said. "He didn't see you as a person. He saw you as a machine who gets him the cookie."
Youn grew up in Seal Beach. Much of his childhood was admittedly lonely—a lot of solitary meals in the school cafeteria; no cliques, sports teams, or extracurriculars to speak of. When Youn was diagnosed with autism, Thompson, a family physician, took immediate action. She hired speech and behavioral therapists; put up posters at local colleges searching for students who were interested in special needs work. Youn went to school with an aide for the majority of his elementary and middle school years. At home, Youn's younger sister and two step-siblings (his dad died when he was in first grade) became more than family. They were the testing ground for him to learn social skills.
With the bigger picture always at the forefront, Thompson went into overdrive to help her son. "I basically tied a porkchop around his neck. Got a Dodgers ticket package so that he could invite other kids to games. Enrolled him in social skills classes," Thompson said. "It was my project. I said, 'If I don't do everything I can now, he's never going to be able to go to college.'"
Youn doesn't remember much about his childhood therapy, other than when he was rewarded for progress with his favorite candy, Smarties. At school, while he had an acute sense he wasn't like his classmates, Youn doesn't bear the emotional scars of bullying or being ostracized. Instead, his response is rational and detached, which is often typical of someone with autism.
"I knew, in theory, that I should go up to other kids and talk to them. I just didn't know how to," Youn said.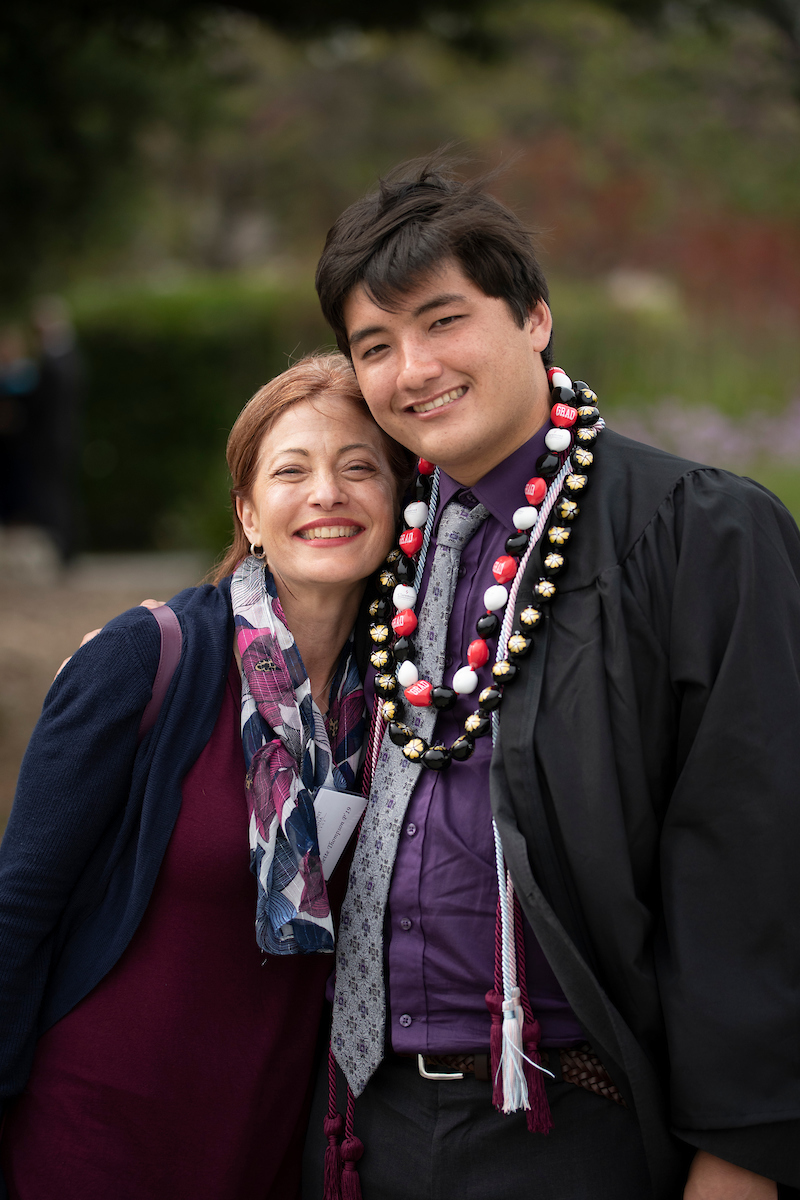 Staying true
He began to create scripts to help. Youn didn't always understand why he was supposed to fit in. He just knew that since everyone else seemingly had friends and led carefree, happy childhoods—and his mom and aides were encouraging him to do the same—Youn should probably start paying attention to the basic formula. In fourth grade, he pretended to have a crush on a girl "simply to appear to be normal" like other boys in school. At the grocery store, he watched with wonder as his mom casually chatted with the cashier. "I figured I better know how to do that, too," Youn said.
Youn opened up about those scripts to his classmates at commencement, calling them his "negotiations with society." The scripts remind him not to flap his hands or pace back-and-forth. They direct him to vary his voice inflection to sound less robotic and to make more eye contact.
While his peers might not have known about Youn's use of mental scripts to get through his days, he was open about his autism. Doing so allowed him to become progressively more engaged each semester, and during his sophomore and junior years, he'd often sign up early to sit at the head table with speakers at the Ath. He enjoyed that experience so much that he applied—and was selected—to be a student fellow.
It is the "crown jewel" position for campus visibility, said Ath director Priya Junnar. Fellows write and deliver introductions for the speakers, greet guests as they arrive, and manage the question-and-answer portion of the program. Except Youn wanted to embrace the challenge his way. He wanted to see if he could adapt to expectations while still being true to himself. Junnar said it was important to allow Youn to showcase his personality, which meant dropping a bit of his sense of humor into opening remarks. For instance, at an end-of-the-school-year celebration for CMC's institutes, Youn declared "let anarchy reign!" to start the buffet line. The experience proved to be another leap forward. Youn is proud to have left a distinctive mark at the Ath. "If you drew a graph of my confidence at CMC, it spikes as soon as I became a fellow," he said. "I still had to rely on scripts, but I got to do it in a style that reflected who I really am."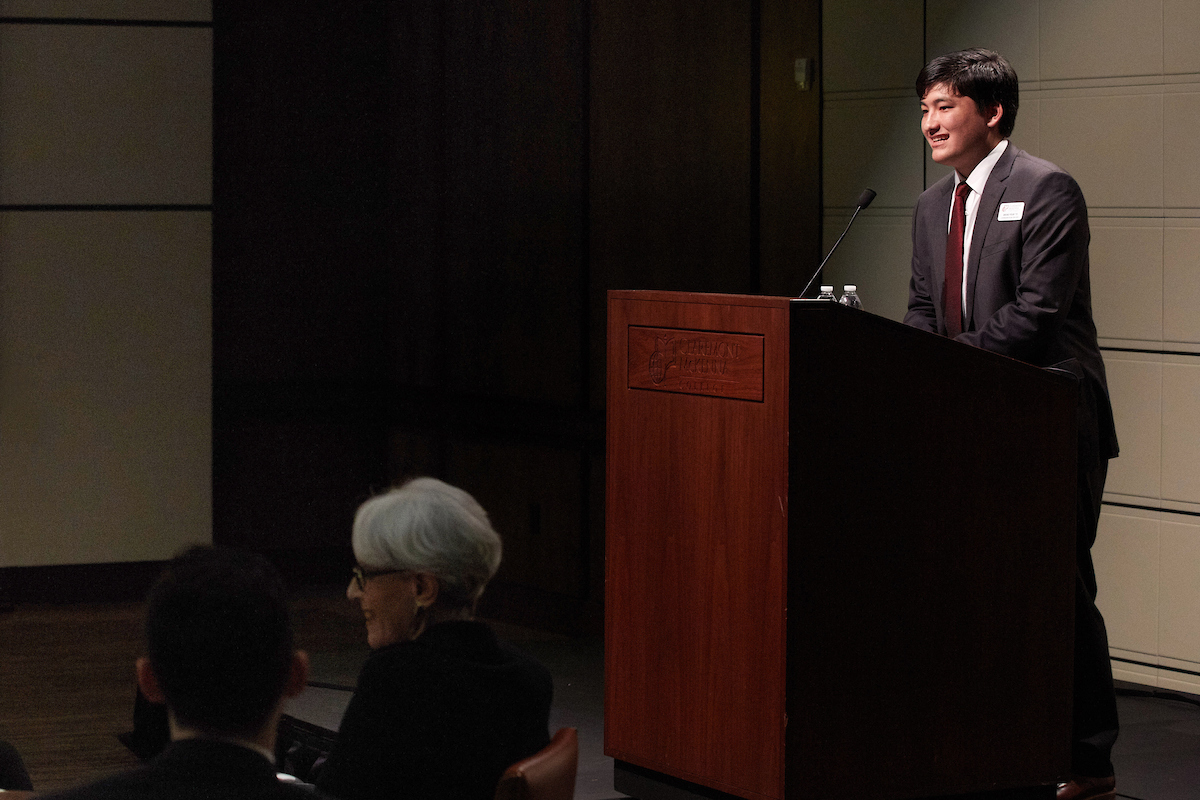 Facing the Future
Outside of the Ath, Youn taught himself statistics, data science, and machine learning. He shared that knowledge by tutoring other students at the Murty Sunak Quantitative and Computing Lab. Youn was also a research assistant at the Rose Institute of State and Local Government and worked at SOURCE Nonprofit Consulting, a studentrun firm.
Along with the milestone accomplishments, however, Youn's senior year experiences also included moments that tested his resolve. After a string of dead-end job interviews, he felt like the lonely kid in the elementary school cafeteria or the freshman playing Fallout 4 again. He began to question all that he worked on, and whether it would be good enough outside of CMC. When, right before graduation, he landed a position as a product specialist at Qualtrics in Provo, Utah, Youn said he was ecstatic because of the potential for stereotypebreaking the job—and all of its social interaction—offered. There was also palpable relief that "something" about his personality hadn't made him unhireable.
The constant second-guessing is why Youn asks himself: How much is it my responsibility to adapt to society, and how much is it society's responsibility to adapt to me? But just putting himself out there socially is forcing others to think and act differently, said Grace "Zippy" Wilson '19, one of Youn's closest friends. Youn's authenticity made CMC a kinder, more welcoming place, she said. It's inevitable that by "just being Bruno," he will have the same impact elsewhere.
"Because Bruno is so honest and open about who he is, it allows everyone to feel a little safer that they can be who they are," Wilson said. "I call it the Bruno factor," Thompson said proudly. "He's so much more courageous than I could ever be. He refuses to hide from what he's weakest at."