CMCAA president's message
Fall 2019
Dear Fellow Alumni,
I had the privilege over Alumni Weekend to be included in the ceremony honoring the Class of 1969 during their 50th reunion. Their time at CMC was a trying one for the College and our country. In spite of the instability and complications they faced, making for much uneasiness concerning their college years, nearly 40 members of the class returned to celebrate. I was humbled to remember that it was their generation—and the ones before—who built the foundation of our institution. They, and the many before them, created the values and ushered in the success we see today. In addition, over the weekend I had the opportunity to chat with members of the Class of 1954. They took a tremendous "risk" attending such a new institution. We should all be grateful for their legacy; they should be proud of what has happened to our CMC in such a short period—and we should honor them on every possible occasion. On April 23-26, 2020, we welcome back the 0s and 5s, to salute their many contributions to the College and their successes in life. We hope to see many of you there.
At Alumni Weekend 2020, the College will also celebrate a milestone with the Class of 1980: together we will honor the first four-year coeducational class and its 40th reunion. Our third class of Pioneers, and the first to spend all four years at CMC, will gather to recognize CMC milestones and this incredible group.
The 2019-20 academic year will be one of enhanced engagement and attention to our most important priorities, not to mention the nearing of our 75th anniversary, which we will celebrate from July 1, 2021–June 30, 2022. I encourage you to give your time, talent, and treasure to our beloved alma mater, especially as we approach this momentous event. If there is anything your Alumni Association or the Office of Alumni and Parent Engagement can do for you, please do not hesitate in contacting us.
Thank you.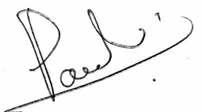 Paul "Pablo" Nathan '80
President
Claremont McKenna College Alumni Association