On Lauren's Block
Fall 2019

By Susan Price
It was midnight in California, and Lauren Iungerich '96 was checking her Twitter feed. So were teenagers around the country. News had spread that the second season of On My Block was dropping on Netflix when the clock struck twelve PST, and the show's fans were tweeting in anticipation—so much so that Netflix's hugely popular handle tweeted that kids should go to bed and to school the next day. The series would be there when they got home.
Iungerich had wrapped up filming on the show she co-created six months before, and had been preparing to direct her first feature film. Now she shifted gears. Gone are the days when a TV series unfurled in weekly episodes over a span of several months and the response would be swift. She monitored fan reaction on social media. Fielded media calls. Waited for the critics to praise, or pounce.
The first season of her coming-of-age comedy set in a neighborhood resembling South Los Angeles had been the most binge-watched show on the streaming giant in 2018, and it had ended in a cliffhanger. Shots rang out at a quinceañera. Did Olivia survive? Ruby?
Iungerich was already known for her spot-on depictions of teenagers and the ability to deliver a hit (thanks to her first series, Awkward) when she went on to create On My Block—a show born from her desire to bring the stories of underrepresented kids to TV.
---
"I am now even more conscious of the impact of storytelling, and how it can bring our world together."

She assembled one of the most, if not the most, inclusive teams in the industry—in front of and behind the camera. In doing so, she has built a show with a rabid fan base and stereotype-busting characters while boosting opportunities for female, African American, and Latinx talent in a Hollywood in which diversity is sorely lacking.

She's also fired up her own voice. "What started as a mission to tell stories about kids who were not always represented transformed my entire life. I am now even more conscious of the impact of storytelling, and how it can bring our world together," Iungerich said.

"A lot of people talk about inclusion, and believe it means inviting a few more people to the party. But inclusion, to me, means making sure everyone gets to dance."

Within a few days, it was clear Iungerich and her team had avoided the sophomore slump. On My Block's second season was a hit with both fans and critics. Seven days later, Netflix ordered up a third season.
Voice on the page
The Southern California native loves a good story. "I've always been a connector, and I like to communicate," said Iungerich. After high school she headed to Bryn Mawr, but missed the West Coast, and in her sophomore year transferred to CMC. She knew it well. Her father, attorney Russell Iungerich, had graduated in 1963 from Claremont Men's College.
While at CMC, she thought about becoming a journalist, and attended the Washington Program and interned with CNN and PBS NewsHour. But it was another internship, at a small film production company, that really lit her up. Iungerich got a job reading scripts after graduating and spent evenings and weekends writing and networking.
Three years later, she sold one. "I knew I had a great sense of storytelling," she said. "Even when I was banging my head against the wall for years, I had faith in the process, that at some point I would hone the craft."
Iungerich went on to sell numerous spec features, and at 30, sold two TV pilots in one pitch meeting. A TV career was born.
Her path wasn't typical: showrunners tend to spend years on the staffs of existing shows before landing their own. But from the start, Iungerich's goal was to see her own ideas on screen. She was on a writing staff only once—to learn more about how they worked—before she made an off-the- cuff pitch to an executive at MTV about a teenage girl who has an accident that everyone mistakenly believes was a failed suicide attempt. MTV bit, and after writing and making a successful pilot, Iungerich began writing a series whose name summed up most people's teenage selves in a single word: Awkward.
---
"I now have the privilege of making people's lives better."

Iungerich's writing was highly personal, vulnerable, and funny—and the show was a hit. As a first-time showrunner— producing and directing, as well as acting as the series' creative force—Iungerich was learning how to balance being an artist with being a savvy businessperson. After three seasons, Iungerich made the painful decision to leave her creation, when she and the network couldn't see eye-to-eye on its direction.

Things turned around when a friend sent her videos of numerous teenage fans from communities of color reenacting scenes she had written in the finale of Awkward's third season, Iungerich's last episode. It is cliché to say someone had an "a-ha" moment, but Iungerich did. "I was in a dark period of my life," she said. "And to see these incredible kids love my work so much that they made hundreds of tribute videos—I knew in that moment I needed to create a show for them and about them. I needed to create a show for kids who are not properly represented in the media."

Her track record helped her to sell a pitch to Netflix—which at the time was only buying completed scripts. So did her reputation for making high-quality content on a low budget. On My Block became one of Netflix's first low-budget series. "At CMC, I got such a good foundation for business, and since college I learned how to brand myself and make something at a price that would work for them," said Iungerich. "My acumen has helped me become a successful creative."

One of her first decisions with On My Block was to ensure the show was authentic. It is not impossible, of course, for a writer to fully imagine another perspective, but Iungerich wanted On My Block to ring with the authenticity that had helped make Awkward a smash. She partnered with the screenwriting team of Eddie Gonzalez, who had grown up in Compton, and Jeremy Haft (Gang Related, All Eyez on Me) to create the series. After the show was green-lit, they hired a staff of only African American and Latinx writers. "I am the chief architect of the show, but it is a total collaboration with incredible artists who represent the world and the stories we are telling," she said. "There is no whitewashing."

The show balances bleak moments and serious drama with comedy that is often broad, even slapstick—On My Block, as a critic writing in Vulture noted, "contains multitudes.""We all have the same hearts," Iungerich said. "I tend to write things in which the characters are specific, but the ideas are universal. One of the great things about writing about high school is that everyone, no matter who you are or where you come from, can relate to the up-and- down touchstones of coming of age."

Like most new series, On My Block had little promotion until it began to find its audience, largely though social media. "They literally throw things against the wall and see what sticks," she said of Netflix's "Darwinian" process. "They rely on data, which is understandable, but data doesn't tell you who you will fall in love with."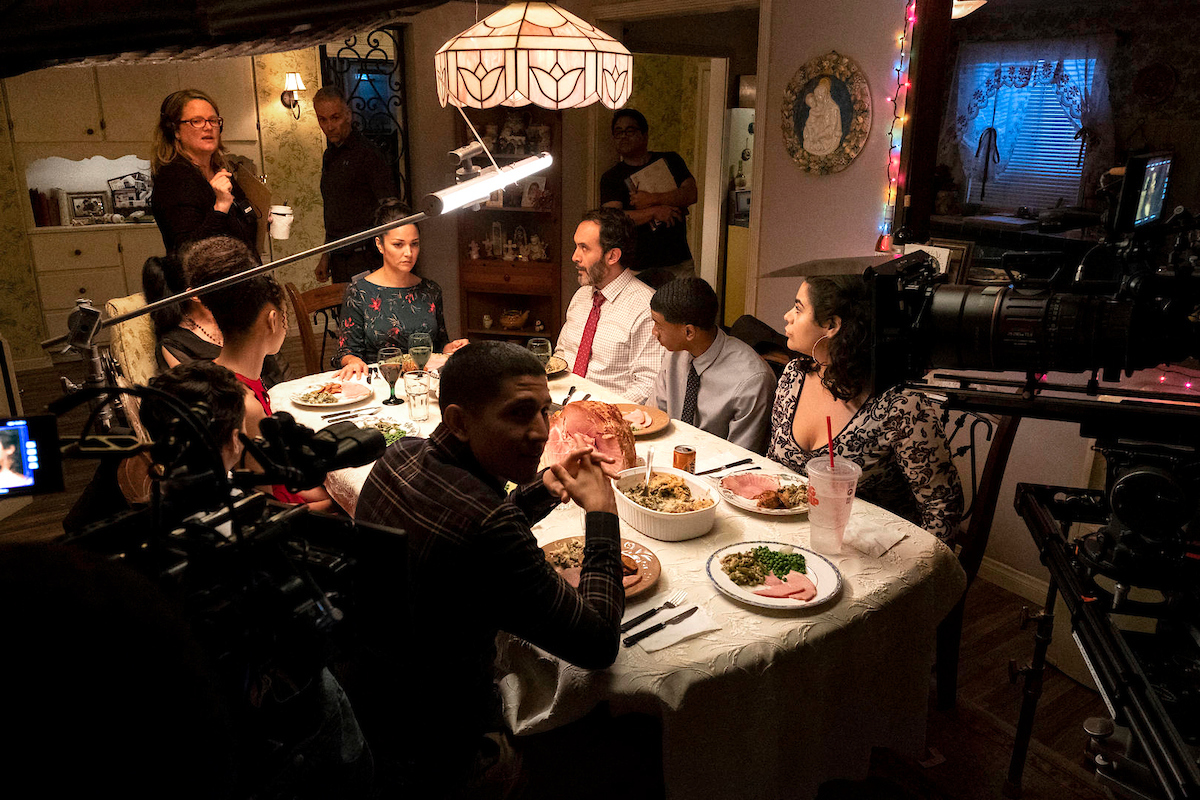 Expanding her influence
The idea had bounced around her head for a while. When Iungerich did find the time to write the script for I Won't Be Coming Home for Christmas, it took her only a month. This time, the teenager at the center of the story was a 16-year-old girl who convinces her parents to allow her to spend Christmas on a ski trip with her boyfriend instead of in Southern California. When he dumps her, she returns home with a broken heart to endure her embarrassing family and their ludicrous holiday traditions.
Writing a movie script allowed Iungerich to flex different storytelling muscles. "Characters are what drive TV," she said. "I do use a lot of plot for TV, which I am known for, but with a series you can keep developing characters as it goes on, making them more complicated and showing more layers. You have this beautiful opportunity to take your time with stories." Writing a movie script is another matter: "It is more plot than character, but you still need to write layered characters that have a narrative arc," she said. "It is just a shorter arc."
---
"My acumen has helped me become a successful creative."

Iungerich tried to drum up interest in the script, but it fell to the bottom of her jam-packed to-do list until she had lunch with Eli Roth, an old friend and accomplished filmmaker who had been a protégé of Quentin Tarantino. Roth and his business partner, producer Roger Birnbaum, had recently started a production company of their own. As soon as they read Iungerich's script, they signed on. In three days, they'd made a deal with Miramax, with Iungerich and her husband, music producer Jamie Dooner, producing with Roth and Birnbaum. "It was a magical movie experience," she said of how quickly it came together. (Though the Miramax deal evaporated during budget talks, the project was quickly picked up by MGM. The producers expect to begin filming in the fall.)

It has been, no question, a great time in her career. But it hasn't all been smooth sailing. On My Block's startup year coincided with a busy period in her personal life. Iungerich and Dooner had their second child, and Iungerich was recovering from a C-section while her mother was battling cancer. At times, she has fielded criticism from within the industry for being tough—a tired trope hurled at women from Hollywood to Wall Street. "I do have high standards, and if I am tough it is because I have to be twice as good as a man to be seen as equal," she said.

A by-product of the rise of streaming platforms is how much content they demand. Talented voices that struggled to be heard in the past are finding opportunities denied them before—On My Block being a perfect example. Change, though, is still "very slow," said Iungerich. "The business is becoming more 'woke' to everything, but it is still a rough place for women. I am kicked in the face daily. Things get said and done to me that would never have been said to a man."

Those arrows no longer wound her. "When I started my career, my greatest fear was how people perceived me. I cared too much about what other people thought," Iungerich said. "But now the fear is gone. It is true that with age comes wisdom. I focus on the things and people I care about. I now have the privilege of making people's lives better, and that's all that matters."