Travelin' Man
Fall 2019

Scott Akasaki '98 keeps the Dodgers moving in the right direction
By Thomas Rozwadowski
Scott Akasaki '98 points to a framed team photo in his office—the joyful aftermath of the Los Angeles Dodgers returning to the World Series after a 29- year absence. Moments before, as players and coaches rushed the Wrigley Field mound to celebrate, Akasaki was right beside them, passing out 2017 National League championship t-shirts.
He felt like a kid—and it was perfect.
"All the pride I ever imagined feeling about the Dodgers swelled up in this one moment, and we were just bursting with excitement," said Akasaki, who grew up rooting for his hometown team 20 minutes away in Monterey Park. "It was incredibly special to me."
Akasaki, the Dodgers' traveling secretary and director of team travel, has been the franchise's steady hand since 2005. He is in charge of logistics— "basically, get the team from one place to another"—which often involves thinking three travel trips ahead during the season. It's scheduling, accommodations, ticket requests, human resources, finances and billing, "whatever the organization needs" down to finalizing an itinerary at 1 a.m. for a Triple A player to fill an injury spot on the main roster for a next-day game. During the World Series, which the Dodgers have played in the past two seasons, his behind-the-scenes work (just think of the ticket requests alone) reached "a whole new magnitude."
A job in sports is all Akasaki ever wanted while at CMC. An avid baseball card collector who cheered for the Dodgers and Lakers, Akasaki had the same ritual every morning. He'd grab his subscription copy of the Los Angeles Times at his dorm, pull out the sports section, and toss the rest. Then he'd head to breakfast and read it front to back, just like his dad did at home.
"That consumption of sports at CMC was what led to my career," said Akasaki, a government and legal studies major who was originally set on law school. "In my mind, I wanted to get paid to read the sports page."
A study abroad trip to Japan as a junior gave him a sense of how that could be done for the first time. A homesick Akasaki found comfort in the familiarity of what he loved back home, baseball. "It was Japanese. But a ground ball to short is still a ground ball to short," he said.
Akasaki was also watching two Japanese legends, Ichiro Suzuki and Hideki Matsui, play for the first time. Both would go on to productive careers in Major League Baseball, but save for Dodgers pitcher Hideo Nomo in 1995, few Japanese-born players had made the leap overseas. Akasaki knew that was about to change. Entering his senior year at CMC, he found his way back to Japan through the Freeman Fellowship, which allowed a student to study a chosen topic in Asia. He lived with relatives throughout Japan, continued to teach himself the language, and went to every baseball game he could—high school, college, pro, spring training, the Japanese All- Star Game—"it was my life."
"My goal was to become the most well-versed English-speaking expert on Japanese baseball," said Akasaki, who augmented his research by filing freelance reports for U.S. publications like International Baseball Rundown and the Los Angeles Japanese Daily News in exchange for press credentials. "I wanted to know how the draft worked, who the equivalent of the Dodgers and Yankees were, all the ins and outs. There's so much to study now, but back then, none of that existed."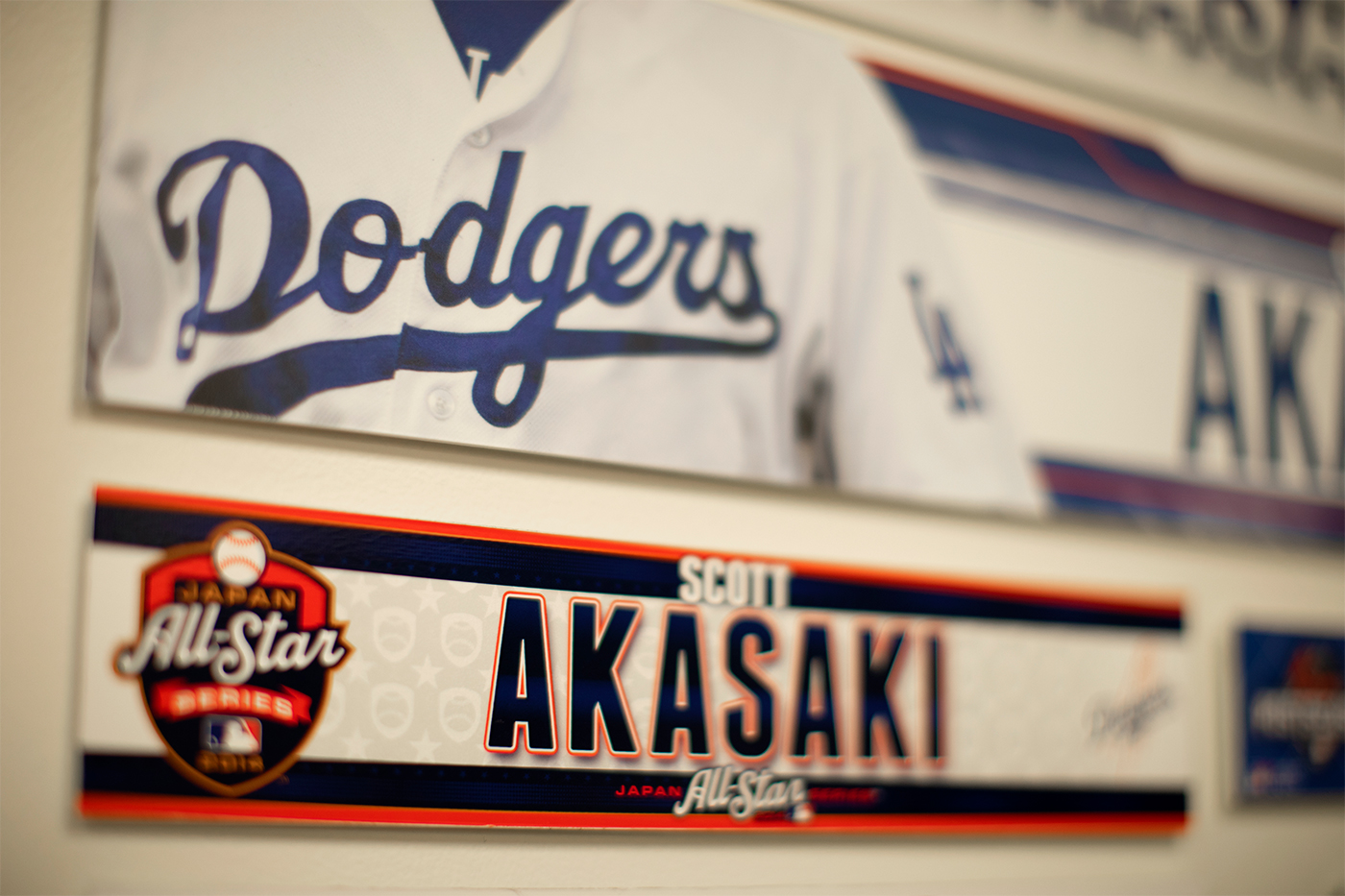 When he returned to the U.S. to begin a full-time job search, Akasaki had more than 500 pages of professional data from Japan. At the end of 1999, he contacted every Major League Baseball team with a simple proposal: "If you hire me, I will give it to you." His hometown team took him up on the offer. The Dodgers, because it had found success with Nomo before anyone else, already had an Asian operations department. Akasaki joined as an assistant, and in 2002, became an interpreter for Nomo (who returned to the Dodgers after being traded in 1998) and new pitcher, Kazuhisa Ishii. "Honestly, I would have picked out staples and moved copy paper just to be part of the action," Akasaki said.
His road experience as an interpreter landed him the job of traveling secretary. By serving as the conduit between "upstairs and downstairs" operations at Dodger Stadium, Akasaki has to be trusted to do his job with utmost professionalism and ethics. Players and coaches are employees, too—and his office is right next to the team clubhouse and manager Dave Roberts. You can't put them on a pedestal or ask for personal favors. You can't be an awestruck fan. The idea of team extends beyond the uniform, Akasaki said.
"I see Clayton Kershaw and Walker Buehler more than I see my family. And that can be tough," he added. "It's a 162- game season. You have to really love who you are flying and busing with, having meals with. You have to really love and respect the organization." Occasionally, his family—wife, Tiffany, and four children, Miya, 8, Timothy, 6, Cole, 3, and Tristan, 1—make road trips with him. That's the best part of his job, he said—the joy of giving his kids a chance to visit major American cities at such an early age. Akasaki has also traveled with the team to China, Taiwan, Mexico, and Australia, and in 2017, he was honored by his peers with the Don Davidson Memorial Award, which goes to the MLB Traveling Secretary of the Year. But it's a Dodgers team goal that, 20 years in, would mean the most to him: Not just get to the World Series, but win it.
"It's Jackie Robinson. It's Sandy Koufax. It's Fernando Valenzuela. It's Hideo Nomo. The Dodgers are a pioneering organization with a lot of history and pride," Akasaki said. "I embrace the privilege to work here every single day."