An open mind
Spring 2019
The University Blacklist—a joint course taught across political lines— brings CMC's Open Academy to the classroom
By Susan Price
Jon Shields pauses before responding to questions. His thoughts unspool in measured doses. The California-born conservative is keenly interested in the state of the family and the interplay of religion and American politics.
Shields does not, however, shy away from challenging ideas. He has studied abortion and sexual assault on campus. Periodically, he teaches a course called Culture Wars. For his most recent book, Passing on the Right, the associate professor of government interviewed more than a hundred conservative professors about their experiences on left-leaning campuses.
So when controversy came to CMC in 2017 after a group of consortium students disrupted an appearance by conservative author Heather Mac Donald, Shields reacted with a scholar's inquisitiveness. How warranted were concerns about free speech on campuses, locally and nationwide? Who were the speakers sparking campus disruptions, and why? And what, crucially, could be done to encourage a more open, productive discourse about difficult issues?
At the time, Shields had been thinking about the potential of coteaching, prompted by studies that found specific courses tend to attract a homogeneous group of students, even on highly diverse campuses. Bringing together professors with widely divergent views in a single class might counter that effect and present arguments more fairly. Such a course might even offer a tonic for the partisanship corroding political debate.
The first person Shields thought of was Phil Zuckerman, professor of sociology and secular studies at Pitzer College. He had never met Zuckerman, but had often assigned one of his books, Society Without God.
"I just had a sense he'd be right for this," said Shields, who sent Zuckerman a cold email later that year. The Pitzer professor replied with a question: "Can I say anything I want and assign anything I want?" "When Jon said 'yes,' I said 'bring it on,'" said Zuckerman.
Last fall, the unlikely duo co-taught The University Blacklist, a stereotype-shattering journey through controversial opinions about some of society's most emotionally charged issues. Each week, a politically diverse group of 19 students from CMC and the other Claremont Colleges read two books—one by a liberal author and the other written by a conservative. Shields and Zuckerman presented their critiques, batted opinions back and forth, and then the students weighed in.
"It was an opportunity both to teach dangerous books in an environment where there is a lot of debate about the author's ideas, and to teach across political lines," said Shields, who arrived at CMC in 2008.
The class was also a simulacrum of the Open Academy, a tangible and powerful execution of the set of CMC principles to restore and propagate three pillars of intellectual life on campus and beyond: freedom of expression, viewpoint diversity, and effective dialogue.
"Freedom of expression and viewpoint diversity are imperative, yet insufficient without effective dialogue," said President Hiram E. Chodosh. "Jon and Phil engage the most diverse, controversial viewpoints through an open, critical, and deep academic dialogue in one setting, one classroom, one community. This is an exemplar of our most important commitments, a lesson for our time."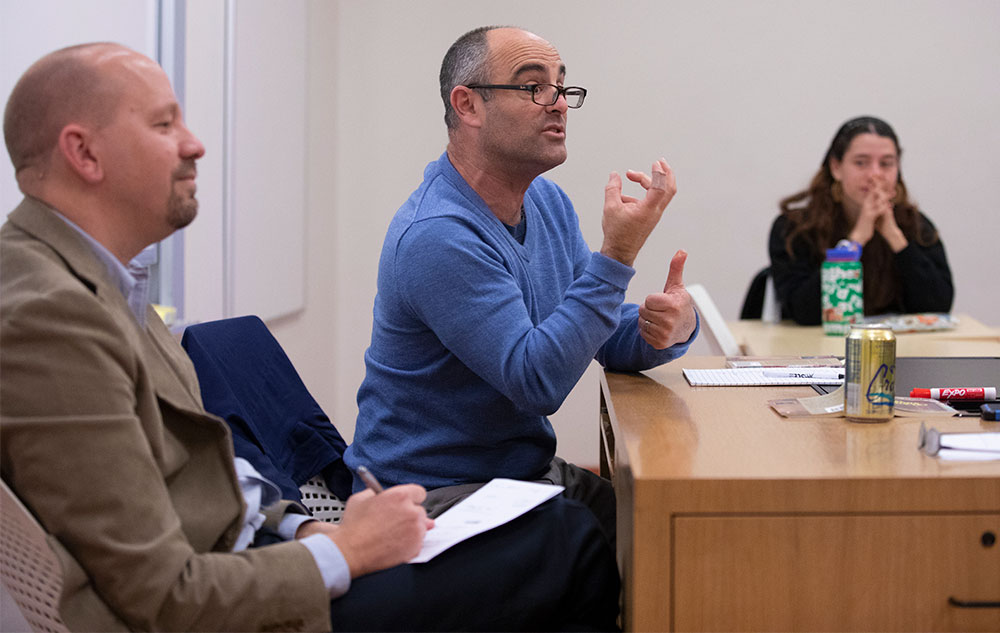 Opposing views
In both manner and politics, Zuckerman is the flipside of Shields. Passion fills his voice. He does not mince words. The California native has carved an academic niche exploring secularism, atheism, apostasy, and Scandinavian culture.
But both professors are strong proponents of free speech on campus (for Zuckerman, one of the first surprises of the course was finding himself taking a harder line on the issue than Shields does). They met for coffee at Some Crust Bakery in the village to brainstorm the best way to conduct the class. They hashed out ideas over lunch. As they got to know one another, it became clear that a point-counterpoint debate between them would be eye-opening and respectful. Not to mention a lot of fun.
To anchor their conversations for the class, Shields hit on the idea of assigning books by authors whose campus appearances had set off protests. They drummed up a reading list using a database compiled by the Foundation for Individual Rights in Education (FIRE) of disinvited speakers and those whose campus events were disrupted. (CMC has the only green rating from FIRE of all national liberal arts colleges, and all universities and colleges in the state of California.) Despite the course's eventual name, the books were not, to the professors' knowledge, specifically banned from any university course. But using the word 'blacklist' telegraphed the primary, overarching discussion Shields and Zuckerman wanted to have with students about free speech on campus.
---
What Is The Open Academy?
Intellectual humility. Critical thinking. Active listening. Respectful debate. Solutions to complex problems built on common ground.
These are the bedrock principles of higher education—and they help inform the three Open Academy commitments that guide CMC's strategy to help develop the next generation of emerging scholar-leaders.
Freedom of expression: To reinforce free expression on a content-neutral basis through all programming, including orientations, the curriculum, the Athenaeum, and special workshop training.
Viewpoint diversity: To offer the widest range of political diversity and openly embrace teaching and learning from a broad range of materials.
Effective dialogue: To emphasize the ability to learn from and reconcile different viewpoints by reinforcing skills of open, engaged, and critical inquiry.
Learn more about CMC's Open Academy online.
---
Most authors on the FIRE list—379 incidents since 2000—fall on the conservative side, so Zuckerman had fewer options. For Shields, the challenge was not to stack the deck in favor of free speech by including only the most reasonable or defensible authors whose disinvitations would seem most egregious. That meant including some media-savvy provocateurs whose work typically is not found on college syllabi, notably Dangerous by Milo Yiannopoulos. Those titles rounded out an eleven-book list that included Coming Apart by Charles Murray, Gaza in Crisis by Noam Chomsky, Who Stole Feminism? by Christina Hoff Sommers, Are Prisons Obsolete? by Angela Davis, and Infidel by Ayaan Hirsi Ali (a straw poll student favorite).
"One thing you learn is that some of the books aren't very good," said Shields. "Normally you would toss them out, but in this class it is not as clear."
Zuckerman agreed that it was important to include books that had influenced the national debate, regardless of intellectual heft. "You are not reading Yiannopoulos for intellectual argument, but to know more about who this jackass is," Zuckerman said. "But in the context of the classroom, you have to read them all thoroughly and with an open mind. You have to engage with the ideas, not just throw them out."
Marion Goldberg '19, a CMC philosophy and public affairs major from New York, entered the semester most eager to read the authors known for creating conflict.
"Going in, there were certain books people were already averse to, based on what they'd heard about the author, so I wanted to actually read them," she said. Her conclusion? "Those authors write in a similar over-the-top way, and it seems primarily with the objective of riling people up."
The class dissected one book on a topic at a time, discussing one author's views before reading the opposing take. That format revealed the importance of collecting more information and hearing diverse arguments before forming a decisive opinion, said Charlotte Reinnoldt '19, a Seattle native majoring in government at CMC.
"With the first book you might think you really agree with an author and then you read the dissenting book and your thinking might evolve," said Reinnoldt. "And it was important to remember we were reading from authors on the fringe, on the extremes. If we had just read a book on its own, it would be easy to become alarmed. But you read another book and find more balance, and then come to class and have a thoughtful discussion. You find the middle."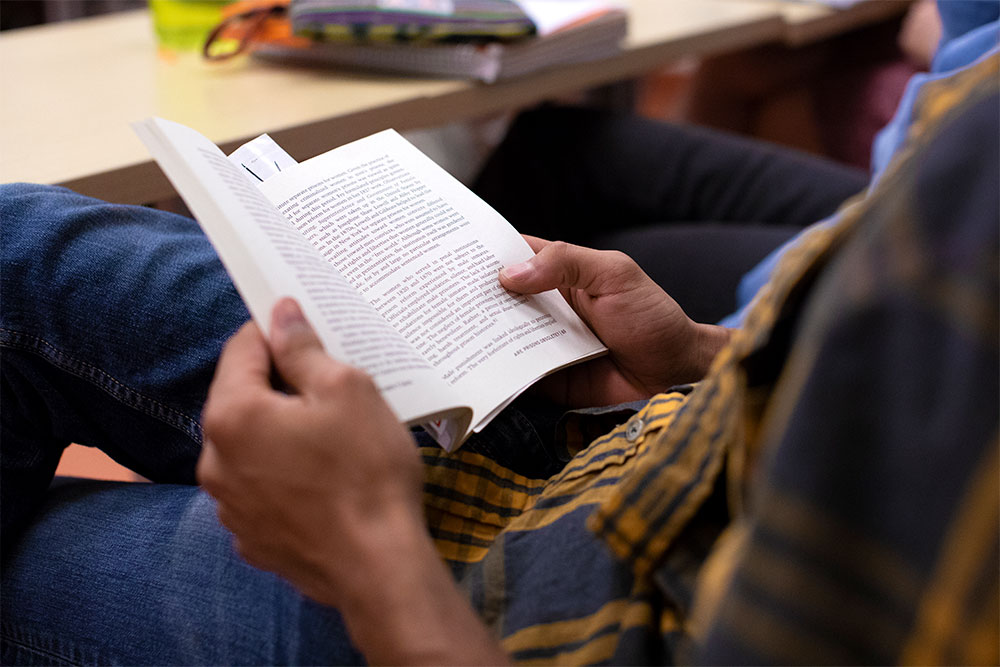 Agree to disagree
As students arrived to lower-level Kravis Center on the first day of class in September, many joked that they were on "Team Shields" or "Team Zuckerman." The professors are popular on campus. Students describe both as dedicated and caring teachers; they are sought-after advisers.
Several of the students—about half from CMC and the remainder from Pitzer, Scripps, and Pomona colleges—previously had taken classes with one of them. But Blacklist sounded different and exciting (the class had a waiting list). It was the third Shields class that Reinnoldt enrolled in.
"I was eager to learn about these issues with the kind of professors and students who really wanted to have those conversations," she said. "And in a more productive way than usually happens in a less formal setting or where people are not necessarily as informed."
Likewise, Goldberg saw the course as a way to continue the evolution of her political awareness at CMC. "When students first come to college, many are still relying on the views of family and friends," she said. "I tried to educate myself, but usually everyone I was speaking to and everything I was reading was quite biased— even when people said they didn't want to be."
Any distinction between the teams, and perceptions of students as liberal or conservative faded quickly as they grappled with complex issues such as the Israel-Palestine conflict, the evolution of feminism, and mass incarceration. The classmates and professors got together for dinner off-campus several times during the semester, learning more about each other's ideas and lives in a less formal setting. "People always ask where the fault lines are between campuses, but it's not that clear cut," said Zuckerman.
Justin Hess '19 was a case in point. The Pitzer student described himself as the person most consistently putting forth conservative ideas in class. Hess, a sociology major from Newport Beach, Calif., admitted he sometimes avoided talking about his political views with classmates. He had no such hesitation in Blacklist.
"I really appreciated the freedom the class offered students to speak openly and honestly with their peers. We all were there to talk about controversial things and we were all game," said Hess. "Both professors were always willing to hear every perspective and not judge anyone."
In the first few sessions of the class, the professors agreed on many points, so much so "that students seemed disappointed," Zuckerman said. As the semester progressed, their differing views of political and social issues became more apparent. "We disagree on a host of issues, including welfare reform, how to combat global warming, and how to deal with immigration," said Zuckerman. "We just have different ways of interpreting the world. That has been the most eye-opening for me. I always thought if you point out facts you can change a mind. But it is a worldview that someone holds that impacts everything."
Some weeks the only common ground Shields and Zuckerman found was a very small patch. After the class read War on Cops, Zuckerman eviscerated both Mac Donald's intentions and her empirical methods. "I had to pop some extra strength Tylenol with this one," he joked. Shields concurred with some of Zuckerman's opinions before making a compelling case for her support of proactive policing.
As for others on the reading list, Coming Apart made Zuckerman "even more suspicious" of Murray as an intellectual. "I just think he's pernicious," he said. Shields offered a similar criticism of Gaza in Crisis: "I think Chomsky violates basic academic scholarship. I just think he is dishonest on some level."
A model experiment
An unexpected reward of co-teaching this class, the professors agreed, is that it sharpened their own thinking.
"When you co-teach you realize you have a different assessment of the worth of books and ideas, and it is interesting to have the actual conversation about them," said Shields. "Certainly, Phil said things I hadn't considered, and that does force me to take specific objections more seriously. I may not radically rethink a position, but instead alter it in more subtle ways."
Zuckerman found hearing both Shields and the students' critiques of left-wing authors invigorating. "They are reading the books more critically, and skeptically, than maybe I have, and I've really enjoyed reading their views of things that I take for granted," said Zuckerman.
"I sincerely hope this becomes a model. We should all teach with people we disagree with."
Regardless of who they aligned with personally, what had the most impact on students was how their teachers not only treated one another with respect, but seemed genuinely interested in and willing to consider opposing arguments.
"Sometimes I didn't know what to take away from a class, and in a lot of ways, that was the point," said Hess. "There were times when a student or one of the professors said something that would cause me to go home and read more and research more. It didn't have to be about reaching shared conclusions."
Or as Goldberg succinctly put it, learning how to negotiate tricky conversations will benefit students no matter where they end up after college.
"Start from the common ground," she said. "There are a lot of big ideas most people agree on. But instead, it seems we'd rather focus on the small things we disagree about."