Spring-Summer 2016
COACH BILL ARCE IS REMEMBERED
Bill Arce, founding Claremont-Mudd- Scripps (CMS) athletic director and Stags head baseball coach, passed away March 7. He was 90.
A joint statement from President Hiram Chodosh and the presidents of Harvey Mudd and Scipps Colleges, had this to say:
"Coach Arce touched so many lives and so many generations of Claremont athletes— as the architect of our acclaimed athletics program, as the epitome of the scholar athlete ideal, as mentor, friend, and colleague to so many members of our community… Thanks to his guiding vision, leadership, and lasting impact, our Stags and Athenas have gone on to meaningful, successful lives."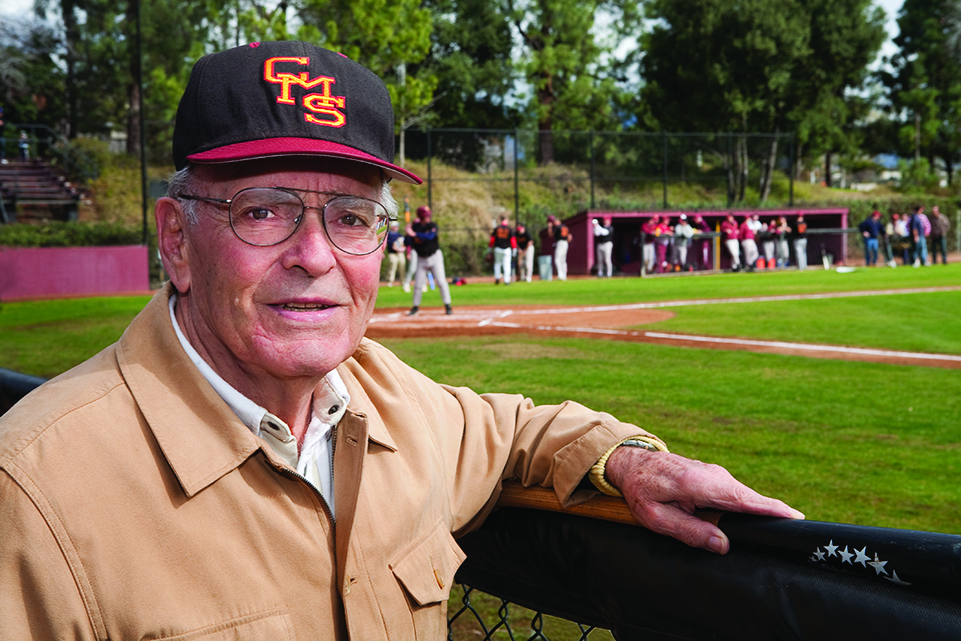 During his 27-year tenure as head baseball coach and CMS athletic director, Coach Arce laid the foundation for both the philosophy and program of what was a startup athletic department in 1956. He pioneered one of the top NCAA Division III private college programs in the country. Well after his formal tenure, countless students have benefitted from the Arce Scholarship Fund, created in his honor to support student leaders on campus.
In addition to his work in Claremont, Coach Arce was instrumental in growing the game of baseball internationally, as evident with his inductions into the Dutch and Italian Baseball Halls of Fame. His passion for youth development and the growth of baseball internationally led him in 1985 to found International Sports Group, Inc. (ISG). Over the years, many Stags baseball teams had the opportunity to travel overseas (Holland, Italy, and France) and play for Coach Arce. In 2000, the American Baseball Coaches Association (ABCA) selected Coach Arce as its recipient of the Lefty Gomez Award, an award presented each year to an individual who has contributed significantly to the game of baseball locally, nationally, and internationally.
For his years of dedication and valuable work, Coach Arce was inducted into the Claremont-Mudd-Scripps, National Association of Intercollegiate Athletics, and American Baseball Coaches Association Halls of Fame and received the Southern California Intercollegiate Athletic Conference Distinguished Service Award. From the growth and prominence of women's sports at CMS to the diverse array of physical education offerings, Coach Arce left an indelible legacy on the CMC and CMS Athletics communities.
A memorial for Coach Arce was held on CMC's campus May 1.
See the tribute video to Coach Arce: https://youtu.be/uRxjY7zSbME
If you would like to make a gift to the William B. Arce Scholarship Fund or the William B. Arce Professorship to honor the memory of Coach Arce, visit: online.cmc. edu/arcegiftpage
​NEWS BRIEFS
A BANNER YEAR FOR FELLOWSHIPS.
Students and alumni earned a slew of prestigious national awards this year, among them: Julie Ahn '14 and Rebekah Vermillion '16 (Rangel Graduate Fellowships), Becky Cheng '17 (Gilman Scholarship), Byron Cohen '16 (Goerge J. Mitchell Scholarship), S. Umar Farooq '17 (Truman Scholarship, see story on page 9), Jenya Green '16 and David White '18 (Critical Language Scholarship), Caroline Hays '16 (CORO Fellowship), Dylan Hoey '17 (U.S. State Department Fellowship), Madeline Stein '15 (Fulbright Antall József Fellowship), Tyler West '16 (Fulbright Scholarship), Alexandra Vreeman '16 (Carnegie Endowment for International Peace Junior Fellowship). Read more about these scholars and their plans: bit.ly/ cmcfellows
SHOWCASING SUSTAINABILITY.
The Facilities and Campus Services office has launched a new website highlighting CMC's sustainability efforts across campus, including educational efforts, specific programs, and student involvement. Check it out: www. cmc.edu/sustainability
STAFF NEWS
A NEW DEAN OF STUDENTS.
Sharon Basso, who currently serves as associate vice provost and dean of students at Lehigh University, has been selected as CMC's new vice president for student affairs and dean of students, replacing Torrey Sun, who stepped into the role earlier this year on an interim basis. She begins her new position on July 1. ...
AND A NEW ASSISTANT DEAN.
Vincent Greer, assistant dean of students for diversity and inclusion at DePauw University, has been appointed the new assistant dean for diversity and inclusion at CMC.
AN EXPANDED ROLE.
Nyree Gray, CMC's chief civil rights officer, will take on an expanded role and additional title as assistant vice president for diversity and inclusion. Gray will assist efforts across all offices at the College to support a diverse and inclusive student body, faculty, and staff. Read a Q&A with Gray about progress, plans, and challenges: bit.ly/ grayQA
ADVANCEMENT CHIEF CHANGES.
Carroll Stevens, who served as acting executive director of development at CMC and earlier as associate dean of development at Yale Law School, has been named vice president of advancement, replacing Ernie Iseminger, who departed late last year.
ALUMNI NEWS
A number of alumni working in the Silicon Valley spoke about "Women in the Tech World" on a panel moderated by Professor of Government Frederick Lynch on Feb. 1. Panelists included Candace Adelberg '10 of Google; Kristie Howard '15 of Docker, Inc.; Mayumi Matsuno '01 of Electric Imp; and Jacinth Sohi '11 of Uber. The panel was cosponsored by the Center for Innovation and Entrepreneurship.
Paige Costello '12 and Kyle Weiss '15 also shared their Silicon Valley experience when they gave "An Inside Look at Careers in the Silicon Valley" on Jan. 21. Both are product managers at Intuit.
Other alumni who spoke at the Athenaeum in spring include Chris Temple '12 and Zach Ingrasci '12, who discussed and screened their new film "Salam Neighbor," which documents their experience living in a Syrian refugee camp. The film premiered on Netflix on June 20.
Michael Graber '74 keynoted CMC's Green Careers Conference and spoke on lessons learned from mountaintops. Ravi Aysola '96 discussed "Compassion: What I Learned at CMC." John Shrewsberry '87 discussed the rise of financial technology on Wall Street. Emily Rollins '92 participated in a panel moderated by Lindsey Slocum '17 and Parker Mallchok '17 on "Women in Accounting: Successfully Navigating a Meaningful Career." Joseph Martinetto '84 spoke on "The Path to Leadership."
Ivan Q. Zinn '96 is in it for the long run. The founder and managing partner of Atalaya Capital Management in New York City, is an ultramarathoner, which means his races are just getting started as he reaches the 26.2-mile marathon distance. Working with Zinn's personal footage and archival material, Journeyfilm compiled a short film, "In One Day: Ivan Zinn's Western States Run," showcasing his inspiring story from the epic endurance race.
STUDENT NEWS
CMCtv recently launched with videos produced, shot and edited by CMC students. Go to CMC's YouTube Channel to see videos about the new RAs for next year, student club spotlights, go-to snacks at The Hub and much more. Link: youtube.com/ user/ClaremontMckenna1
The "After School Specials," a 5C singing group with a number of CMCers, won the " 'Til It Happens to You: Sing for Survivors" national vocal contest in April, an event meant to bring attention to the problem of campus sexual assault. Still basking in the glow of its big win, the group then got the call to perform for Vice President Joe Biden and others at the White House later in April. The group includes Alex Hwung '16 (co-president), Parker LaLonde '17, Kai Kellerman '18, Russell Salazar '18, Brendan Suh '19, and Celeste Terni '19. The group had this to say on its Facebook page: "We had an amazing experience performing for some amazing people."
CMC's World Model UN team won Best Small Delegation at the Harvard World Model United Nations Conference held March 14-18 in Rome. This establishes CMC as a back-to-back world champion at what is considered to be the "Olympics of MUN," after the team's victory in the same category last year in Seoul, South Korea. The team includes CMC Head Delegate Nina Kamath '16, Fiona Bare '17, Hannah Bottum '17, Michael Grouskay '17, Julian Feeley '16, Griffin Merians '17, Nayantara (Naina) Mullick '17, Sean Sakaguchi '16, Sumaer Sandhu '16, and Teagan Stewart '18. Sarah Sanbar '17 and Michael Grouskay '17 (above) are two International Relations majors who want to make a difference in the world, starting with the Athenaeum. As CMC's newest Woolley Athenaeum Fellows, they will help build on a tradition of engaging speakers, spirited discussion and excellent food as they help make for another great speaker series in fall. Meet The Class of 2020. CMC's newest class is one of its most diverse, culled from the second-highest number of applications in the College's history. Read some of their stories: bit.ly/cmc2020
Meet The Class of 2020. CMC's newest class is one of its most diverse, culled from the second-highest number of applications in the College's history. Read some of their stories: bit.ly/cmc2020
Five students launched a podcast — Free Food (for Thought) — of Ath events that can be accessed whenever busy students can fit the presentations into their hectic schedules. The podcast's founders are Shivani Pandya '18, Lauren Giurata '18, Nisha Behrman '18, Janine Ivy '18, and Melissa Muller '18. The podcast can be accessed on the iTunes Podcasts app and at the website: freefood4thought.com
The Keck Center for International and Strategic Studies recently launched the Asia Experts Forum blog, where student journalists interview leading experts on the politics, culture, and economy of Asia on pressing world issues. Read the blog: www. cmc.edu/keck-center/asia-experts-forum CMC
CMC Students shared their off-campus learning experiences at the annual "Moments in Minutes" event, hosted by the Center for Global Education in March. Presenters included Lindsey Mattila '17, Emily Chambard '16, Jenya Green '16, Anoush Baghdassarian '17, Sophie Breider '17, Chris Chang '16, Stephanie Doi '17, Adam Hilborn '16, Kennedy Holland '17, Vivan Marwaha '17, and Theron Simpson '16. See their presentations: www.cmc.edu/study-abroad/ moments-in-minutes-contest
FACULTY NEWS
Shana Levin, Crown Professor of Psychology and George R. Roberts Fellow, has been named associate dean of the faculty for research. In this role, Levin will support the College's faculty research efforts, chairing the Faculty Research Committee, overseeing all of the research institutes, serving as a member of the senior academic cabinet in the dean of the faculty's office, and as a member of the College's senior staff.
Professor of Literature Henri Cole received the Award of Merit Medal from the American Academy of Arts and Letters, one of the academy's highest honors. Past recipients have included Ernest Hemingway and Andrew Wyeth. Cole also published several articles in The New Yorker: "Light as Touch: Jenny Holzer's Nighttime Poetry Projections" and "My John Berryman: A Poet of Deep Unease." Cole read his poem "Land of Never-ending Holes" at Commencement (see poem on p. 13). See a recent video interview with Cole in which he discusses the award as well as some insights into his process and the purpose of poetry: bit.ly/hcolevideo
Associate Professor of History Shane Bjornlie's first book, Politics and Tradition Between Rome, Ravenna and Constantinople (Cambridge University Press, 2013), has received the First Book Award for 2016 from The Classical Association of the Middle West and South.
Visiting Assistant Professor of Government Zachary Courser '99 moderated two panel discussions at the Athenaeum, one on the Iowa Caucuses and New Hampshire Primary and the other on the politics of filling Justice Scalia's seat on the U.S. Supreme Court. He also discussed the presidential election on "AirTalk" with Larry Mantle on NPR affiliate KPCC.
Assistant Psychology Professor Stacey N. Doan has been awarded a two-year grant from the National Institute of Drug Abuse of the National Institutes of Health. The $450,000 grant will support research titled "Rescuing Cognitive & Emotional Regulatory Processes to Aid Smoking Prevention."
Professor of Religion Gastón Espinosa discussed Religion, Race and the 2016 Election at a recent Athenaeum lecture (see the video: bit.ly/espinosatalk). The Arthur V. Stoughton Professor of Religious Studies at CMC also was named the 2016-17 William E. Simon Visiting Fellow in Religion and Public Life in the Department of Politics at Princeton University.
Aaron Leconte, assistant professor of chemistry at the W.M. Keck Science Department, has been awarded a threeyear, early career grant from the Research Corporation for Scientific Advancement. The $100,000 Cottrell Award will support Leconte's research on the protein luciferase, a luminescent material produced by the North American firefly that can be used to track and record biological events and processes to better understand cancer, bacterial infections and more.
Kathleen Purvis-Roberts, professor of chemistry and environmental science in the W.M. Keck Science Department, has been awarded a 2016-17 Jefferson Science Fellowship, a program run by the National Academies of Sciences, Engineering, and Medicine. One of only 12 academic scientists, engineers, and physicians from U.S. institutions of higher learning to be selected this year, Purvis-Roberts will work at the U.S. State Department's Bureau of East Asian & Pacific Affairs in the Office of Economic Policy, where her work will focus on environmental policies around Asia- Pacific Economic Cooperation (APEC). Her one-year assignment begins this August.
Antonin Scalia's greatest legacy will be the originalist stamp he put on the Supreme Court, writes Professor Ralph Rossum in an opinion piece in the Washington Examiner (Feb. 23). Rossum, the Salvatori Professor of American Constitutionalism, noted that briefs citing a constitutional originalist argument went from 7 percent of the total briefs filed to 35 percent in Scalia's two decades on the court.
Associate Professor of Government Jon Shields was busy promoting his new book, co-authored with Joshua M. Dunn Sr., called Passing on the Right: Conservative Professors in the Progressive University (Oxford University Press, 2016; see book review on page 22). In March, he penned op-eds for the Los Angeles Times (March 18) and The Washington Post (March 11) in addition to an April 23 Q&A with Henry Farrell of the Post. He also appeared on the "Tavis Smiley" show for PBS (May 16) and "AirTalk" with Larry Mantle on NPR affiliate KPCC in Pasadena (April 14).
​ATHLETICS UPDATE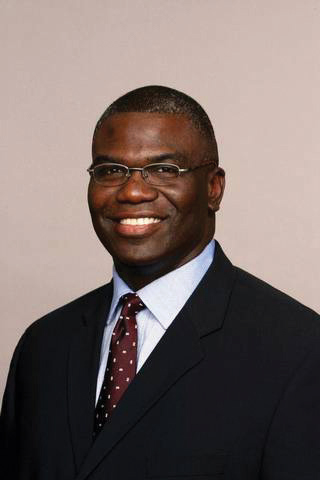 ​Claremont-Mudd-Scripps (CMS) athletics broke into the top-10 in the NCAA Division III Learfield Directors' Cup standings for the first time in program history. The Directors' Cup ranks athletic programs based on their overall success on the field. CMS also won the SCIAC All-Sports trophy once again.
Terrance J. Tumey will be the new Claremont McKenna-Harvey Mudd-Scripps (CMS) Colleges Director of Athletics, Physical Education & Recreational Services. Tumey comes to CMS after a remarkable career leading successful NCAA Division I and II programs and football administration for the San Francisco 49ers, among others. Tumey's tenure as AD began July 1. He succeeds Michael Sutton '76, the William B. Arce Professor and George R. Roberts Fellow, who is transitioning to a new role in the CMC Advancement office after 35 years of exceptional leadership in CMS.
An outstanding 2015-16 year for CMS Athletics and its student-athletes concluded on May 28, with two NCAA Division III individual national championships, one by Skyler Butts '16 in men's tennis singles and the other by Tyra Abraham '18, a women's track sprinter from Scripps who won the 100 meters.
Earlier in May, the men's golf team won its first NCAA Division III national championship (see above photo of team receiving their trophies), and freshman Alex Wrenn '19 tied for second place individually.
In March, swimmer Matthew Williams '17 became national champion in 100-yard backstroke. Williams became the first Stag swimmer to win an individual national championship since 2005 and did so in program and conference record-setting time (47.57). For the fourthstraight season, the CMS men's swimming team secured a top-10 finish (10th) at the NCAA Division III Championships, held March 16-19 in Greensboro, N.C.
In club sports news, in April the Claremont Colleges Women's Rugby Club won the first-ever contested USA Rugby Division III West Regional Championship. The Men's Rugby Club won the PacWest Regional Championship.
DEVELOPMENT UPDATE
Looking Ahead
In a May letter to the campus community President Hiram Chodosh outlined a number of accomplishments over the past academic year and also plans for the coming year.
Calling the 2015-16 academic year both "intensely challenging" and "remarkably successful," Chodosh discussed the successes of surpassing the initial fundraising goal for the Student Imperative, bringing in more than $100 million for scholarships and financial aid within two years. He also mentioned the men's golf team, winning its first national title, and the Model UN winning its second consecutive world championship. Some key plans for the coming year, include:
the establishment of an open campus resource center, designed to concentrate expertise (faculty, student affairs, counseling, student fellows) and programming (forums, workshops, difficult conversations, reading groups) in order to support all of our students, to understand the social identities that separate us, to transcend those divisions through direct dialogue and joint action, and to bring our tight-knit community even closer together;

the adoption of the University of Chicago Statement on Principles of Free Expression as a formal reinforcement of a similar faculty resolution in March 2015 and our institutional commitment to freedom of speech, academic freedom, and free inquiry in both policy and action;

the further exploration and development of an integrated and interdisciplinary computer science strategy for the College in order to expose and educate all students about the applications of computational technology in each major area of study, from economics to public policy, from science to the humanities

the creation of the Center for Student Opportunities, which will create a new, open venue for students to engage, receive advice and mentorship, and explore how their interests translate into real world opportunities both on campus and off, in summer internships and in the post-graduate years
Value and Community Impact with a New Scholarship
Steve Solomon and Ellen Pardo, whose son Logan is a member of the Class of 2015, have launched a program this year to recognize and celebrate the ethical aspect of community-building on campus with a new merit scholarship.
In collaboration with President Hiram Chodosh, and in alignment with the goals of the Personal and Social Responsibility leg of The Student Imperative, the Logan Pardo Solomon Community-Building Fund has been established and selected its first two recipients during the 2015-2016 academic year.
The recipients are Joey Yamada '18, a dual major in Economics and Psychology who serves as junior class president of ASCMC as well as serving in several key campus roles, including as a liaison between students and administration regarding diversity and other issues; and Tarah Gilbreth '18, a Philosophy and Public Affairs major (with a leadership sequence) whose community-building efforts have included her work with the Center for Innovation and Entrepreneurship and the Claremont Children's School, among other organizations.
The scholarship puts an emphasis on honoring those students who demonstrate the vital importance of compassion and community-building on campus and whose work serves as an inspiring example for their classmates.
This year's recipients also have displayed the importance of community-building in their lives through their experiences as CMC athletes—Yamada has been a strong performer on the Claremont women's rugby team, while Gilbreth has played a similarly important role for the women's lacrosse team.