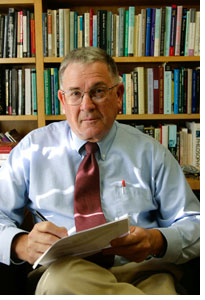 It all began with a casual decision to enroll in Introduction to Philosophy. Then a college junior, Professor Stephen Davis was unaware that this pivotal class would start him on an extensive and productive career path.
Davis, CMC's Russell K. Pitzer Professor of Philosophy and professor of religious studies, sensed immediately that the study of philosophy would play a major role in his life. As a junior and senior in college, additional religion and philosophy classes cemented his desire to pursue a Ph.D. and become a professor of philosophy and religion. During his first philosophy class, Davis recalls thinking, "Wow! Do you get academic credit for doing this? This is me. I've been thinking in this way my whole life."
While attending graduate school at the Princeton Theological Seminary, Davis studied different theories of the Incarnationthe Christian doctrine that God became a man in Jesus Christ. He was fascinated by the various debates and found kenotic theories of the Incarnation intriguing. In Christian theology, kenosis is the theory that in the Incarnation, Christ "emptied himself" by temporarily laying aside some of his non-essential properties to become human.
In September, Davis had the unique opportunity to attend a prestigious conference, "Incarnation: Perspectives from Philosophy of Mind," at the University of Oxford. As one of seven invited speakers, he presented his newest paper, The Metaphysics of Kenosis. Davis' article, along with the other essays delivered at the conference, will be published in a book by Oxford University Press.
"It was good to see old friends, make new friends, hear interesting new papers on the Metaphysics of the Incarnation, and receive suggestions and criticisms of my own paper," commented Davis. "The quality of the scholars at the conference was extraordinarily high, and I was pleased to be asked to join such a distinguished group of presenters."
In the classroom, Davis enjoys casting his students as "co-investigators" in his quest to answer questions he is currently exploring. Their responses have occasionally assisted him in solving particularly complex theoretical issues, and he says he enjoys the opportunity to share his research with his students and perhaps inspire one of them to pursue research in the area of philosophy and religion. Davis has been a distinguished member of the Religious Studies Department at CMC for almost 40 years.
Davis recently learned that a former graduate student is organizing a Festschrift in his honor. A festschrift, or "festival writing," is a German university tradition that recognizes a well-respected scholar through contributions of essays to a book that is then presented to the honoree. Currently 16 friends and fellow scholarsseveral notable individuals in the fields of philosophy and theologyplan to participate in the book which will be published in 2011.