Washington Program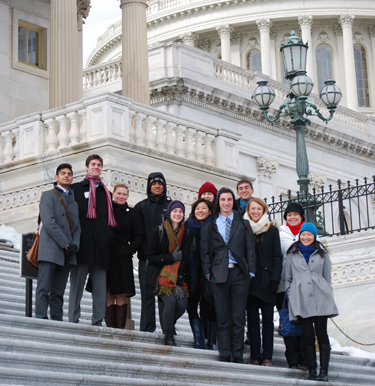 The CMC Washington program is rooted in a full-time internship and a serious discussion of contemporary political issues. The first component allows students to become immersed in their work environment to the extent that many are considered junior staff members, and the second component—two seminar classes and a directed research paper—provides a coherent intellectual framework for the semester.
Why the Washington Program?
Because you will be part of a proud tradition, change your life, and open doors to your future. Graduates of the program have been among Claremont's finest, distinguished at graduation by national scholarships and acceptance into leading graduate and law programs. Many program alumni have returned to Washington for careers in or around government—in Congress, top law firms, the executive branch, think tanks, high-tech companies, and the media—while others work throughout the United States and abroad in fields such as investment banking, consulting, medicine, higher education, and the arts.
Program Description
Accepted students spend either the fall or spring semester in Washington, DC, working a full-time internship, taking three classes, and meeting with prominent political figures. Internships are offered with a diverse array of organizations, such as the Sierra Club, Environmental Protection Agency, the White House, the Kennedy Center for the Performing Arts, CNN, Smithsonian, Senate Budget Committee, and Amnesty International.
The program office is located in the heart of Washington, between Dupont Circle and the White House. It is administered by Dr. Elizabeth Spalding, who serves as faculty along with Dr. John Haskell and Dr. Adam Wolfson.
Eligibility
The Washington Program is open to second semester sophomores and juniors at the Claremont Colleges (all majors). Students should have a cumulative GPA of 9.0 or better, completion of one college introductory course in American politics before the semester of application, and be in good standing (no academic or disciplinary probation).
Internship and Housing Information
Professor Pitney's web page is an invaluable source for information about internships and housing.
Student Experiences
Current Washington Program students' blogs:
Victor Lopez
Hayley Pienton (POM)
Stephanie Wong
Alyssa Jones
Key 5C Contacts
Contact information for relevant offices at each college is available here.