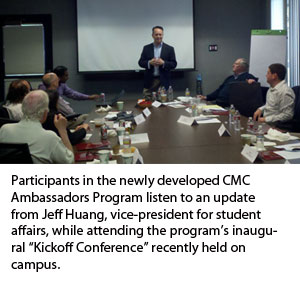 The ties that bind can sometimes loosen over time, especially among graduates and their alma mater. But one new volunteer group on campus has a remedy for that kind of situation.
CMC's Ambassador Program strives to build ongoing individual relationships between alumni and CMC.
And, unlike many such groups that exist to create such a synergy primarily through financial donations, the Ambassador Program isn't about asking alumni for money. Instead, it reaches out to graduates by opening channels of communication; in essence, building an "Alumni Roadmap" of re-engagement that helps them become more active in the CMC community.
The Ambassador Program is being led by Max Morris '10, annual giving coordinator, who cites his experience as a student as a key inspiration for the program. "Through four years of Phonenite calling and serving on the Student-Alumni Relations Council (SARC), I spoke with hundreds of CMC alumni. I realized that most alumni love CMC and want to help out, but don't always know how. The Ambassador Program gets that information out there."
According to Morris, the Program is starting with a group of 22 Lead Ambassadors that were identified as strong supporters of CMC from throughout all of its graduating classes. Ambassadors' main duties are to contact their peers, and to reconnect them with the College while explaining the importance of supporting CMC. Ambassadors discuss current events and programs on campus, as well as the College's finances. This information helps present a "Case for Giving" that shows why CMC needs and deserves alumni support.
Ambassadors also help relay vital information from alumni to the College. This may include preferred methods of communication, programs or sports that an individual alumnus is interested in, or specific concerns about the College. In this way, Morris says, knowledge from Ambassadors allows CMC to better serve both alumni and current students by individually tailoring interactions between the College and its alumni. "While I was a student here, I loved the feeling of community on CMC's campus," he explains. "This allows us to carry that tight-knit feeling into the alumni experience."
Ambassadors are expected to take part in the program for several years, and to recruit fellow alumni to join them in the program. Ultimately, recruitment is expected to grow the program exponentially, enabling contact between the Ambassadors and a substantial segment of the CMC alumni population. Reid Dabney '73, CMCAA giving chair and one of the lead ambassadors, notes that CMC only has about 10,000 graduates, commenting that "one of the benefits of having a small school is that we can engage a large portion of the alumni community to create a philanthropic relationship."
The Program held its inaugural "Kickoff Conference" last week with 13 lead ambassadors attending from the Los Angeles area representing a range of CMC classes from 1953-2005.
The event included a presentation on the current state of giving at CMC as well as a discussion of the Ambassador Program's organization and the formation of Ambassador Subcommittees that will help guide the program. The group also heard from senior staff about current affairs at CMC, including presentations from Jim Floyd, vice-president for investments; Robin Aspinall, treasurer and vice-president for business and administration; Jeff Huang, vice-president for student affairs; and Greg Hess, vice-president and dean of the faculty, as well as a tour of the Kravis Center construction site led by Matt Bibbens '92, vice-president for administration and planning.
For more information about the Ambassador Program, contact Max Morris '10 at mmorris@cmc.edu or 909-607-9314.